Stories of the Brave: Malquist Oral History Project
Since opening in the fall of 2018, we've been capturing the audio history of our nation's Veterans. We're partnering with WOSU Classroom and The Stewart Malquist Fund to promote sharing these oral histories with students to honor our nation's Veterans. Students in grades 5-8 will explore these oral histories shared by Veterans and create a poetic narrative published into an eBook.
Hear Some of the Stories Below
My Baby Brother – 2:02
Knowing Others Appreciate Our Service – 1:21
A Heartfelt Remembrance – 2:59
Marine Bootcamp & Training – 2:59
About Stewart Malquist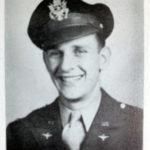 Stewart R. Malquist was born November 7, 1922, in Chicago, Illinois. He graduated from Calumet High School in 1940 and went on to earn his wings in June 1944 from Brooks Field in Texas. Stewart then attended the Multi-Engine School at Greenville Army Air Base in South Carolina, graduating in November 1944 as a B-25J Pilot.
Soon after, Stewart joined the U.S. Army Air Force as a First Lieutenant and B-25 Pilot in the South Pacific Theatre. As a First Lieutenant and B-25 Pilot during World War II, Stewart was assigned to low-level missions. During his time in the Air Force, Stewart completed a total of 22 staffing missions and received the Air Medal with Clusters, the Presidential Unit Citation and the Philippine Liberation Medal.