9.11 Exhibit
20 Years: Remembering the One. Remembering Them All.
On view: August 4 – September 1
In commemoration of the 20th anniversary of September 11, 2001, the National Veterans Memorial and Museum proudly partners with Honor365 and STRIVE to host Honor365's World Trade Center exhibit. Join us at the museum as we honor and remember those we lost, including our heroes and first responders.
The exhibit is a replica of the World Trade Center Plaza created by Daan Van Der Steijn, a volunteer firefighter in training from The Netherlands. Daan, who comes from a long line of firefighters, honors the endless sacrifices made on September 11th, particularly by our nation's first responders. This exhibit will be on view at the National Veterans Memorial and Museum from August 4-September 1.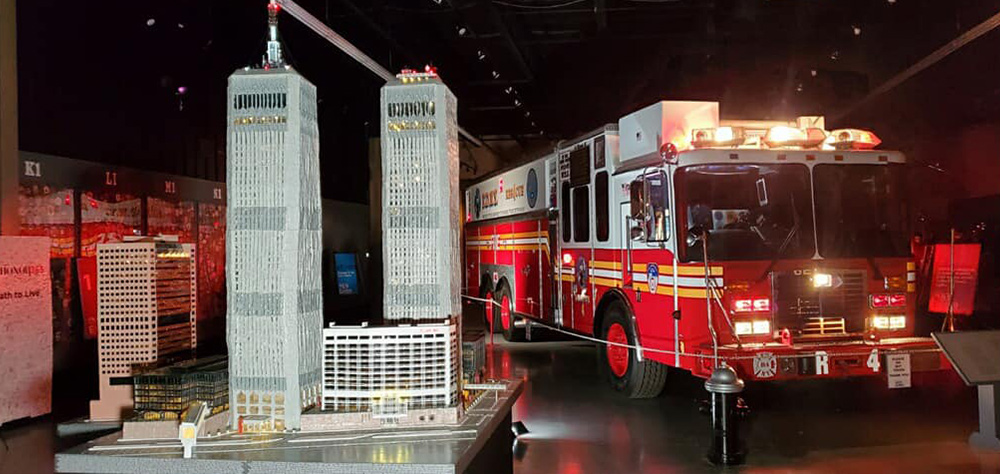 Daan Van Der Steijn's Story
It's September 11, 2001. A mother in The Netherlands is feeding her three-month-old son watching the news when images that would become ingrained in the minds of billions of people begin flashing on the screen: two airplanes crashing into the Twin Towers of the World Trade Center and the unimaginable destruction and loss of life that followed.
Flash forward ten years, and the family is watching the documentary, "102 Minutes That Changed America," on Dutch television on September 11 – an event that became a ritual every year. The boy is captivated not only by the images but by the heroic efforts of first responders on the scene. It feels personal, with the boy's great-grandfather, cousin, and two other family members serving in the fire department.
By age 14, an idea begins to formulate in the teen's mind. As an aspiring and talented woodworker and artist, he wondered if he could make a replica of the World Trade Center Plaza before the destruction. Thus began a four-year journey. Daan's incredible replica took countless hours of painstaking research and labor to build.
Many would have given up, but as Daan says, "The tragedy touched me deeply, and it seemed unreal to see two passenger airplanes fly into the World Trade Center and kill that many people. I wanted to create a project as a memorial to all that passed away."
By age 19, Daan had completed the stunning replica and, with the help of local partners in The Netherlands and Europe, began offering the exhibit in his hometown and several European cities.
Currently, Daan is training at the Dutch Firefighter Academy to become a volunteer firefighter in his hometown of Deurne in The Netherlands. Daan says he wants to become a firefighter to do his part to serve his community, to be able to help people and animals in emergency situations and to help fight big fires. Daan's great-grandfather, Harrie van der Steijn, was a volunteer firefighter from 1920-1948. One hundred years later in 2020, Daan began his own journey to becoming a firefighter. Daan's cousin, Jorn van de Waarsenburg (also a team member of the 9/11 exhibit), and two other family members are with the fire department of Deurne. Daan will officially become a firefighter in 2022.