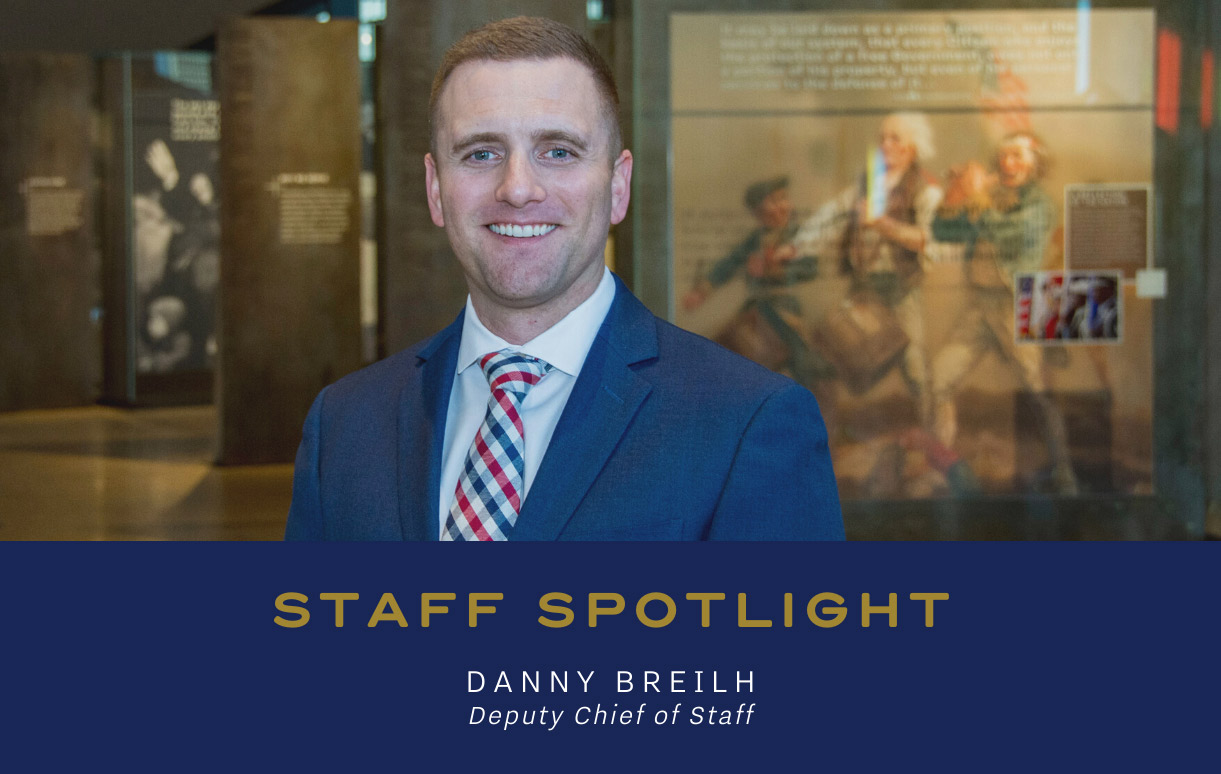 Each month, the Museum invites you to get to know the staff supporting our pillars to Honor, Connect, Inspire and Educate. Meet Danny Breilh, U.S. Marine Corps Veteran, and newest member of the NVMM team. Danny is our Deputy Chief of Staff, responsible for high-priority projects designed to achieve the Museum's mission and strategic vision as well as building and maintaining successful working relationships with stakeholders.
Q: How have you connected to the Museum?
A: As a Veteran, at times I have struggled to find a similar purpose in my civilian career after separating from the Marine Corps. As part of the NVMM, I feel great purpose and if I ever doubt it, I can walk around the Museum exhibits to be reminded why our team does what it does.
Q: What do you like to do when you aren't working?
A: I enjoy spending quality time with my wife and kids. Otherwise, you would most likely find me at a golf course.
Q: What are three words that best describe you?
A: Dedicated. Loyal. Purpose-Driven
Q: We feature a "What We're Reading" section on our website each month as part of NVMM Reads. What are you reading right now?
A: As a new member of the NVMM team, I have been reading The First 90 Days by Michael D. Watkins and try to read Four Pillars of a Man's Heart by Stu Weber at least once a year.
Q: What is your favorite place within the Museum?
A: I enjoy walking along the timeline and learning about incredible stories of sercvice, many of which I never knew.
Q: What is your favorite place in the world?
A: I can't say just one, so I'll have to pick a few: Flic en Flac, Mauritius, Rendezvous Caye, Belize, and Bandon Dunes, Oregon.
Q: After being in the military, how does it feel to serve in the civilian world for a Veteran-focused organization?
A: I feel blessed to have been given such a great opportunity to connect with and honor those who have served. I get to learn amazing stories and help inspire others through them.
Q: What's your personal motto, or your favorite quote?
A: INAM – It's Not About Me.