Building Architect: Allied Works Architecture
Landscape Architect: OLIN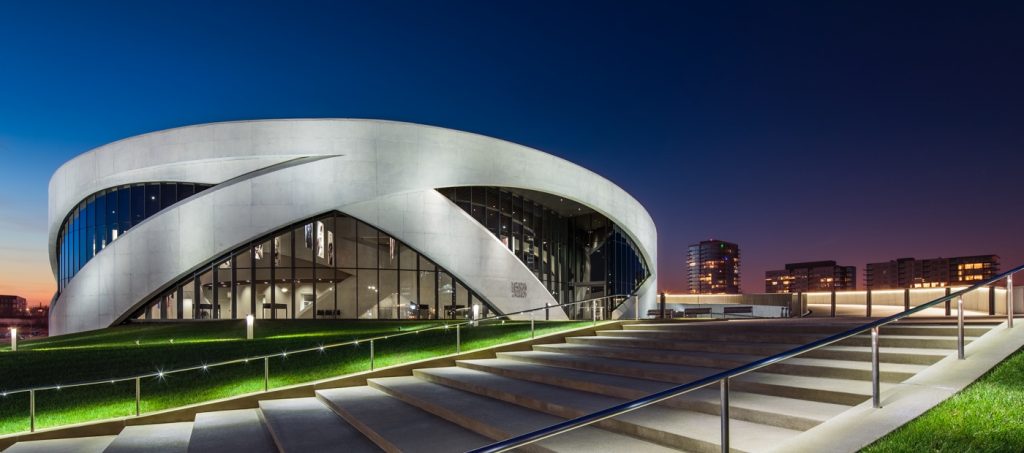 From first sight, the building impresses upon visitors the importance of what lies within. The architect designed an iconic concrete arch structure, constructed from 28 million pounds of concrete, with a glass curtainwall system and spiral processional ascending to a rooftop sanctuary. Seeming to rise organically from the ground, the building itself is a symbol of our nation's Veterans and how their strength emanates from within. Even before opening, the National Veterans Memorial and Museum received international recognition for its innovative design and was named one of the most anticipated buildings of 2018 by Architectural Digest.
With more than 50,000 square feet, the Museum features a Great Hall, providing views of the Scioto River, as well as a space for gatherings and public events. The Core Exhibit galleries follow the curve of the concrete rings, and the experience concludes with an interactive media experience in the heart of the building. A second-floor mezzanine features a Remembrance Gallery to honor our fallen heroes, and a lower level incorporates a rotating, special exhibit gallery space and meeting rooms.
Outside the Museum lies a 2.5 – acre Memorial Grove, designed for contemplation and reflection before visitors return to their everyday lives. A grove of trees, a water feature and memorial wall together create a cohesive space for remembrance, inspiration, and the recognition of service. A grove of American Elms, a tree that has sheltered Veterans and their families since colonial times, provides a place for rest and relaxation. The limestone wall references regional geology and symbolizes our strength as a nation as best exemplified by the teamwork of our armed forces and the motto, E Pluribus Unum, "From many, one." The pool and cascades highlight water considered an elemental source of life and healing by all peoples throughout time. Native plantings provide seasonal interest and reference the passing of time and the cycles of renewal.