Rally Point
Rally Point is a free, monthly event on the first Saturday of every month dedicated to connecting and educating Veterans, Veterans' families, and those who wish to support Veterans.
The programs focus on organizations and programs from which Veterans and their families directly benefit. Rally Point has shifted to include both virtual & in-person options.
Upcoming: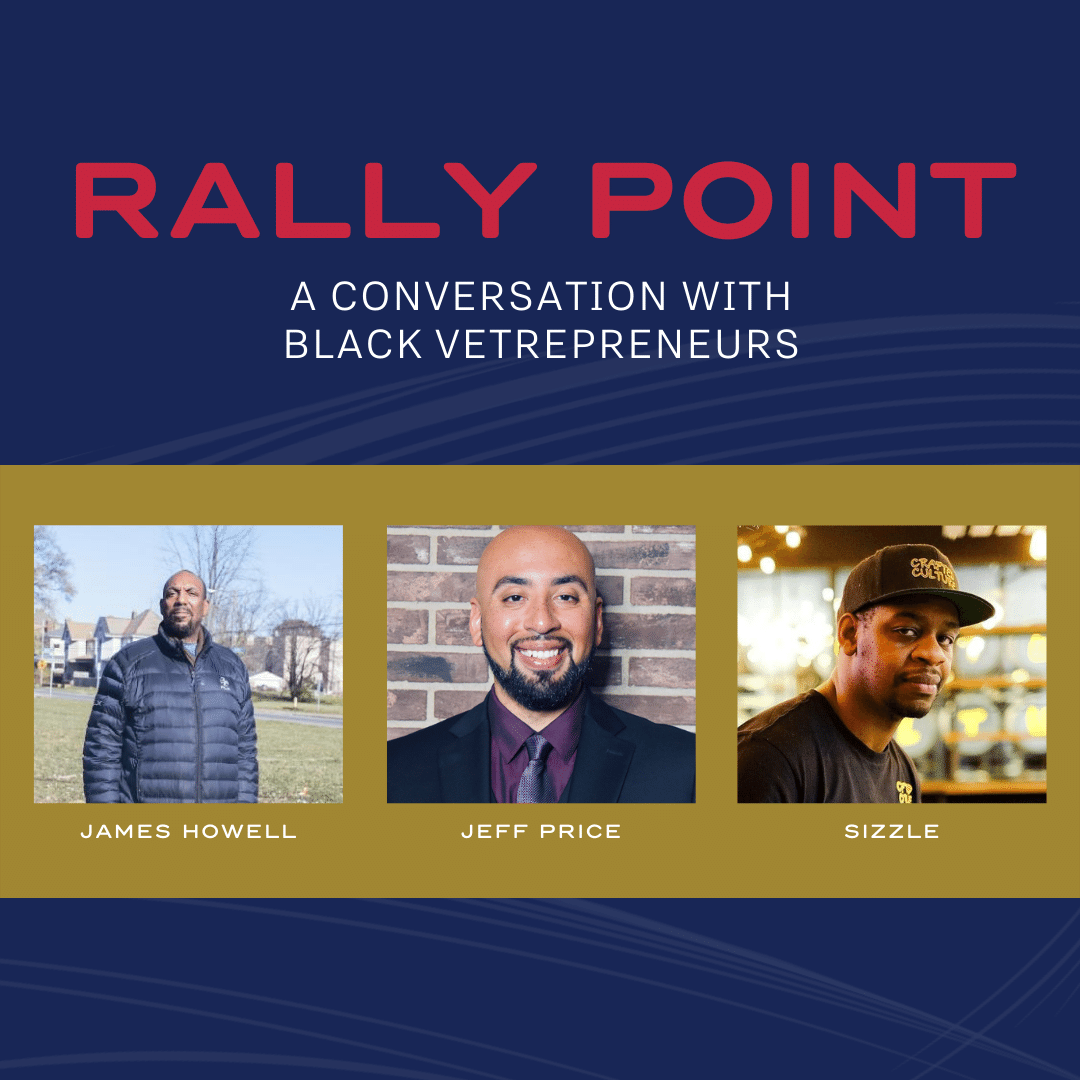 Saturday, February 5 | 10 a.m.
Rally Point: A Conversation with Black Vetrepreneurs
According to the Small Business Administration, black-owned businesses in the U.S. today account for more than $150 billion in revenue and employ close to 1 million people.

On February 5 at 10 a.m., we welcome U.S. Army Veterans James Howell of BK Smokehouse, Jeff Price of PLAN Logistics Solutions and Sizzle of Crafted Culture Brewery for a conversation about how military service impacted their drive to build their business. Join us to see the transition from military to business owner.
Previous Rally Points:
December Rally Point – Remembering Pearl Harbor: 80 Years Later
December 2021
Eighty years ago on December 7, 1941, the Empire of Japan executed a surprise attack on the U.S. Naval Base at Pearl Harbor drawing the United States into World War II. Join us virtually on Saturday, December 4 at 10 a.m. ET as we hear from the experiences of a Pearl Harbor survivor during what President Roosevelt described as, "A date which will live in infamy," and one of the most pivotal moments in U.S. history.
November Rally Point – John Glenn: A Veteran First
November 2021
Rally Point hits the road! On Saturday, November 6, we're heading to The Ohio State University's John Glenn College of Public Affairs to honor U.S. Marine Corps Veteran, Astronaut, Senator and Museum visionary, John Glenn. On what would have been his 100th Birthday, we speak with Trevor Brown, Dean of the John Glenn College, about the value of military service, the impact of Glenn on our community and his inspiration behind creating the National Veterans Memorial and Museum.
October Rally Point – "American Veteran," an Upcoming PBS Series
October 2021
We hosted a discussion including GBH producer Amanda Pollack and Cody Ayon, a Navy and Army Veteran from the film, to learn about the documentary that explores Veterans' inspiration to serve and their eventual transition from service member to civilian.
September Rally Point – Reflections on 9/11 and the 20-Year War
September 2021
As we approach the 20th Anniversary of 9/11, U.S. Army Rangers Dan Blakely and Tom Amenta, along with photographer Beau Simmons, will discuss with us their highly anticipated book, "The Twenty-Year War." Through the book, they share the experiences and stories of 71 Veterans who were involved in the Global War on Terror.
August Rally Point – Trauma and Treatment: Caring for our Combat Wounded
August 2021
When our service members are wounded in combat, they rely on trauma teams to stabilize them enough to endure transcontinental flights back to the U.S. for intensive care. Join us to hear stories from some of our Veterans who made the ultimate sacrifice.
June Rally Point – Working Together to End Veteran Suicide
June 2021
Our June 5 Rally Point featured Magnus Johnson, a U.S. Army Veteran and former Green Beret, and Co-Founder of Mission 22, whose mission is to support the Veteran community with three main programs: Veteran treatment programs, memorials and community social impact. In addition, leaders in innovative treatments for suicide and trauma for military personnel, Veterans and first responders will join the conversation.
May Rally Point – Transforming Veterans through Agriculture
May 2021
May's Rally Point features discussions with U.S. Air Force Veteran Richard Murphy, Director of Veterans to Farmers, and U.S. Army Veteran Jon Jackson, Executive Director of STAG VETS and Founder of Comfort Farms. Both organizations share similar goals — to aid Veterans in their transition from their military service to civilian life with agriculture.
April Rally Point – NCOs Backbone of the Army
April 2021
For our April Virtual Rally Point, we explore the role of the noncommissioned officers (NCOs), also known as "The Backbone of the Army" with Command Sgt. Maj. Mike Hall, U.S. Army (Retired). The core responsibilities NCOs in the U.S. military are to successfully accomplish the mission and maintain the welfare of their soldiers. They strive to remain technically and tactically proficient as well as provide outstanding leadership.
March Rally Point – GallantFew VetXpo
March 2021
For our March Rally Point, we partnered with Tony Mayne, director of GallantFew, Inc., whose mission is to facilitate the transition of our service members back to civilian lives with purpose. This program features VetXpo, a two-hour virtual event from GallantFew, designed to enhance Veteran's functional fitness in five domains – professional, social, physical, emotional and spiritual.
February Rally Point – Fighting to Serve: A Conversation with a Tuskegee Airman
February 2021
We welcomed Col. Harold Brown (Retired), one of the famed Tuskegee Airmen, for our February Virtual Rally Point. Col. Brown will share his experience as a member of the Red Tailed Angels escorting bombers over Europe as well as being shot down and held as a POW in Germany.
December Rally Point – The Healing Power of Art
December 2020
For our December Rally Point, we explore how art programs facilitate mental wellness, increase social connectedness, and become an outlet for creative expression. Our guests include Mary Whyte, world renowned watercolor artist and founder of the Patriot Art Foundation, and Heather Seymour, MSW, LISW, Veterans Arts Initiative founder at the Columbus VA.
October Rally Point – How Bob Evans Supports Veterans
October 2020
Ciare James, Vice President of Marketing, Bob Evans Foods and Nancy Preston, the most recent winner of Bob Evans' Heroes to CEOs contest, joined us for October Virtual Rally Point, Our Farm Salutes: How Bob Evans Supports Veterans.