Plan Your Event
Recognized internationally for its innovative design, the National Veterans Memorial and Museum is a truly unique venue for a variety of occasions and special events. From the Great Hall, with its stunning views of the Columbus skyline, to the rooftop sanctuary, our spaces make events memorable.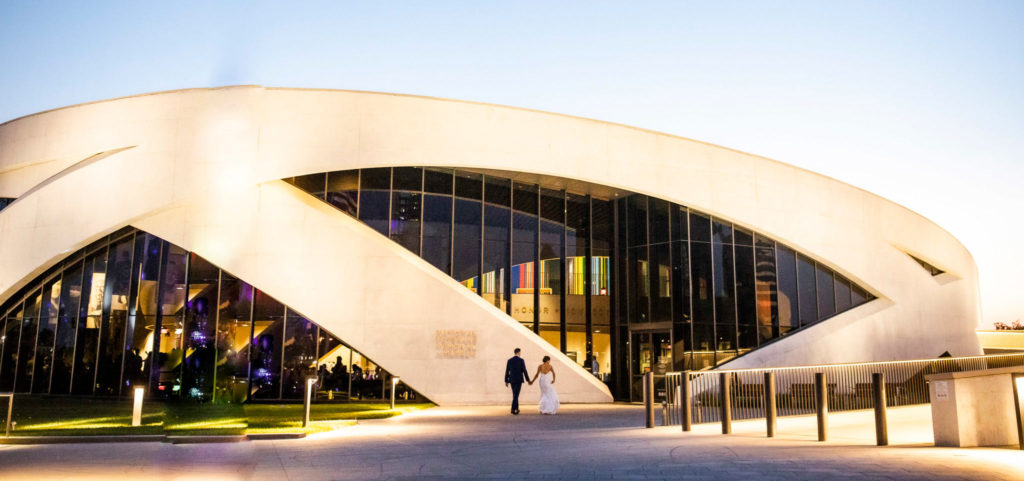 Our Spaces
Meeting rooms on the lower level can accommodate groups of up to 180, and catering services are available. You may also book your own private tour of our permanent Museum halls or limited-engagement exhibitions. The Museum's professional events team and volunteers will work closely with you to make sure that your event is a success. Room rentals starting at $500 for a four-hour block of time.
Rooftop Sanctuary
This large open-air event space is a gorgeous location to hold ceremonies, dinners and receptions. Our rooftop has abounding photo opportunities and a massive area for dance floors and fun – one of the best open-air vantage points of downtown!
CAPACITY:
Great Hall
Located on the main floor adjacent to the core exhibits, the Great Hall is the preferred location for evening ceremonies, programs, and receptions. With floor-to-ceiling windows, guests are treated to a beautiful city view.
CAPACITY:
Memorial Grove
Located on the museum grounds, the Memorial Grove hosts over 40 beautiful white elm trees. This space is anchored by a 350-foot limestone wall with reflecting pool and three graceful waterfalls. This elegant space is reserved exclusively for ceremonies.
CAPACITY: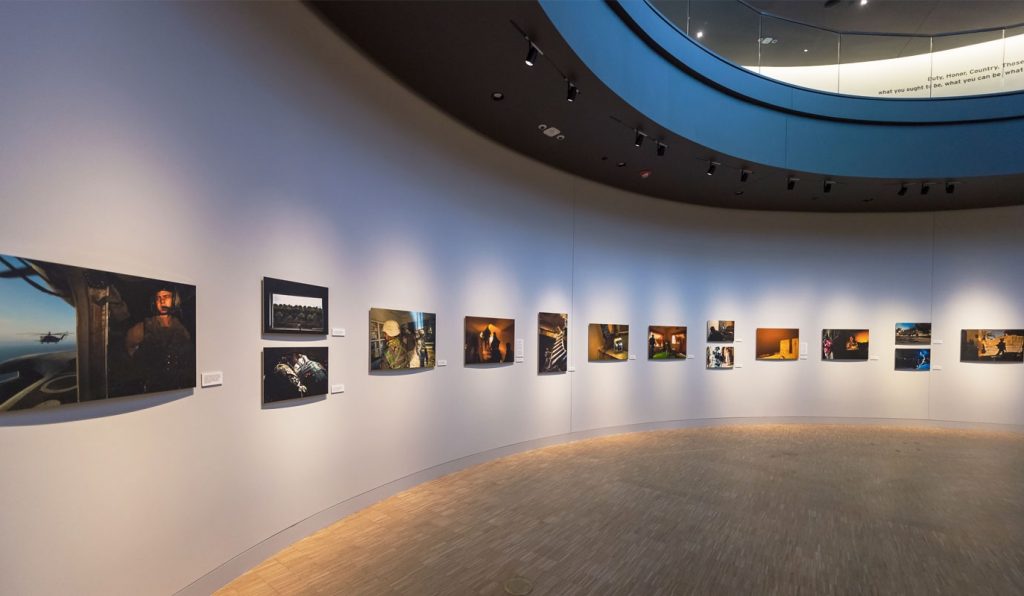 Gallery 33
This dramatic gallery hosts our special exhibition and is best utilized for intimate events and VIP functions.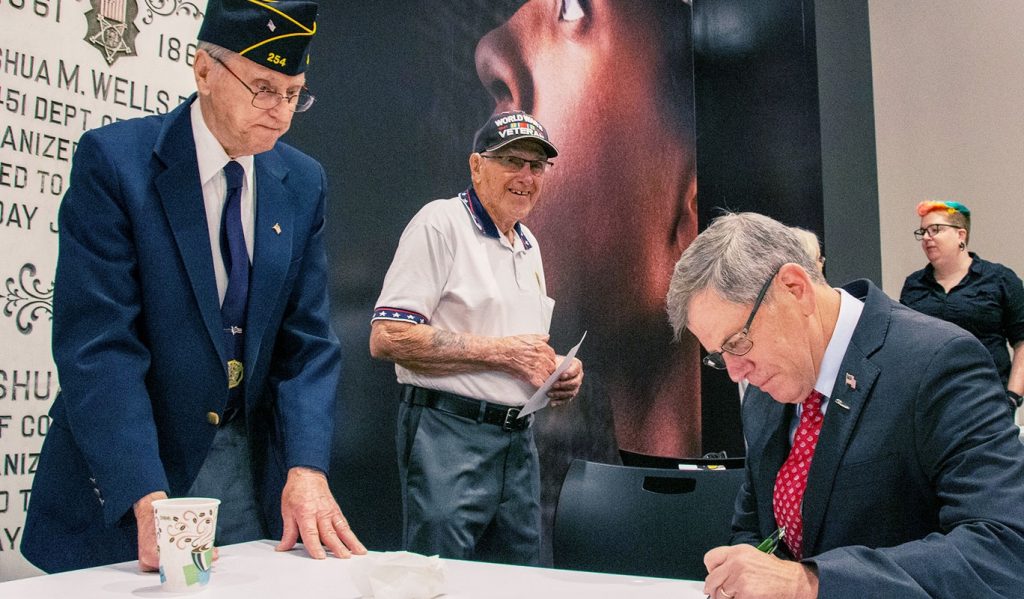 Franklin County Meeting Room
Located on the lower level, the Franklin County Meeting Room is situated conveniently near the group entrance and parking lot. This flexible space is best suited for small-group workshops and meetings. The room comes equipped with a podium, screen and projector.
What They're Saying
Our experience with the National Veterans Memorial and Museum could not have been better! We probably checked out every venue in downtown Columbus and this place was our easy top choice. From the rooftop to the great hall, to the gardens, the venue is gorgeous and offers so many different possibilities. But what truly made our experience great was the staff. Throughout the planning process, Lauren was always quick to respond, easy to work with and helpful in any way possible. We were completely blown away by the staff and volunteers on our wedding day. They did everything they could to make sure we had the best day of our lives, and we did not need to worry about a thing.
NVMM is unique and versatile, with breathtaking views of the city from every angle of the building. We had our previous venue cancel on us 3 months before our wedding and Lauren, the Events Coordinator at NVMM, stepped in and immediately started working with all our vendors to make sure our day was perfect, despite the constant last-minute changes. The ceremony was held outside in the Memorial Garden in front of the beautiful waterfall feature and all the trees provided plenty of shade, making it so peaceful and serene. The Great Hall has floor to ceiling windows, providing a lot of natural light and the perfect backdrop for our first dance at the reception. But the one thing that our guests said was their favorite part (and ours!), was when the DJ and bar transitioned upstairs to the rooftop for dancing outside under the stars with the downtown skyline perfectly lit up behind us.
To be honest, I fully expected the NVMM leadership team to turn us down because what museum / memorial would throw open its doors to a small, inner-city public high school and agree to share space? Surprise number 1 for me was that they didn't. Surprise number 2 for me was the warm and generous welcome we received from the entire NVMM team from our initial tour through our last day on site. From Lt. General Ferriter, U.S. Army (Retired) down through the entire NVMM Team, we were treated as part of the Team from the minute we walked in the door. NVMM invited our students to engage in the exhibits, invited us to their special events and, importantly, worked collaboratively with us to problem solve issues when they arose. Moreover, the NVMM team actively engaged with our students who, in other settings, would not have been welcomed they way NVMM welcomed our kids.
You will fall in love with the museum staff at the NVMM! Overall the 2nd Annual VET OHIO EXPO was a major success thanks to the assistance and support provided by Connor Behm, Darci Edwards and the Museum staff. As a member of the Museum, I would highly recommend the Museum for other events, it is a great way to invite the community in to see the museum and all that it has to offer! KUDOS to the NVMM!!