Visit the Museum

"The National Veterans Memorial and Museum is open, strong, connecting and impacting Veterans' lives daily both in the museum and through our virtual events."
– Lt. General Michael Ferriter, U.S. Army (Retired), President and CEO of the National Veterans Memorial and Museum
Health and Safety
We are committed to helping reduce the spread of COVID-19. The health and safety of our guests and our team remain our top priority. Following the most recent local and CDC guidelines, wearing a facial covering inside the Museum is optional. Those who are unvaccinated, have health issues or young children, are encouraged to follow CDC guidelines to wear facial coverings.
For all additional information on how we are keeping our guests and staff safe, please visit our Health and Safety page.
Hours of Operation
Wednesday – Sunday: 10 a.m. – 5 p.m.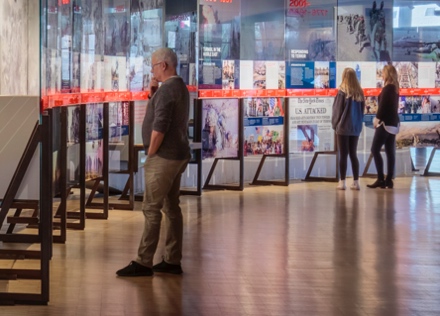 Explore the Museum
Learn about our exhibits, and how they express Veterans' personal stories and experiences.
---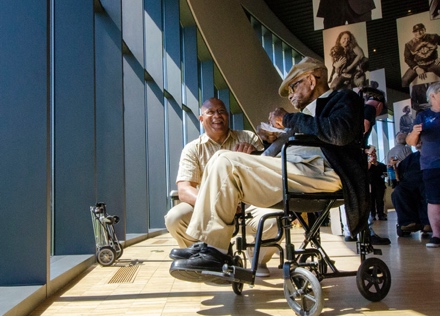 Museum Accessibility
Learn about the accommodations we've made to ensure the museum is accessible to all visitors.
---
Special Holiday Hours
OPEN
Jan 17 – Martin Luther King Jr. Day
Feb 21 – Presidents Day
May 31 – Memorial Day
Jul 4 – Independence Day
Nov 11 – Veterans Day
CLOSED
April 4 – Easter
Nov 25 – Thanksgiving Day
Dec 25 – Christmas Day
Address
300 West Broad Street
Columbus, OH 43215
Located on the Scioto Peninsula.