WE THE PEOPLE FINAL WEEKEND!
Join us for the final weekend of We The People: Portraits of Veterans in America in our Great Hall! Meet the artist, Mary Whyte, take an exhibition tour with her, get a book signed and more. This also is the last weekend to enjoy a virtual exhibition tour narrated by Whyte with the story behind the paintings. We The People is presented at the museum through the generosity of our friends at Big Lots.
JOIN US FOR OUR MANY ONLINE ACTIVITIES
WE ARE OPEN!
HEALTH & SAFETY PROTOCOLS
The museum is safely welcoming guests Wednesday - Sunday, 10 a.m. to 5 p.m. We have a medical-grade, triple-filtration air system and follow all safety protocols so you, your family and friends can enjoy a safe and inspiring visit. We remain open, strong and impacting lives daily. Click below for additional details to plan your visit.
JOIN US FOR OUR MANY ONLINE ACTIVITIES
NOW OPEN -
DEPICTING THE INVISIBLE: A PORTRAIT SERIES OF VETERANS SUFFERING FROM PTSD
Artist Susan J. Barron's deeply personal and hauntingly beautiful portraits of Veterans coping with PTSD was inspired after hearing 22 Veterans commit suicide daily in our country. Her series of large-scale, mixed media works on canvas and an award-winning documentary film short illustrate the Veterans' stories in their own words. Depicting The Invisible is presented with support from the Greater Columbus Arts Council and the Ohio Arts Council.
JOIN US FOR OUR MANY ONLINE ACTIVITIES
JOIN US MEMORIAL DAY WEEKEND 2021
Join us as we honor and remember our service members who gave the ultimate sacrifice to defend our freedoms. Click below to learn about The Wall That Heals, our Memorial Day Ceremony, the Gold Star Family Vigil and more. Register now to complete the NVMM virtual 1-Mile, 5K or 10K Run, Walk, Ruck or Roll in memory of a loved one or all those who gave their lives.
JOIN US FOR OUR MANY ONLINE ACTIVITIES
THE NEASHAM SISTERS: INSPIRING STORIES OF SERVICE
In this two-part story for Women's History Month, sisters -- Brianna, U.S. Coast Guard, and Rachel, U.S. Army -- wrote each other's story of service. Learn how they have inspired one another and others as women in service and where their respective journeys have taken them.
JOIN US FOR OUR MANY ONLINE ACTIVITIES
VIRTUAL FIELD TRIPS AND GROUP TOURS NOW AVAILABLE!
History, courage and service come to life through Veterans' inspiring stories shared in their own voices here at the museum. Now, share that same experience with your students and groups through our new Virtual Field Trips and Virtual Group Tours led by live Museum Educators or Certified Museum Tour Guides!
JOIN US FOR OUR MANY ONLINE ACTIVITIES
THANK YOU FEDEX!
Thank you to FedEx and Fred Smith (founder, chairman and CEO) for delivering a generous gift of $1 million over the next four years! This support will help sustain our work honoring and connecting Veterans, inspiring and educating the public through Veterans' stories and impacting the lives of those who engage with the memorial and museum virtually or in person.
JOIN US FOR OUR MANY ONLINE ACTIVITIES
Thank you for your continued support. We invite you to join us online for new stories, events, exhibits and more!
Latest Virtual Event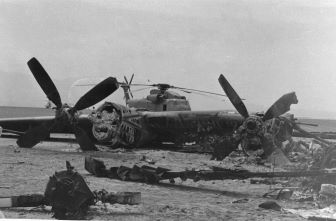 Friday, April 23
Veterans Voices: Operation Eagle Claw
Join us on April 23 to speak to our expert panel about this historic rescue mission; all that went right and all that went wrong.
Join the Conversation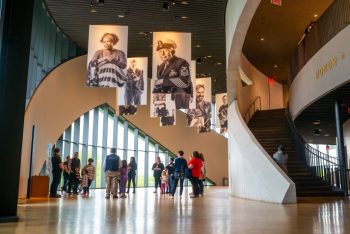 NEW
Virtual Field Trip
Schedule your students for one of three grade-specific virtual tours through our core exhibition areas with a live Museum Educator.
Schedule Today
BLOG
Month of the Military Child
During the month of April, we are celebrating the Month of the Military Child; a time to honor the sacrifices made by military families and the children of servicemen and women serving at home and abroad.
Learn More
The National Veterans Memorial and Museum was created for a unique and specific purpose: to preserve, share and celebrate the personal experiences of our nation's Veterans. Past and present. From all branches of service. And from all eras of conflict and peacetime service.
Their stories shaped a nation. Our freedom is their legacy. Share in the celebration, and be inspired by the courage of those who served.
We are more than a museum. We are the New Home of the Brave.
Stay Informed
Be the first to hear about our latest events, exhibitions and programs.
Become a Member
Take a moment to think about your personal connection to Veterans. Maybe you are among the more than 20 million living Veterans in the United States. Or perhaps you have a spouse, friend or relative that has defended our freedom now or in generation's past. If you have served our nation or want to help honor and support others who have, become a member today.
Membership Levels