NVMM CARES
Creating and Advancing Resilience, Education, and Stability
NVMM CARES connects many of our signature programs and community partners established in our first five years for one all-encompassing initiative that aids community participants and especially Veterans, and their families to live healthy, successful lives after military service.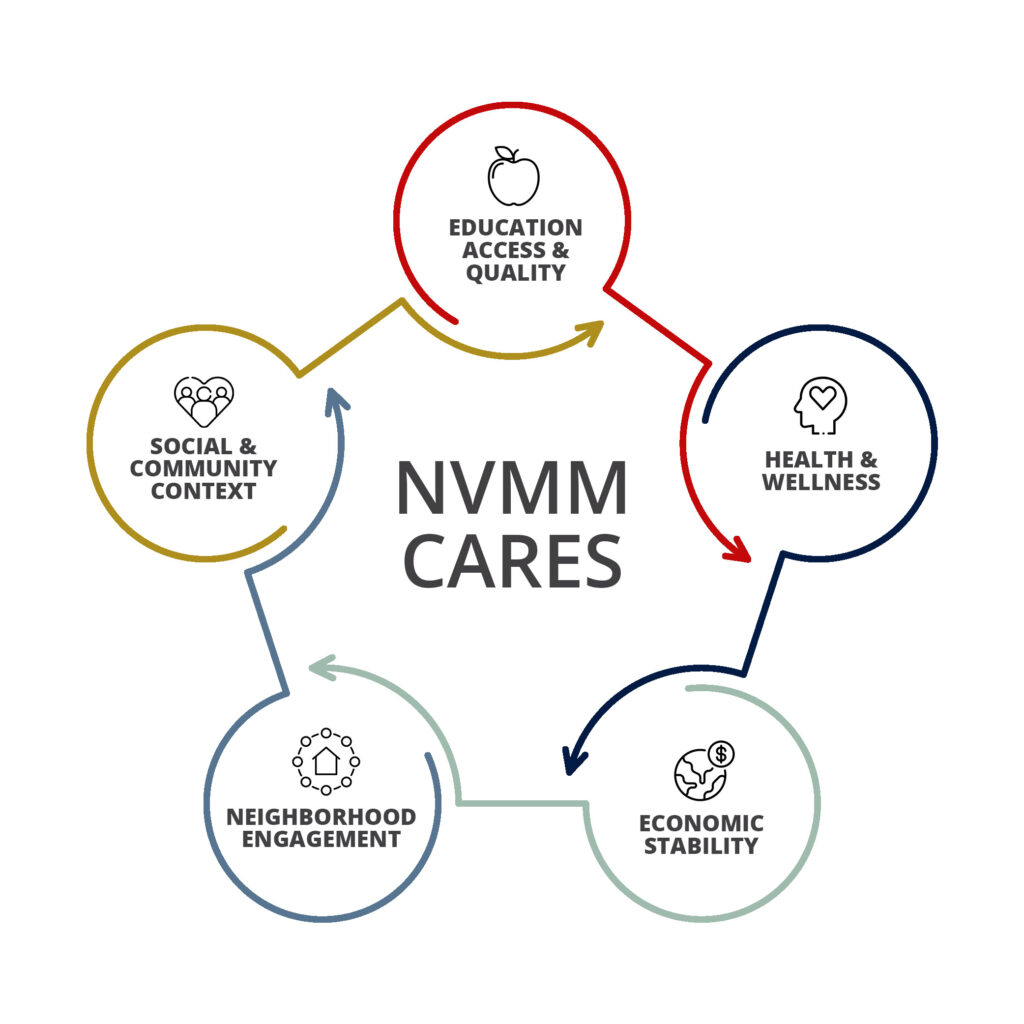 Together, we will address the Five Social Determinants of Health that impact the lives of those around us as we leverage community assets to supply participants and Veterans with a network of opportunities and partners who can assist them with whole health wellness. ​
Our approach to CARES is rooted in our Museum's story-sharing mission because we know that a Veteran's story doesn't stop when they come home, it is just beginning.
We bring American history to life by connecting students to the powerful, personal stories and firsthand experiences of our nation's heroes. We strive to be a valuable educational resource for students K-12, college scholars and educators at all levels, offering comprehensive programming that engages learners and shares stories of service and sacrifice.
Click the links below to explore how our team is creating access to quality educational resources for Veterans in the community.
Impact:
"From Lt. General Ferriter, U.S. Army (Retired), down through the entire NVMM team, we were treated as part of the team from the minute we walked in the door. NVMM invited our students to engage in the exhibits, invited us to their special events and, importantly, worked collaboratively with us to problem solve issues when they arose. Moreover, the NVMM team actively engaged with our students who, in other settings, would not have been welcomed the way NVMM welcomed our kids."

Our work through the CARES Initiative to create access to health care services and support networks is bolstered by the generosity of sponsoring organizations. This holistic program positively impacts lives by allowing Veterans and their civilian counterparts to connect through Brazilian Jiu Jitsu, Yoga, Fitness Events, Art and Creative Workshops and additional activities endorsed and hosted by the NVMM.
Click the links below to explore how our team is creating access to quality health and wellness resources, and promoting health literacy, for Veterans in the community.
Impact
"For me, it has been a game changer. Working in the PTS wellness community for the past 8 years, I have witnessed not only journeys of healing but also see the preventative attributes this program offers. Connecting the Veteran community while creating a bridge to connect the Veteran and civilian communities definitely supports a post Traumatic Growth!"
RESILIENCE & WELLNESS PARTICIPANT
"I learned about the NVMM prior to experiencing multiple life changing incidents that left me facing a ton of adversity, financial challenges, heart break, and personal problems. The NVMM provides me a safe space and a community of like-minded individuals that I can relate to through these difficult times…providing me a sense of greater purpose in my community."
RESILIENCE & WELLNESS PARTICIPANT
"A Veteran reached out to me indicating they were having trouble understanding where to go for PTSD support. I reached out to members of this program to see if we could provide a path of support for him to get the help he needed….He let me know it was the first time he felt he wasn't alone, that others were experiencing similar challenges, and there was path to a better life."
RESILIENCE & WELLNESS PARTICIPANT

A Veteran's story doesn't end when they depart the military. With 8.8 million Veterans currently employed in the US and another 200,000+ Service Members transitioning annually, the NVMM is uniquely positioned to expand our reach beyond telling Veterans' stories of service to directly impact their journey to meaningful employment. Their stories not only demonstrate how military service can lead to economic opportunities but inspire future generations of servant leaders.
Click the links below to explore how our team is creating economic stability for Veterans in the community.
Impact
"I don't have any family here in Columbus, so the NVMM is a place where I truly feel welcomed like a member of this family. I've joined the Veterans Resource Group and I attend events when I can. I appreciate the sense of camaraderie here and I would encourage other veterans to take advantage of this amazing resource."
Our work through the CARES Initiative to address Social and Community Context is underscored by programs and events that foster dialogue, understanding, and service. Opportunities for engagement will focus on topics including social cohesion and civic participation.
Click the links below to explore how our team is fostering an environment that creates a strong sense of camaraderie, belonging, and purpose by bringing together our communities and those who served.
Impact
"I have become deeply involved with the NVMM's Resilience and Wellness programming. For me that means going to weekly Brazilian Jiu Jitsu classes, but for others that can mean connecting with yoga or healing through the arts. Through this, I have connected with people who have lived my experiences and understand my perspectives. The NVMM has encouraged me to be more open about talking about my service. After years of not being involved with Veterans, I'm now very active with Veteran-related causes and organizations. My daughter Hannah and I have bonded as volunteers at the Museum, I've joined the American Legion, and I've found a community of support and friendship through the Veterans I've met at the Museum."
Our work through the CARES Initiative to engage our neighborhoods in constructive dialogue and community building is underscored by programs and events that address relevant and timely issues facing our local and national neighborhoods.
Click the links below to explore how our team is leveraging the principles of service, teamwork, and conversation to engage people across many different neighborhoods.
Impact
"[Hands-On Inspired Leadership] inspired us to think bolder, do better, and be our best selves as it relates to our core values."
HOIL PARTICIPANT
"Thank you for engaging our team in such a unique and impactful way. You got me out of my comfort zone while I learned ways to become not only a better leader, but a better version of myself."
HOIL PARTICIPANT
"This experience showed me the importance of direct and clear communication, especially in setting expectations and welcoming push back in order to help me grow as a person."
HOIL PARTICIPANT
For more information, contact Candace Brady, Vice President of Advancement, at cbrady@nationalvmm.org.