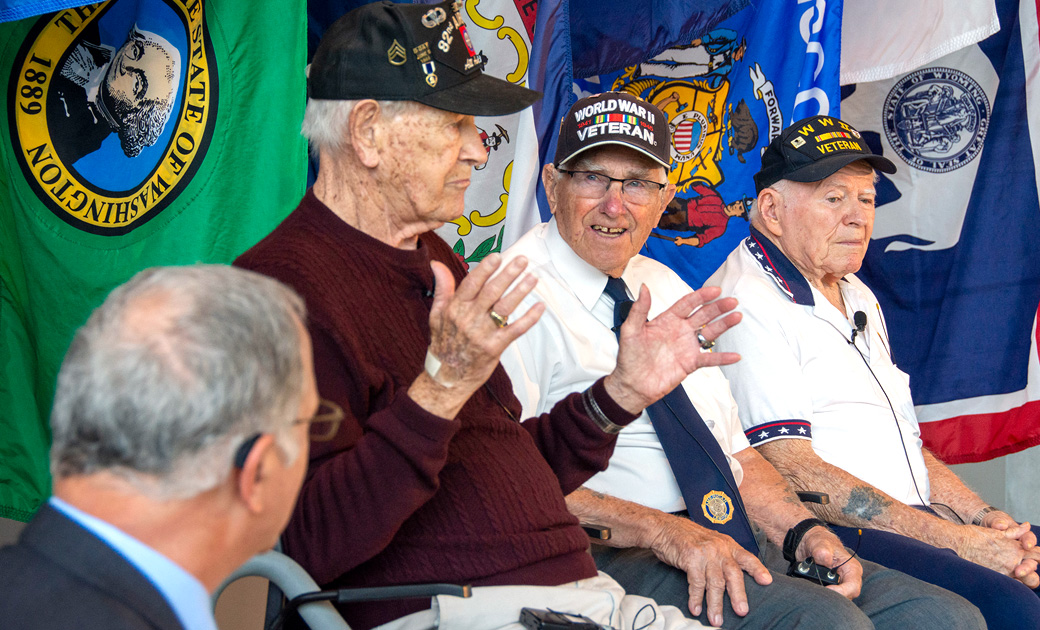 On June 6, 1944, the Allies invaded the beaches of Normandy, France in World War II's historic Operation Overlord. The largest invasion that ever assembled, 156,000 Allied troops stormed the coast by sea and air to fight Nazi Germany. Thousands of lives were lost in this significant battle that is credited with beginning the end of the war in Europe.
At the National Veterans Memorial and Museum, we proudly honor the brave men and women of D-Day every day – but especially on its anniversary. Their incredible stories are like nothing you'll read about in a history book and a powerful reminder of what it means to serve.
This year to commemorate the 75th anniversary of D-Day, the museum hosted a special Veteran Voices panel featuring Staff Sergeant Don Jakeway and fellow WWII Veterans Jack Welsh and Carl Strout. Jakeway, who parachuted behind enemy lines just before the Normandy landings, shared his heroic story of survival. Audience members listened attentively as Jakeway reflected on the mission and reverently rose to their feet at the end to give all of the courageous men a standing ovation.
If you weren't able to attend the anniversary event, you can visit the museum and discover the stories of Jakeway, Welsh and Strout in our permanent "Service and Citizenship Gallery." Here, themes focus on the emotional experience of being called to serve one's country.
And be sure to check out our Events Calendar for upcoming opportunities to honor our Veterans and hear their stories firsthand.