Depicting The Invisible: A Portrait Series of Veterans Suffering From PTSD
April 3, 2021 – February 21, 2022
Artist Susan J. Barron was inspired to create the portrait series after hearing that 22 Veterans commit suicide every day in our country.
"My intention is to bring awareness to the issues of PTSD and to depict our Veterans as the incredible heroes they are," said Barron. "… My mission is to provide a platform for Veterans to share their stories, and to create a vehicle for help and change."
Her series of 14 hauntingly beautiful six-foot by six-foot, mixed media works on canvas are created through a combination of photographic imagery, paint and text including each Veteran's story. Each Veteran in these portraits makes unflinching eye contact with the viewer to showcase them as powerful and vulnerable as they share the truth of their realities in their own words.
Depicting The Invisible is shown at the museum as part of our ongoing mission to share the Veteran experience through their own stories. We are partnering with Susan J. Barron to create a dialogue and community around the stigmas associated with war's invisible scars to show these brave individuals they are not alone, end their isolation and represent them as the heroes they are.
About the Artist
Susan J. Barron is an exceptionally diverse, multi-award-winning artist whose work has been collected and commissioned across the nation. Whether working with oil on canvas, photographic processes, or incorporating sculpture and collage elements, her work bravely and beautifully explores the intersection of the viewer's preconception and reality.
She has had solo exhibitions throughout the United States, including the Hunter Museum of Art, TN, HG Contemporary Gallery, NY, Caelum Gallery, NY, the Kevin Butler Gallery in Massachusetts, the First Frontier Collage Society in Texas, and the Lark Creek Gallery in California. A graduate of Boston University, she studied art at the Art Institute of San Francisco and Yale School for the Arts. She is currently traveling the country with her latest body of work, Depicting The Invisible.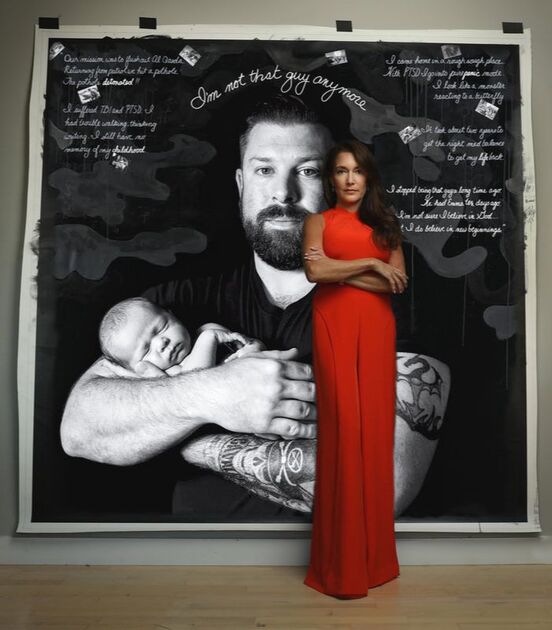 Thank you to our Exhibition Sponsors

With Support From