It is with a truly heavy yet grateful heart that we say farewell to General Colin L. Powell, a trusted advisor, friend and chair of our Honorary Board of Advisors. As much as he will be missed, we will forever be thankful for Gen. Powell's example of character, leadership, legacy of service, desire to solve world issues and genuine care for others.
Gen. Powell would tell you how serving his country changed his life. He shared with me that he was a "C" student at Morris High School in the South Bronx and didn't apply to any major universities. At the City College of New York, he was attracted to the Pershing Rifles drill team and joined the Army Reserve Officer Training Corps (ROTC). Gen. Powell said the discipline and leadership opportunities provided him with a focus and direction he never had. Whether it was his humble beginnings or in his nature, Gen. Powell was a soldier's soldier, equally able to hold engaging conversations with a private one moment and heads of state from around the globe the next. More importantly, he cared equally about helping the individual and solving issues on a world scale.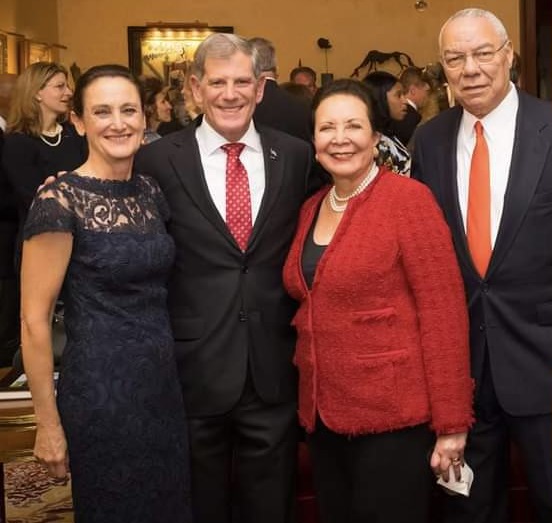 Gen. Powell said, "They won't care who I am until they know I care." That's something that has stuck with me, and I think about it every day. Whether it's your family or your staff at work, caring and then showing you care is paramount to good communications and leadership. A few months ago, we engaged Gen. Powell to join our Veterans Voices series to discuss the 30th anniversary of Operation Desert Storm. He shared some of the inside discussions and how decisions were made (the Powell Doctrine was born from this). The biggest impact for many of us during our conversation was when he talked about knowing the decision to send American service members into harm's way meant some of them wouldn't come home. He welled up with emotion as he shared how difficult those decisions were, knowing he would have to notify families that their loved ones had sacrificed all for our country. If you want to hear that conversation with Gen. Powell, the episode is on our Facebook and YouTube channels.
For the National Veterans Memorial and Museum, Gen. Powell was our champion, mentor and visionary. He was an encourager of people and instilled in me that to develop people, we need to say "yes" to their ideas by asking one question, "Is this the right thing to do?" When I would share programs and ideas with him, Gen. Powell always pushed me and the NVMM to think bigger, to consider how we could impact more lives. I will miss those conversations. At the same time, we are thankful to have had his guidance and influence on the NVMM team and our efforts.
Our hearts go out to the Powell family and Veteran and military communities on the loss of a man of incredible character who lived a life of service to his local community, his country, and to the world.
God's speed to our friend, Gen. Colin L. Powell.
Lt. General Michael Ferriter
President and CEO, National Veterans Memorial and Museum