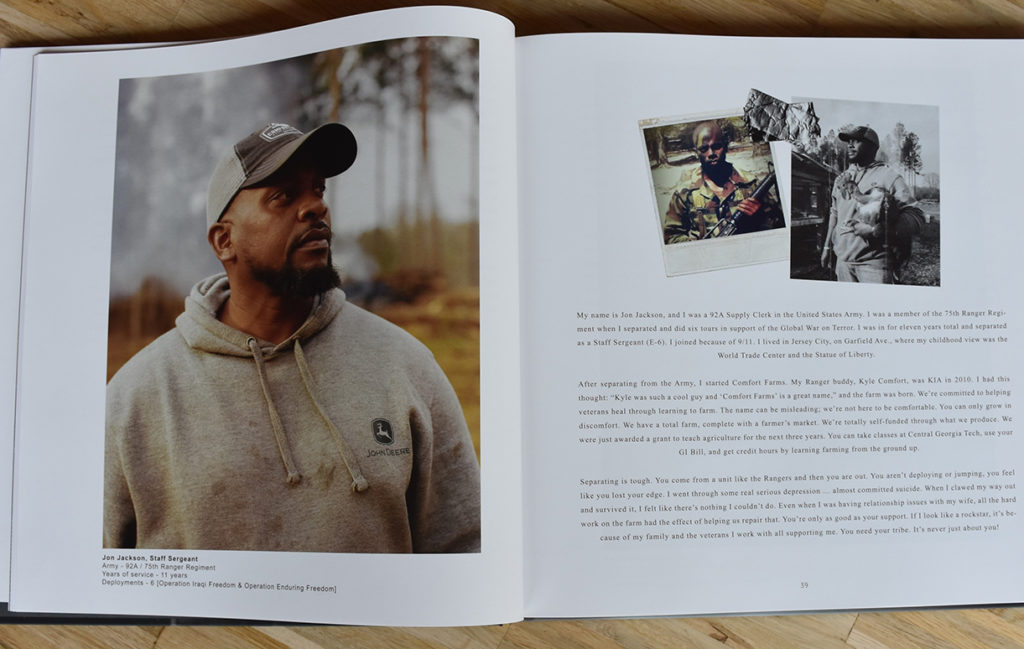 An excerpt from "The Twenty-Year War"
"My name is Jon Jackson and I was a 92A Supply Clerk in the United States Army. I was a member of the 75th Ranger Regiment when I separated and did six tours in support of the Global War on Terror. I was in for eleven years total and separated as a Staff Sergeant (E-6). I joined because of 9/11. I lived in Jersey City, on Garfield Ave., where my childhood view was the World Trade Center and the Statue of Liberty.
After separating from the Army, I started Comfort Farms. My Ranger buddy, Kyle Comfort, was KIA in 2010. I had this thought: "Kyle was such a cool guy and 'Comfort Farms' is a great name," and the farm was born. We're committed to helping veterans heal through learning to farm. The name can be misleading; we're not here to be comfortable. You can only grow in discomfort. We have a total farm, complete with a farmer's market. We're totally self-funded through what we produce. We were just awarded a grant to teach agriculture for the next three years. You can take classes at Central Georgia Tech, use your GI Bill, and get credit hours by learning farming from the ground up.
Separating is tough. You come from a unit like the Rangers and then you are out. You aren't deploying or jumping, you feel like you lost your edge. I went through some real serious depression … almost committed suicide. When I clawed my way out and survived it, I felt like there's nothing I couldn't do. Even when I was having relationship issues with my wife, all the hard work on the farm had the effect of helping us repair that. You're only as good as your support. If I look like a rockstar it's because of my family and the veterans I work with all supporting me. You need your tribe. It's never just about you!"
Photo: Jon Jackson, 2021 | © Beau Simmons
See Jon in our May 2021 Rally Point!
May's Rally Point features discussions with U.S. Air Force Veteran Richard Murphy, and U.S. Army Veteran Jon Jackson, the Executive Director of STAG VETS. Both organizations share similar goals — to aid Veterans in their transition from their military service to civilian life with agriculture. Agro-therapy is the conditioning of Veterans to their new normal.