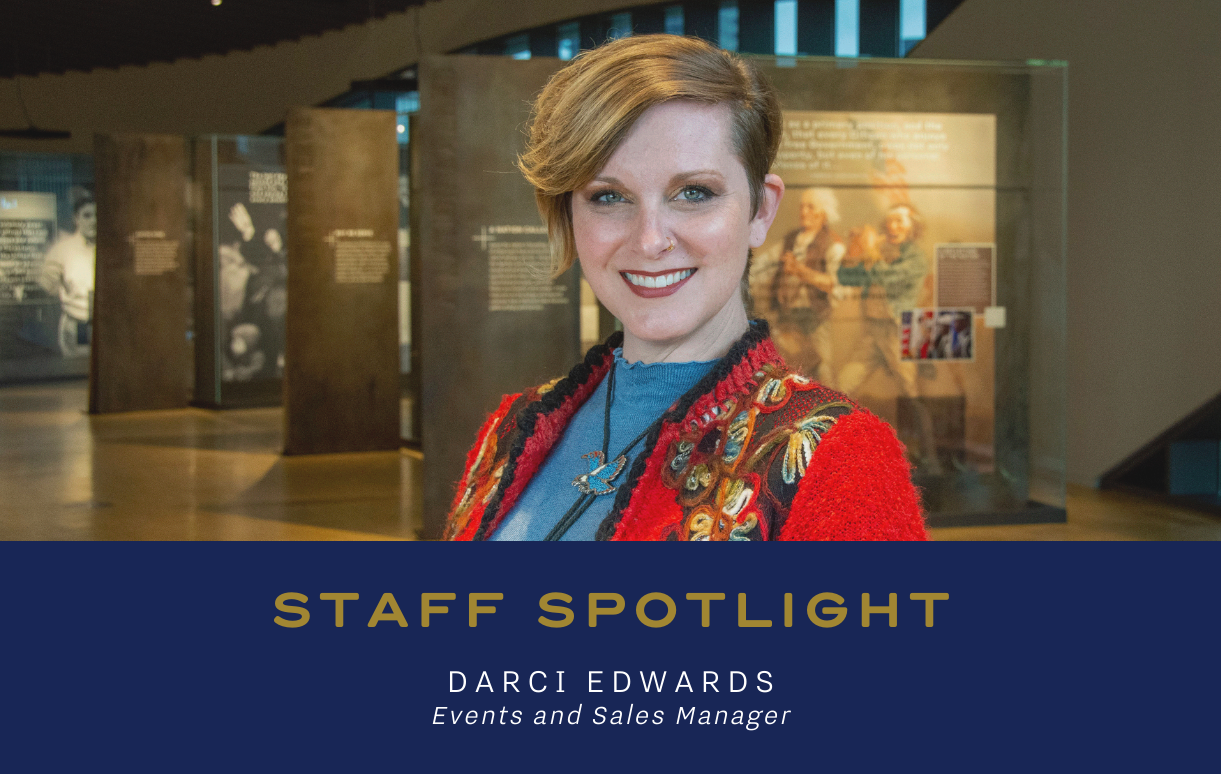 Each month, the Museum invites you to get to know the staff supporting our pillars to Honor, Connect, Inspire and Educate. Meet Darci Edwards, our Events and Sales Manager. Darci works with our Experience team to deliver an exceptional event from start to finish for both our Museum and community events as well as those who rent space at the Museum for special events ranging from retirements to weddings and meetings.
Q: How have you connected to the Museum?
A: Well, considering I was crying during my second interview, that says something! It was slightly embarrassing, but it helps me to better describe the impact NVMM has on lives, not just Veterans but our community at large. I still get goosebumps as I present our space to potential clients. I'd say that's not a bad connection to my work.
Q: What do you like to do when you aren't working?
A: Well, currently, I like to continuously wipe Great Dane slobber off myself, after recently adopting Gus. Other than that though, I like to ride motorcycles (I have an '89 Yamaha Radian and a '68 BSA Royal Star), paint, dance, model, act, play piano and guitar, write (short stories, screenplays, poetry), see live music, snowboard, photography and going out for dinner and a nice glass of red wine. Oh and Europe – I loooooooove Europe. Also fashion – the amount of shoes I own and size of my wardrobe should be illegal.
Q: What are three words that best describe you?
A: Curious, Eccentric, Understanding (can I have three more please?)
Q: We feature a "What We're Reading" section each month on our website as part of NVMM Reads. What are you reading right now?
A: The Night in Question, a collection of short stories by Tobias Wolff. Tobias Wolff is a Vietnam Special Forces Veteran, which is noticeable in much of his work, including my next read from him, The Barracks Thief, about three paratroopers waiting to be shipped out to Vietnam. Wolff was awarded a Presidential Medal of Arts by President Barack Obama in 2015.
Q: What is your favorite place within the Museum?
A: The Celebrate a Veteran star – it is so moving to see the faces of guests as their loved one's name pops up. Especially if it is someone who has passed, it gives a tangibility to their memory and the feeling that they live on here in our sacred space.
Q: Where is your favorite place in the world?
A: Baia dei Saraceni on the Italian Riviera – don't ask why. Just go there.
Q: After being in the military, how does it feel to serve in the civilian world for a Veteran-focused organization?
A: It feels like I leave work smiling every day. I feel fulfilled. I feel like I am doing something that makes a difference, and I do not feel alone. Even if it's been a tough day, I still smile because I know that my work is for a greater purpose.
Q: What is your personal motto, or your favorite quote?
A: "We all owe death a life." – Salman Rushdie