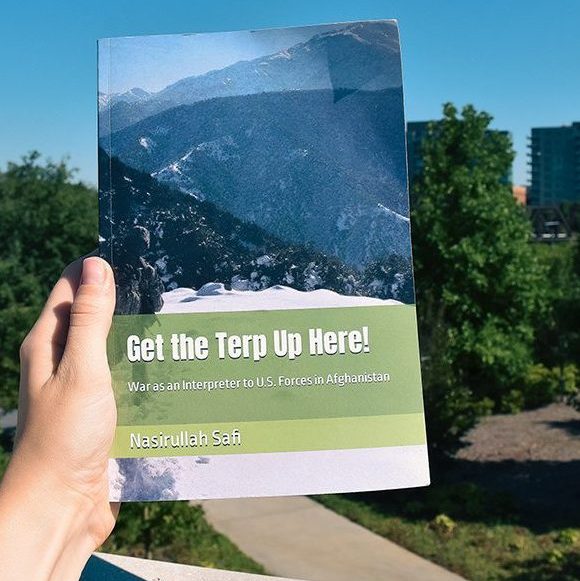 Following the events of September 11, 2001, our perception of life as we knew it was uprooted, and the world was thrust into the Global War on Terror (GWOT). While most U.S. citizens remained safe from the crossfire, many innocent civilians living in foreign combat zones were not nearly as lucky. Throughout the GWOT, combat interpreters were an enormous part of the military's strategy. To gain intelligence advantages over the enemy, combat interpreters served on the front lines to intercept enemy radio frequencies and translate locations and plans. "Get the Terp Up Here!" by Nasirullah Safi, an Afghan interpreter for U.S. forces, explores his perspective and experiences.
Safi (called "John" by his comrades in arms) reveals the struggles and versatility of an interpreter's role in military service. While becoming familiar with new languages, customs and terminology necessary to effectively foresee combat situations, interpreters must also be prepared at all times to handle aggressive enemy encounters. They must be able to keep a close ear on intercepted frequencies, waiting to hear and respond to the enemy's next steps. Safi shares notable experiences including evading enemy gunshots, narrowly avoiding improvised explosive devices and escaping Taliban leaders in a way that is both personal and captivating.
Growing up in rural Afghanistan, Safi's childhood was plagued by uncertainty and senseless violence. In his teenage years, he successfully evaded the Taliban's watchful eye while working on his family farm, attending classes, learning English and looking for a job to support his family. While seeking employment, he was presented with the opportunity to serve as a combat interpreter. Elated that he could finally make money to help his family back home, he joined and served with the American troops stationed in Afghanistan for several years. Through his service, he was assisted with immigration to the United States and payment for his medical doctorate, allowing him to realize his dream of becoming a doctor.
Safi's story of determination and resilience illustrates the dedication and vigilance of our service members who keep us safe. Like many others, he was able to create a better life for himself by utilizing his service to enhance his natural drive and ambition, leading him down a clear path to success.