In honor of Native American Heritage Month, the NVMM's Guest Experience team recommends "Shadows in the Jungle: The Alamo Scouts Behind Japanese Lines in World War II," by Larry Alexander. This book shares thrilling personal accounts of the men who made up General Douglas MacArthur's elite reconnaissance unit during his WWII intelligence operations in the Southern Pacific. Drawing on interviews and testimonies from scout Veterans, Alexander details a publicly unknown portion of the war. The story also highlights the esteemed "Alamo Scouts'" courage, valor and proud heritage along with the precise methodology of their mission.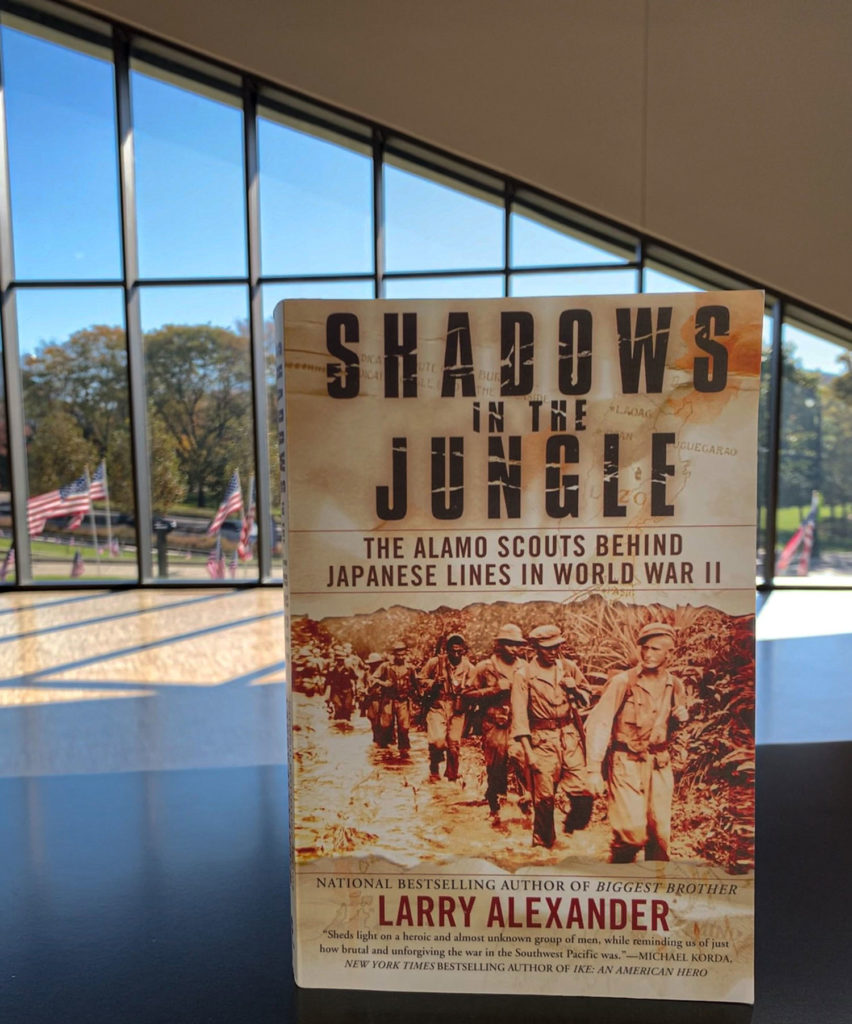 "Shadows in the Jungle" begins in 1942, immediately following the United States' surrender of the Philippines to the Japanese. Determined to recover this territory, MacArthur made the calculated decision to form a first-rate intelligence team, made up of the toughest 130 men the Army had to offer. Thus, the Alamo Scouts, an elite, top-secret reconnaissance/raider unit was assembled in 1943. When assembling the unit, a niche variety of soldiers were hand-picked by Army commanders to carry out covert intelligence missions in the South Pacific. Approximately six percent of the original Alamo Scouts were known to be of American Indian heritage. However, due to the unit's top-secret classification barring the release of detailed background records, it is likely this percentage was much higher. Many of these men were known as "Code Talkers," with the ability to send encoded messages in a language undecipherable by the enemy, effectively securing the cover of operations. Overall, the Alamo Scouts were highly successful, performing at least 108 missions without losing a single soldier.
Larry Alexander's writing style weaves personal accounts throughout a contextually historical and informative novel. Each chapter delves deep into the individual experiences of Scout Veterans, using clips from targeted interviews and testimonies. By tapping into these resources, Alexander effectively allows the reader to gain knowledge of a largely unknown aspect of the war in the Pacific through the eyes of those who served during that time. He beautifully captures the courage behind undertaking an impossible task and spending weeks behind enemy lines. To say this is an entirely personal read would be factually incorrect; the author unveils a multitude of previously unknown historical events throughout the book. "Shadows in the Jungle" is an excellent resource for those interested in the geographical aspects of conducting missions throughout the region, detailing how the Alamo Scouts utilized the Philippines' natural terrain to accomplish their goals. Whether your interests are action-packed adventure stories, historical analysis, geography or cultural diversity, consider adding "Shadows in the Jungle" to your November reading list!