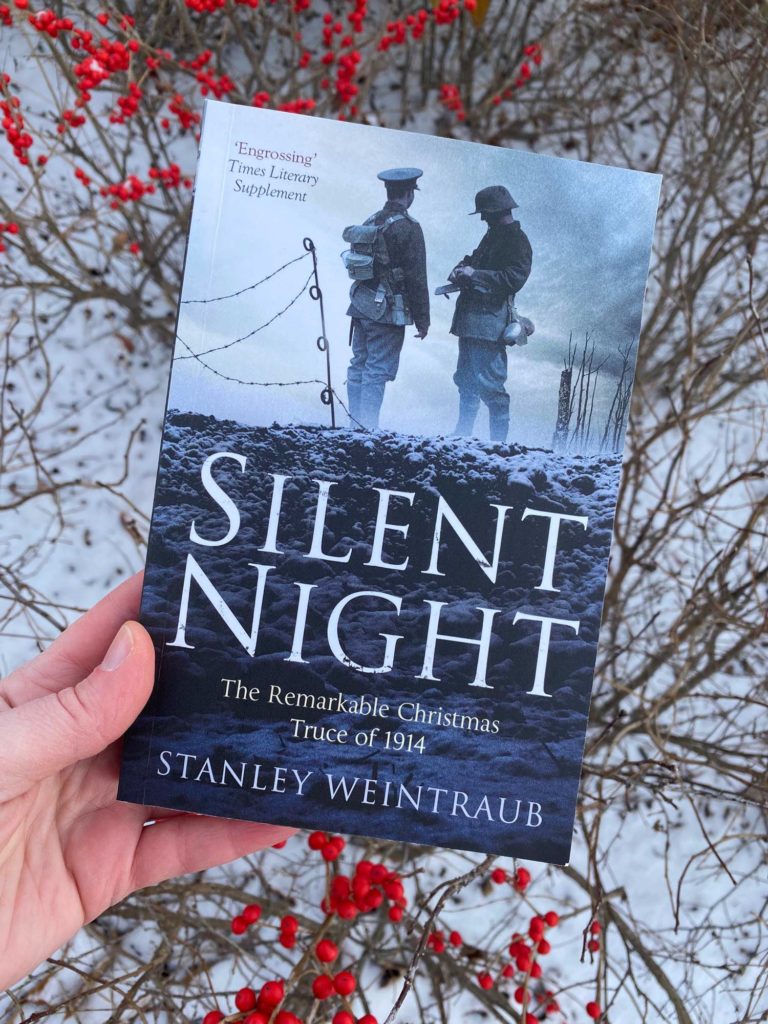 This holiday season, the NVMM Guest Experience team recommends reading "Silent Night: The remarkable Christmas Truce of 1914," by Stanley Weintraub. Imagine a dark, wintery scene— a silence broken only by Christmas carols sung in myriad languages— a darkness broken only by the soft glow of candlelight among hastily-chopped evergreens and desolate trenches. Full of emotion and solemnity, this narrative sheds a dimmer light on the Christmas celebrations we all know and love. By piecing together a grim depiction of the obvious imbalance between a violent act of war and the peaceful celebration of Christmas, this book describes what it was like for the soldiers of World War I to experience the hope of a Christmas truce in an otherwise hopeless war zone.
Set in December of 1914, this book tells the story of how soldiers temporarily set their arms to rest in a fragile truce toward the beginning of the war. During the early months, tensions were high, and young soldiers were eager to feel some semblance of normality. This sparked a widespread agreement along the Western Front to temporarily cease fire, replacing acts of war with candlelight and caroling. Despite language barriers, the phrase, "You no shoot, we no shoot," was understood by all, and opened up what was known as "No Man's Land" as a temporary ground for peace. For a short time, soldiers could be at ease recognizing the humanity of their opposition, and observe the sentimental value of Christmas held for all.
The author uses personal letters and accounts passed down by soldiers of all participating nationalities, each bringing different perspectives that he could piece together to memorialize this time in history. Through quotes and hand-drawn pictures, Weintrub shows the progression of temporary peace amid the horrific experience of trench warfare in the dead of winter. From describing the makeshift decorations to detailing fragmented communication between enemies, Weintraub makes it apparent that this situation was miraculous and unpredictable.
The holidays are a time for peace and good will, and wartime is intrinsically the opposite. "Silent Night: The Remarkable Christmas Truce of 1914," highlights both realities with a solemn, yet hopeful description of the paradoxical nature of this Christmas truce.