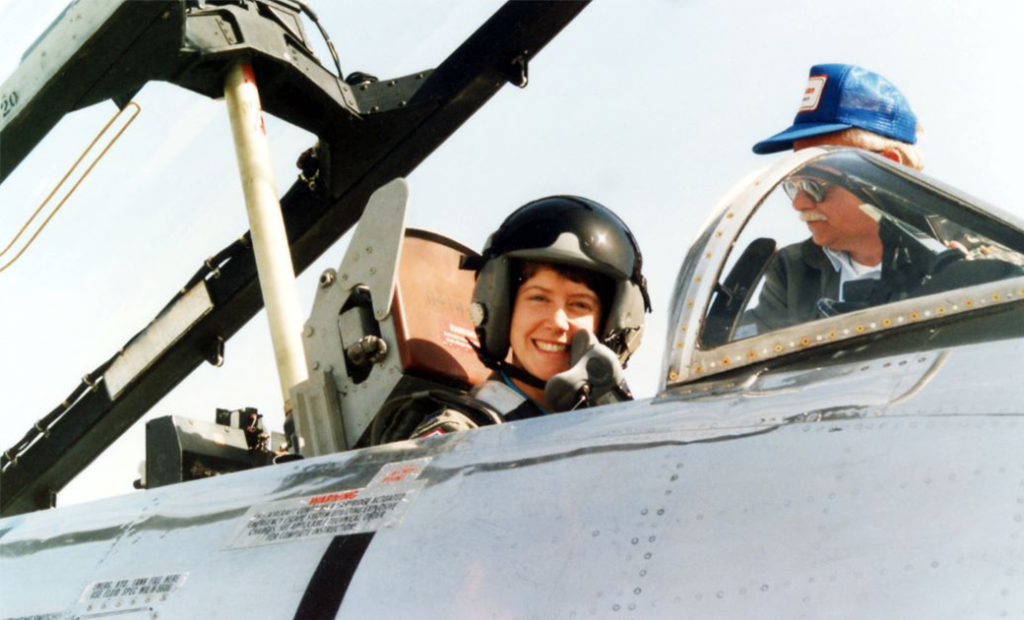 by Col. Pamela Melroy, U.S. Air Force (Retired)
I did not know anything about the military when I saw the astronauts on Apollo 11 land on the Moon in 1969. But I knew my dad had been a mathematician in the Air Force, and I knew that Mike Collins and Buzz Aldrin, two of the astronauts on that mission, were Air Force test pilots. When I decided that I was going to be an astronaut, I thought I needed to be a test pilot and, of course, it had to be the Air Force. Now, many astronauts are engineers and scientists, but back then, I just set my mind to becoming a pilot and eventually a test pilot. People laughed at me, especially early on. I did not mind them because my dad reminded me that I could do anything I wanted to if I worked hard enough. My parents believed in me, so I believed in myself.
As an undergraduate at Wellesley College in Air Force ROTC, part of the MIT ROTC detachment, I learned about the history of the Air Force and the emphasis on leadership. I fell in love with leadership and decided that it would be a part of my life's journey. I added the dream of being accomplished enough to lead a high-performing team – maybe even a Space Shuttle crew – to my list.
My first years in the military were tough – I had so very much to learn, and my dad was not an engineer, so I never got to learn a lot about mechanical things from him. But the military doesn't assume you know anything – thank goodness – and they methodically teach you everything you need to know. I attended pilot training at Reese AFB in Lubbock, Texas, graduating in 1985.
I fell in love with flying right away! I loved flying all over the world in big jets with more than a dozen people for whom I was responsible. I flew the KC-10 operationally for six years at Barksdale AFB with the 32nd AREFS as copilot, aircraft commander, instructor pilot and basic qualifications (schoolhouse) instructor. The opportunity to put all my training to use to fight a dictator who had invaded an innocent country came during Operation Desert Storm. I had many operational missions under my belt, some in very dangerous conditions, but Desert Storm required deploying to the Middle East, flying long hours and living in a tent while worrying about being shot down. I could see the scope and might of the U.S. brought to bear, and it was exhausting and wonderful to play a small part in it.
After Desert Storm, I went to the USAF Test pilot School. graduated in 1991 and was assigned to est Operations, then to the C-17 Combined Test Force, doing the initial testing of the C-17. I loved being a test pilot as well – merging my love of science and engineering with my love of flying. I took very seriously the responsibility to use my experience and engineering knowledge to make a brand new airplane safer for pilots who were brand new as I once had been. Paying things forward and thinking about those who come behind you is also a big part of being in the military.
At the completion of that test program in 1994, I was selected as an astronaut and went to NASA on detail from the USAF. The Air Force made my dream of commanding a Space Shuttle and flying in space come true. And I believe with all my heart that although there were many little girls in 1969 with a dream to lead in space, only in the United States could that dream come true.
Col. Melroy retired from the Air Force in 2007 and remained with NASA until 2009. Since then, she has worked as an executive for Lockheed Martin, at the FAA in the Office of Commercial Space Transportation and at DARPA. Melroy is currently an advisor to the National Space Council and the Australian Space Agency and works as an independent consultant. She has more than 6,000 flight hours in more than 60 types of aircraft. Melroy was inducted into the U.S. Astronaut Hall of Fame at the Kennedy Space Center Visitor Complex earlier this year.