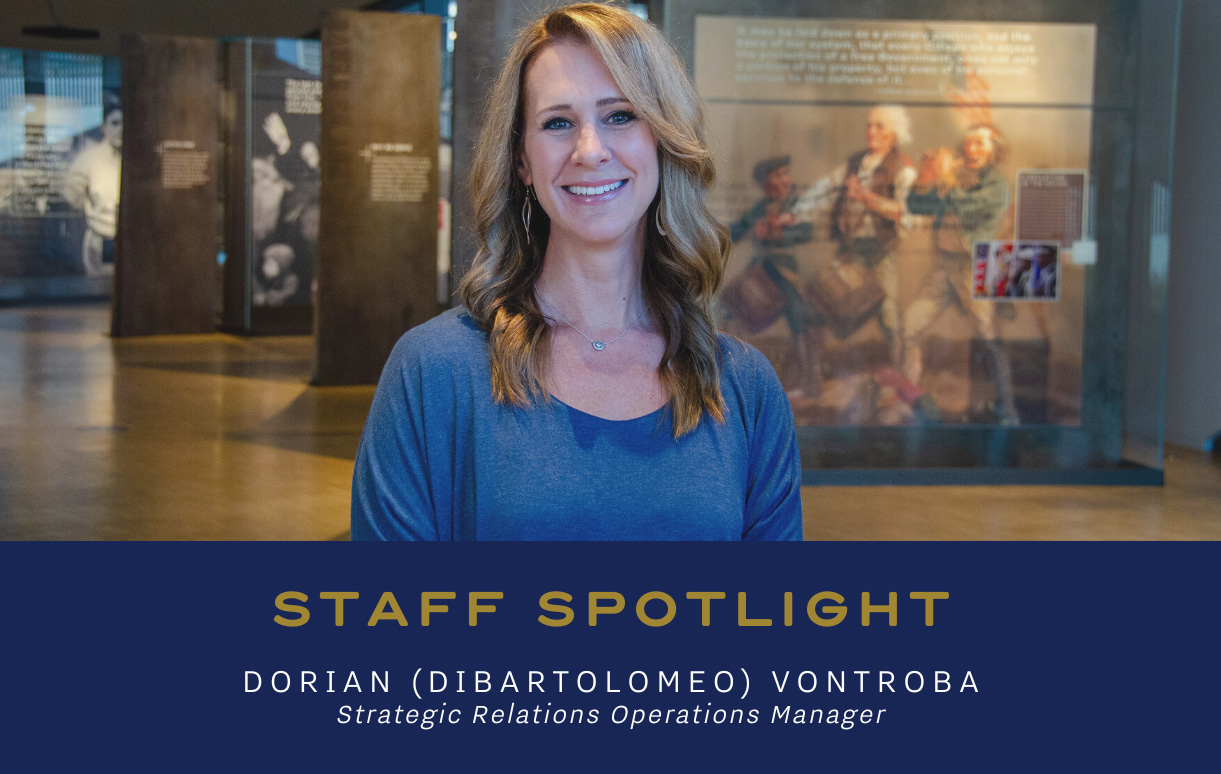 Each month, the Museum invites you to get to know the staff supporting our pillars to Honor, Connect, Inspire and Educate. Meet Dorian (DiBartolomeo) Vontroba, Strategic Relations Operations Manager.
Q: What is your favorite place in the Museum and why?
A: It's extremely difficult to pick a favorite place. What I will say is that I love being a witness or understanding a visitor's first visit to the Museum. Whether that be a civilian, a child, a Veteran, etc…this place can be very powerful. Each person's journey is personal, and perspective is different. I love reading reactions and learning what the NVMM means to those that visit.
Q: What are three words that best describe you?
A: Kind. Curious. Go-Getter.
Q: We feature an #NVMMReads recommendation every month, what is a book that you think everyone should have on their "must-read" list?
A: Back in 2018, my cousin sent me the book "Daring Greatly" by Brene Brown. It was a very important read, especially as I was going through a difficult time. We can't control much of what happens in life, but we can learn to embrace vulnerability and be courageous enough to transform our outlook.
Q: What is something that no one would believe about you?
A: I was a play-by-play announcer for college basketball and provided color commentary for our college football team. I also spent time as Sports Director of our college radio station.
Q: What is something on your bucket list?
A: Skydiving and the opportunity to travel through Italy. (I still have family in Campobasso and would love to meet them!)
Q: What fictional character do you want to be your best friend and why?
A: Oh geez, I don't know. Maybe Indiana Jones. He's intelligent, has many worldly concerns, and I appreciate his sarcastic sense of humor. I also love action, adventure, and archaeology. And we'd both hate on snakes together!!
Q: What's your favorite board game?
A: Telestrations. It's a visual version of the telephone game, and always ends up hilarious.
Q: What is your go-to karaoke song?
A: I'm not a good singer, but I LOVE karaoke. I don't have a go-to song, but some of my PG favorites are "Love Shack" by B-52s, "The Sweet Escape" by Gwen Stefani, "Faith" by George Michael, and "Stay (I Missed You)" by Lisa Loeb.