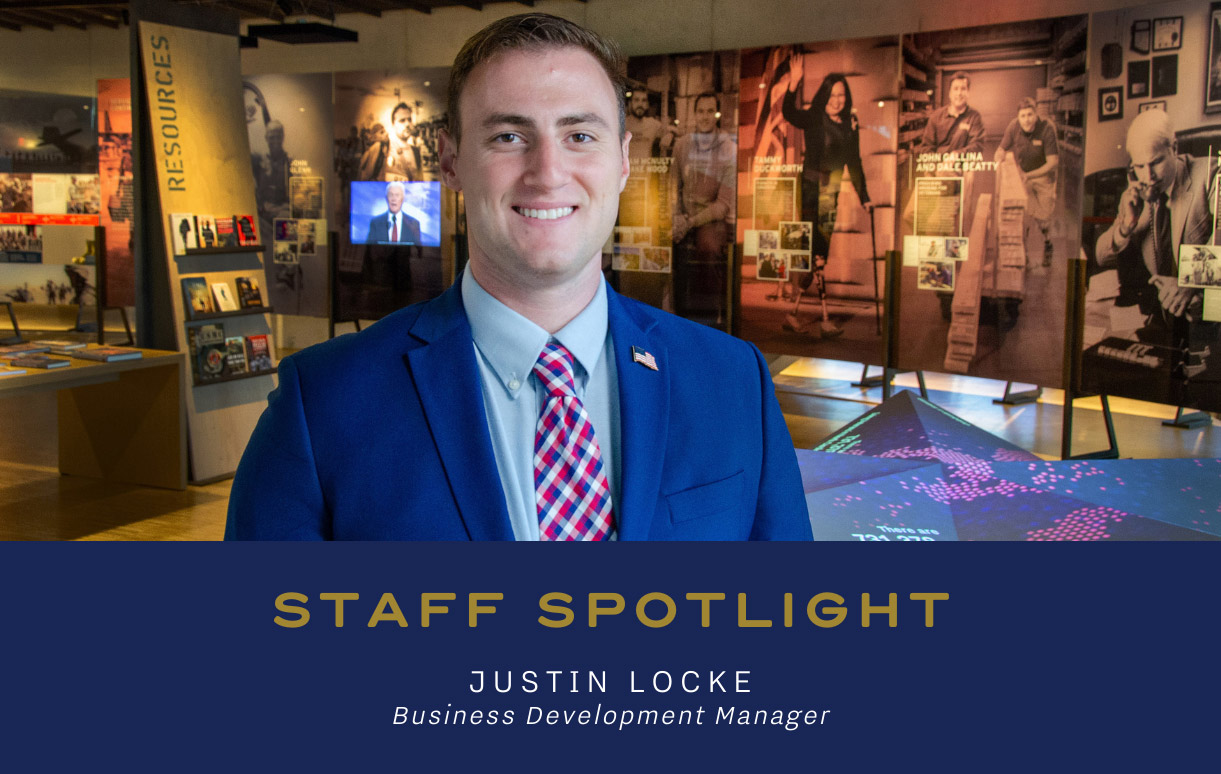 Each month, the Museum invites you to get to know the staff supporting our pillars to Honor, Connect, Inspire and Educate. Meet Justin Locke, our Business and Development Manager.
Q: How have you connected to the Museum?
A: I have been able to connect with the Museum in a number of ways. One way specifically is the exhibitions that have come through the Museum – the information and the stories they tell resonate so deeply with me since these are common experiences in service. You think, 'oh what I do is not very special' or 'it is similar to everyone else surrounding me,' but these stories are so incredible and powerful that it has pushed me to actually start telling them. Being here has inspired me to be more vocal about my own service in hopes of inspiring or connecting with others.
Q: What do you like to do when you aren't working?
A: When I am not working, I enjoy spending time with my fiancé exploring and eating our way through the various restaurants of Columbus. We also spend most of our time spoiling our rescue husky, Dixie.
Q: What are three words that best describe you?
A: Determined. Ambitious. Adventurous.
Q: We feature a "What We're Reading" section on our website each month as part of NVMM Reads. What are you reading right now?
A: I am actually reading two books at the moment, "Greenlights" by Matthew McConaughey, and "A Million Little Pieces" by James Frey.
Q: What is your favorite place within the Museum?
A: I am a huge fan of the Soldier's Cross in Memorial Grove. It is such a powerful message and one that I hope no one must bear.
Q: Since you are still actively serving in the U.S. Army Reserves, how does it feel to also serve in the civilian world for a Veteran-focused organization?
A: It has been incredible to continue to give back to Veterans and to those whom I have served with. Many Veterans struggle when leaving the service since it becomes your entire identity, so working here allows me to still have purpose, connect with, and give back to all of those great individuals.
Q: What's your personal motto, or your favorite quote?
A: "If you are depressed you are living in the past. If you are anxious you are living in the future. If you are at peace you are living in the present." – Lao Tzu