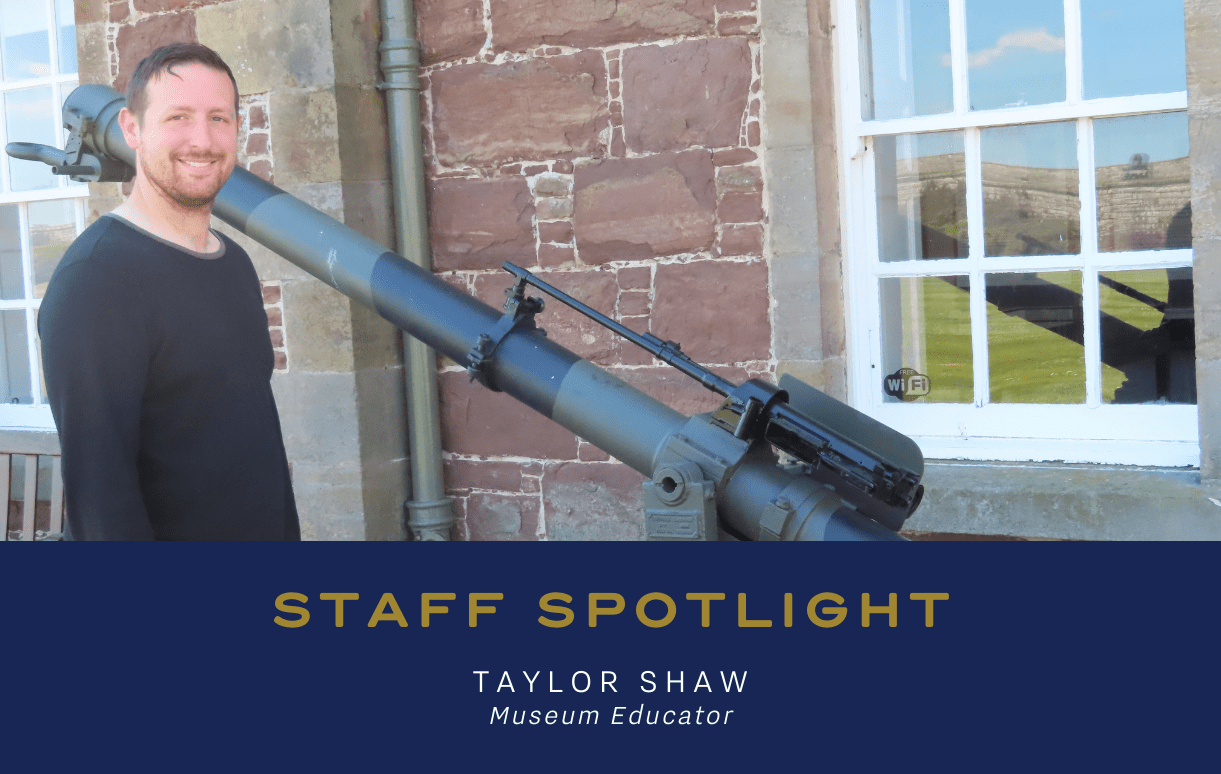 Each month, the Museum invites you to get to know the staff supporting our pillars to Honor, Connect, Inspire and Educate. Meet Taylor, our Museum Educator.
Q: You recently came back from a deployment with the U.S. Air Force Reserves. Do you have any advice for those in the military who might be preparing for their first deployment?
A: Pack light! You really don't need anything other than your issued items and about a weeks' worth of gym clothes. Seeing people try to drag 4 or more bags while in-transit was always humorous. And also consider using a trash bag or two as a liner. You never know when your stuff is going to get stuck outside.
Be sure that your family is for your deployment just as much as you are. Take the time to make sure they have goals, plans, and support in place. They are going through a massive change in their day to day lives as well. Realistic goals regarding fitness, education, and reading are always big ones that people aim for.
Q: What is the story behind the flag that you brought back from your deployment?
A: In January, the United Arab Emirates and the base I was deployed to was attacked with ballistic missiles and suicide drones multiple times by the Houthis in Yemen. A squadron of F-22's from the 1st Fighter Wing was deployed to our base in response as a show of force and to carry out several air operations. As an Aerial Port, we ended up being crucial in making sure that their support equipment was in place. We only had a 4-hour window to help them get everything where it needed to be. Due to the efforts my Airman put into helping them over 3 months, they offered to fly us flags as a thank you. We were the only section as far as I'm aware they offered that for. I had one flown for my brother who was in the Army and one for the Museum.
Q: What are three words that best describe you?
A: Quiet. Nerdy. Dedicated.
Q: We feature a "What We're Reading" section on our website each month as part of NVMM Reads. What are you reading right now?
A: I haven't had much time to read for fun between work, my graduate program, and a tabletop RPG campaign I'll be running. But, I did pick up and start Brandon Sanderson's "Starsight" a few weeks ago. I read the first book at some point and had fun with it.
Q: What fictional character do you relate best to and why?
A: The Lightfoot brothers from Onward have a special place in my heart because of the experiences that my own brother and I went through growing up with a father who passed away while we were very young.
Q: If you were a baseball player, what would your walkout song be?
A: Not sure if they would play this one but probably My Chemical Romance's cover of "Desolation Row." My backup would be the introduction to Sabaton's "Red Baron" or Miracle of Sound's "Road Rage."