"The National Veterans Memorial and Museum is open, strong, connecting and impacting Veterans' lives daily both in the museum and through our virtual events. To ensure you and your loved ones a safe and enjoyable visit, we have established and continue to follow local, state and national CDC guidelines for face coverings and social distancing. Our mission to Honor, Connect, Inspire and Educate has never been stronger!"
– Lt. General Michael Ferriter, U.S. Army (Retired), President and CEO of the National Veterans Memorial and Museum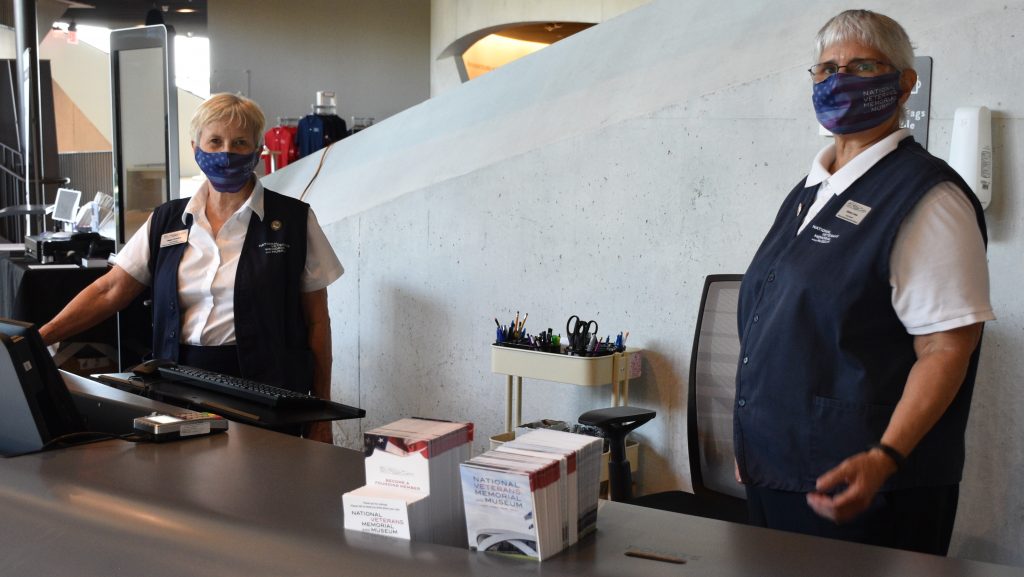 Health & Safety Measures
We are committed to helping reduce the spread of COVID-19. The health and safety of our guests and our team remain our top priority. We are following local, state and national requirements for cultural facilities. Additionally, the museum is equipped with a state-of-the-art air filtration system using medical-grade filters. (Please see below for details.)
Face Coverings
Following the most recent local and CDC guidelines, any guests or staff members who are fully vaccinated (post two weeks since their second vaccination shot) may experience and work in the museum without wearing a face-covering. Those who are not yet fully vaccinated, are requested to wear a face-covering to explore museum exhibitions.
Fully vaccinated guests and staff members who feel more comfortable continuing to wear a face-covering are, of course, welcome to do so. Face-coverings are available at the Welcome Desk.
Sanitizing, Disinfecting and Social Distancing
Museum signage provides reminders to maintain social distancing, wash and sanitize hands frequently, and wear face coverings. Signs and floor decals have been installed to assist with distancing and one-way directional pathways in some areas.
Hand Sanitizer: Stations can be found throughout all three levels of the museum.
Disinfecting: Restrooms and other high-touch surfaces including exhibit displays, handrails, elevators, wheelchairs, entry and exit points and museum common areas are being disinfected frequently throughout the day.
Restrooms: All restrooms are equipped with foot pedals on the doors and paper towels to avoid door handle contact.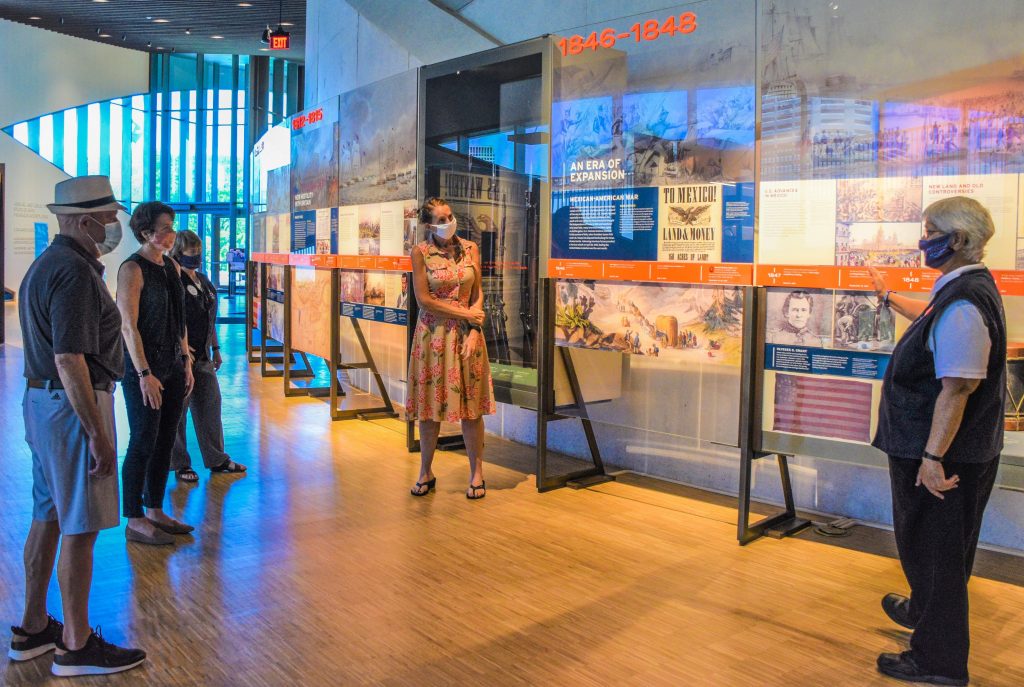 Know Before You Go
You can enjoy your museum visit knowing that the building employs a state-of-the-art, triple-filter air filtration system with MERV8, MERV15 and HEPA filters. MERV 15 filters are medical grade and are deployed in hospital inpatient care spaces. They can filter all bacteria while the HEPA (High-Efficiency Particulate Air) filters to filter all viruses.
Please note that capacity is limited in some smaller spaces, and traffic is one-way through some alcoves to help ensure social distancing.
Hours and Special Days
Hours: Wednesday – Sunday from 10 a.m. – 5 p.m.
Admissions and Tickets
If you purchase a ticket online but are not feeling well when you planned to visit, please stay home and enjoy our online content. We will honor your admission ticket at a later date.
Reserve Tickets: All guests, including Veterans and members, are strongly encouraged to reserve their tickets online to allow for social distancing. Please visit https://nationalvmm.org/visit/tickets/.
Admission for Veterans, Gold Star Families and Active Military members is always free thanks to the generosity of individual and corporate donors.
An active membership card or proof of military status must be presented at check-in.
Admission Prices:
Veterans/Active Military: Free
College Student (With ID): $12.00
Payment/Transactions: To reduce cash transactions, we ask that any purchases be made by credit card. The National Veterans Memorial and Museum accepts all major credit cards.
On Your Arrival: Please have your ticket barcode available for scanning at the Welcome Desk. Parking validation (for Veterans, Gold Star Families and Members) can also be done at this time.
Other Resources