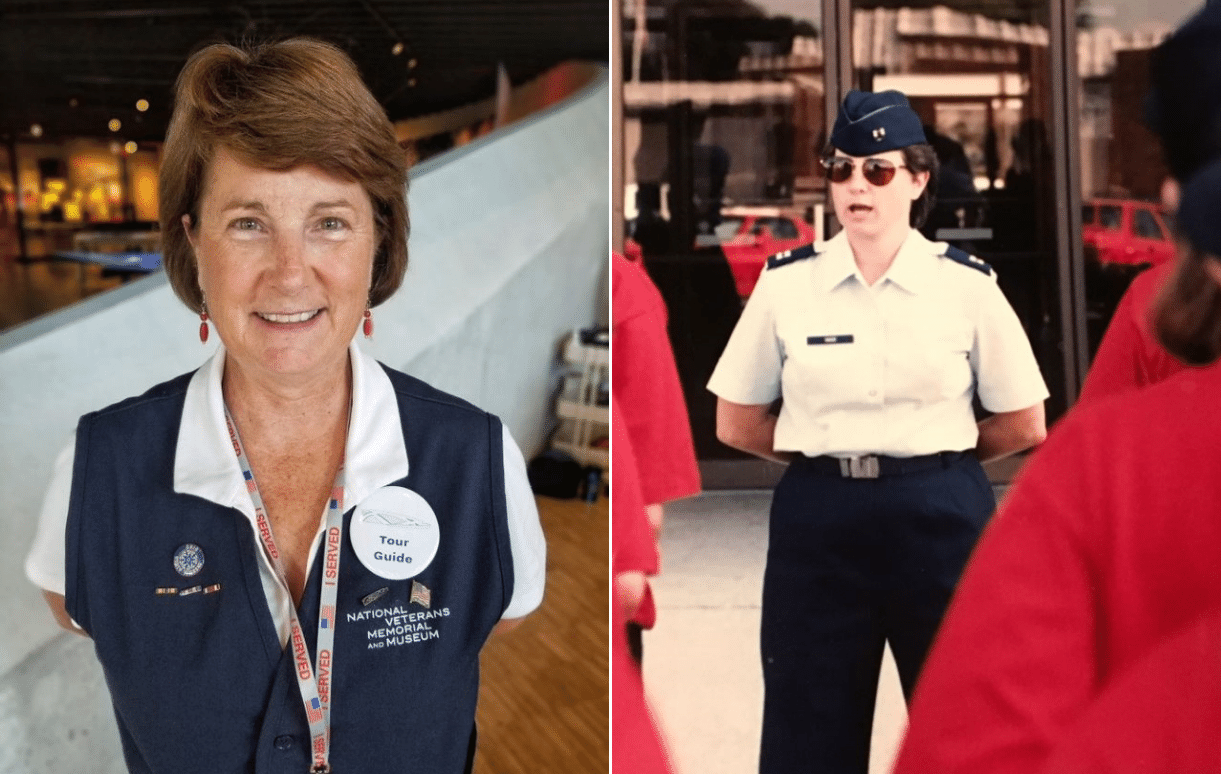 Each week during Women's History Month, we honor and celebrate the women Veterans within our museum and volunteer staff ranks. Their countless contributions and selfless acts of service inspire us daily.
Meet
Kim Minor, U.S. Air Force Veteran and Volunteer at the National Veterans Memorial and Museum
Q: Where were you stationed, what was your job?
A: I was stationed at Rickenbacker Air National Guard Base in Columbus, Ohio from 1982-2008. Throughout my career, I held several positions which included Chief of Military Equal Opportunity, Inspector General, Executive Officer, and Personnel Squadron Commander.
Q: What does service mean to you?
A: For me, service means giving of oneself for others and for our country. Service means fighting for our democracy, for our way of life, and for American Ideals.
Q: What impact has service had on your life?
A: I was raised in a military family in a small Virginia town. I knew from an early age that I wanted to serve in the military, but at the time military schools were not an option for girls. As soon as I was old enough, I joined the Air National Guard. Military training was a significant and emotional event for me. Having grown up in small town, I was sheltered and influenced in many ways. The military taught me about other cultures, races, and ethnicities. It opened my eyes to my own biases and prejudices and made me face some hard truths about myself. It taught me to take accountability for my words and actions.
Service provides personal and professional opportunities to develop oneself and it has instilled in me the following values:
Accountability
Responsibility
Confidence
Commitment
Self-discipline
Self-respect
Pride
Q: What is your favorite exhibit inside the museum?
A: I have a couple! The first is the "Taking the Oath" alcove because it gives me an opportunity to share how impactful the oath is for individuals. I also have an opportunity to share some of the differences between serving in the Air National Guard versus in the active duty Air Force because the ANG oath has the addition statements about the state and local governments. The other exhibit I really enjoy is the "Jobs" alcove because we talk about how any person can hold pretty much any job today. Women can fly and men can work as nurses! It also shows extracurricular opportunities like being in the military band.
Q: What advice would you give to other women starting out in their military career?
A: My advice to women wanting a career in the military would be to "be true to yourself." Be honest, humble, and truthful. Go for the job or position you're most interested in. Work hard and be prepared. You can do anything, be anything, and the sky is the limit!