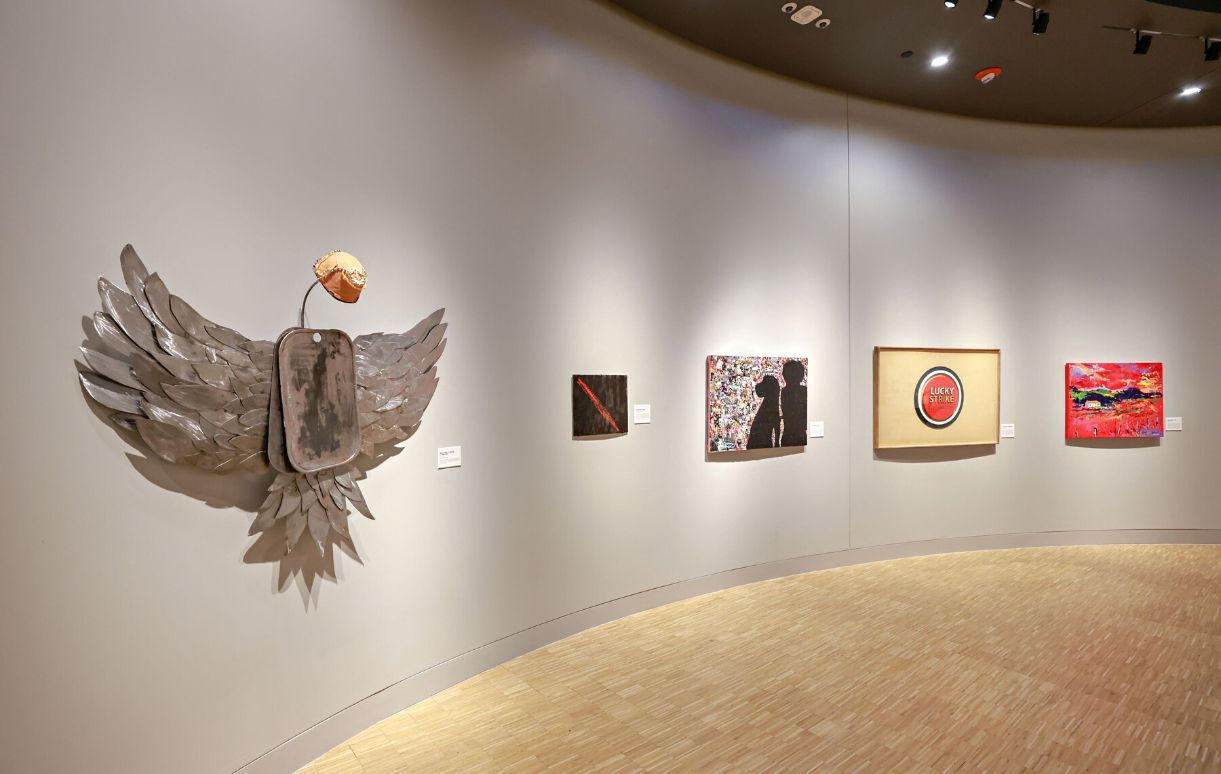 "At first glance, the arts and the military might seem to have very little in common. But in truth, the two disciplines have a long history together. From the Greek playwright Aeschylus who took the ancient Persian-Greek wars as his subject circa 472 BC, to Walt Whitman who not only wrote expansively about the U.S. Civil War but served as a wartime nurse." –National Endowment for the Arts
Today the relationship between service member and artist goes much deeper. In our latest exhibition, IDENTITY: Exploring Veteran Narratives through Art + Music, we introduce you to Veterans who found healing and connection through the arts. Through CreatiVets programming, these Veterans learn to express complex events and emotions through the creative processes of drawing, painting, ceramics, sculpture and songwriting. Here are some of our favorite highlights from IDENTITY:
Benefits of the Arts on Health & Well-Being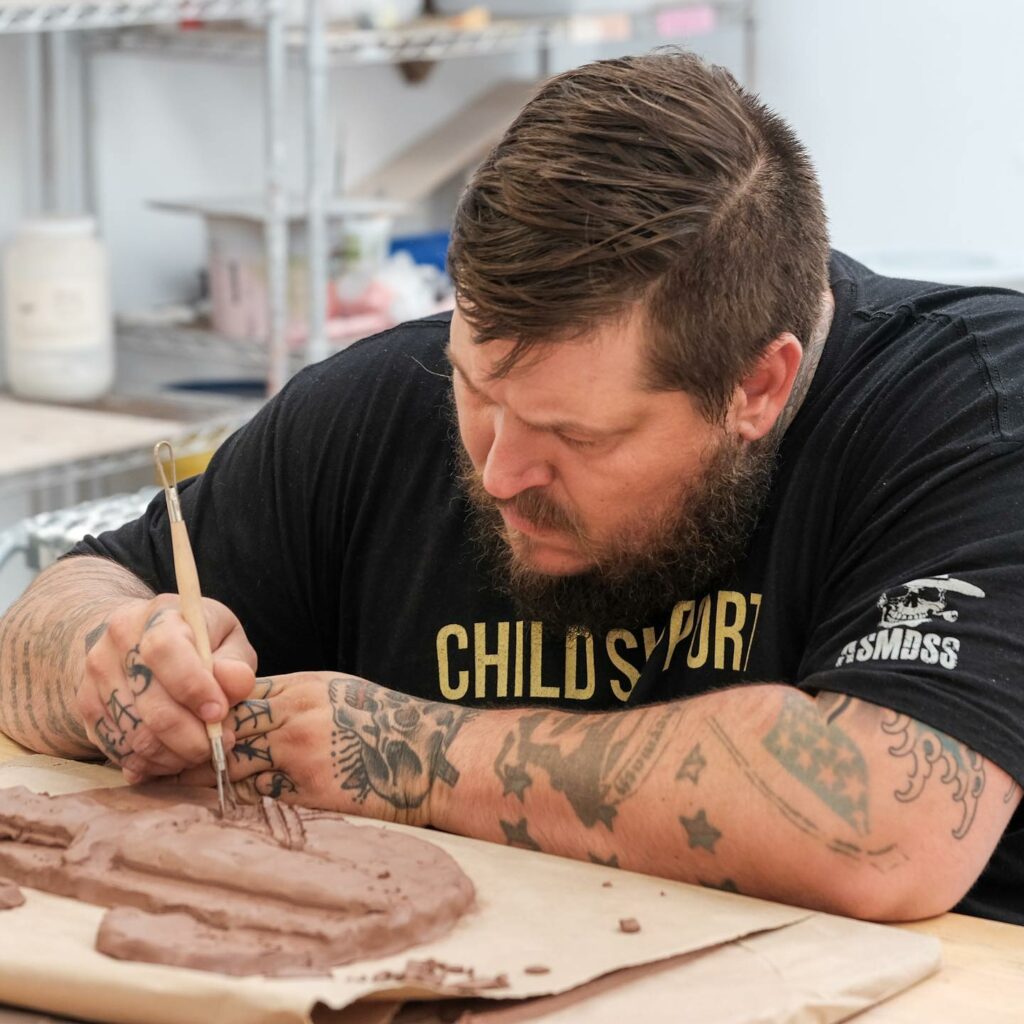 Nurturing our creative side is essential to the human spirit. The arts are known to decrease depression, increase memory and cognitive function and improve our communication and behavioral skills. For active duty service members, art promotes resilience and enhances physical and mental well-being. For Veterans and their families, art provides a way to reintegrate back into communities and foster positive meaningful relationships that bridge the military/civilian divide.
Creative art forms like those offered by CreatiVets programs and seen in IDENTITY have shown tremendous progress in reducing post-traumatic stress (PTS) and traumatic brain injury (TBI) symptoms and improving the quality of life for Veterans and their family members.
Music & Songwriting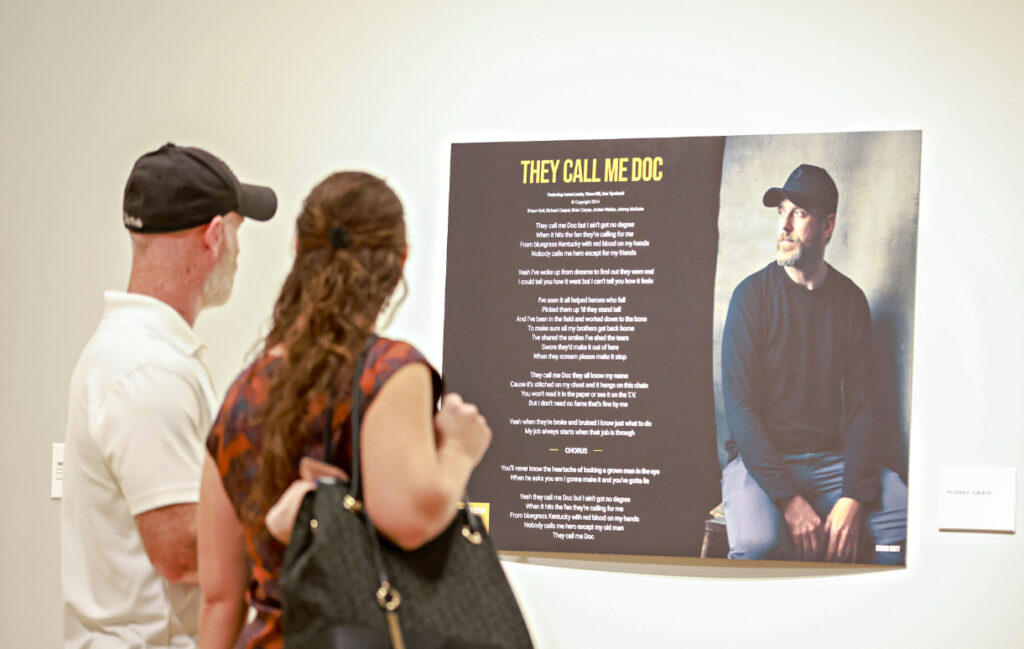 The CreatiVets Songwriting Program pairs Veterans with accomplished songwriters and music artists to allow them the opportunity to creatively express their story through a song. The songs are written to capture the Veteran's personal story so that it is their voice talking about their experiences, but in a way that captures certain universal experiences that others can understand and often relate to.
"The song gave me a chance to tell my daughter something I never could quite figure out how to do. I felt as if I was put in a position where even if I had said the words to her face-to-face, it didn't have nearly as much impact as the song did, and it definitely brought [her] closer to me again."-Veteran Participant, Songwriting Program
Listen to their full collection on Amazon Music, iTunes, Spotify and other streaming services:
Visual Arts: Sculpture & Metalwork
Sculpture is a branch of visual arts that operates in three dimensions: height, width and depth. U.S. Army Veteran Briana McCrae Carr utilizes this technique to express how she learned to grow from painful experiences.
From iron to copper, metalwork is one way to create inspiring pieces of visual art. U.S. Army and U.S. Marine Corps Veteran Carlos Espinosa utilizes this medium to create a soldiers cross and honor the lives lost in war.
"Once [Veterans] discover art, it's like they realize, 'I may not have words to describe what I went through, but I have this…I have this piece of art,' and that piece of art represents something which can help them start a conversation with their family or their friends." -Richard Casper, CreatiVets Co-Founder
Visual Arts: Collage
Collage is a technique by which art results from an assemblage of different forms, thus creating a new whole.
U.S. Army Veteran Sylvia Bowersox utilizes this art form to describe her PTSD. "My brain takes in everything. I can't relax. Iraq, the explosions, my mother – my family doesn't understand. The world is in fragments, like shattered glass, and I am a shadow of my former self. But Timothy, my faithful service dog and companion, now shares the world with me. Nothing flusters him, and I gain new strength with him by my side. There is hopefulness. There is a future. We must begin again."
Richard Casper & CreatiVets
"Discovering concept-based art and the power of songwriting saved my life. After what it did for me, I knew it could help other Veterans as well, and that's what I wanted to do through CreatiVets."
Richard Casper, U.S. Marine Corps Veteran and Co-Founder of CreatiVets, shares how his organization helps Veterans and their families heal through art and music:
IDENTITY is on view through March 19, 2023. We encourage you to join us for our upcoming programs that offer ways to connect to the Veterans in your own life and explore how Veterans can use art and music for their own personal growth and development.
"Arts + Social Impact Explorer Fact Sheet: Arts + Military." Americans for the Arts, ww2.americansforthearts.org/sites/default/files/2022-05/AFTA%20fact_Arts%2BMilitary_ADA.pdf. Accessed 19 Dec. 2022.