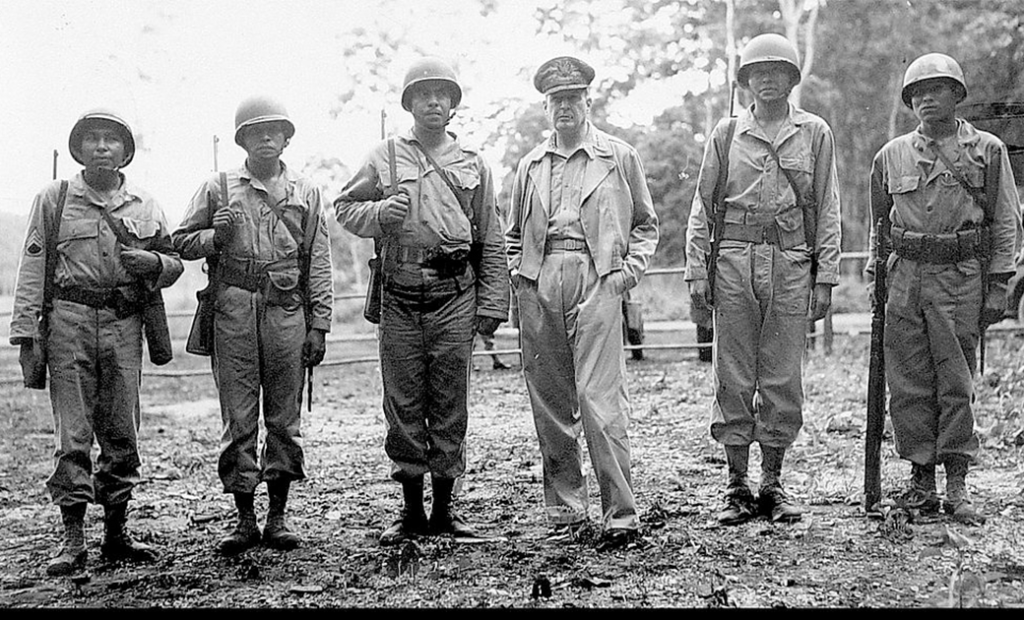 Cha-dzeh-ah-jad-dibeh-yazzie-a-kha! That translates to "Hello" using the Navajo code talkers dictionary.
August 14 is National Navajo Code Talkers Day, a day to commemorate the contributions of Native American code talkers who served in the U.S. military during World Wars I and II. Code talkers utilized a secret, coded language, based on their native language, to communicate important information over military telephones and radios.
During World War II, the U.S. Marines enlisted 29 Navajo men who participated in every major Marine operation in the Pacific theater. Code talkers worked in pairs — one on the frontlines and one behind the lines – communicating by radio and telephone. To prevent the enemy from breaking the code and gaining access to important information, there were no printed code manuals. Code talkers had to memorize all the words and translations they used.
Two different types of code were used during World War II. The first type was developed based on the languages of the Comanche, Hopi, Meskwaki, and Navajo peoples. They used words from their languages for each letter of the English alphabet. Messages could be encoded and decoded by using a simple substitution cipher where the ciphertext was the native language word. The second type of code was informal and directly translated from English into a Native American language. If there was no word in the native language to describe a military word, code talkers would describe the word. For example, the Navajo did not have a word for "submarine" so the translation they utilized was "iron fish."
Glenn Nez, son of Marine Veteran, Jack Nez, didn't know a lot about his father's military service. He knew his father was a radio operator during World War II on Wake Island. The code talker program was classified until 1968, so those involved were not able to disclose any stories about their roles in the war until it was declassified. Jack died in 1977 without sharing his role as a code talker with his family. In 2000, Congress passed a bill to recognize the code talkers and the story and photos appeared in media across the country. The Nez family was astonished when they recognized Jack in one of the photos listing him as one of the original 29 Navajo code talkers.
Jack Nez was born in 1924 and grew up on a Navajo reservation in Fort Defiance, Arizona. After high school, Jack attended Haskell University to become an auto mechanic where he met Glenn's mother, LaVera, who was studying to become a nurse. When the U.S. become involved in World War II, Jack volunteered for the Marine Corps at the age of 17. After it was discovered that he was fluent in the Navajo language, Jack agreed to participate in a special project – developing a code that would be used to communicate important military messages. Jack served in the Pacific Islands from January 1943 to August 1944.
Approximately 400 – 500 Native Americans served in the U.S. Marine Corps during WWII as code talkers. Decades after their service and sacrifice, the federal government recognized and honored the legacy and history of the code talkers' contributions to American democracy. On August 14, 1982, President Ronald Reagan declared the day as National Navajo Code Talkers Day. In 2000, President Bill Clinton awarded the original 29 code talkers with the Congressional Gold Medal. In 2001, President George W. Bush presented medals to the four surviving code talkers at a ceremony in the Capitol Rotunda.
You can learn about more Veterans like Jack Nez by reading Code Talker: A Novel About the Navajo Marines of World War Two, Code Talker: The First and Only Memoir By One of the Original Navajo Code Talkers of WWII, watch Windtalkers, or connect with their stories by visiting the National Veterans Memorial Museum and online at: www.nationalvmm.org.
Student Activity:
Take a moment to read the alphabet of secret codes used during World War I and World War II. Write a message using Navajo words the code talkers used, and ask a friend to translate your message.
| | | |
| --- | --- | --- |
| ALPHABET | NAVAJO WORD | LITERAL TRANSLATION |
| A | WOL-LA-CHEE | ANT |
| A | BE-LA-SANA | APPLE |
| A | TSE-NILL | AXE |
| B | NA-HASH-CHID | BADGER |
| B | SHUSH | BEAR |
| B | TOISH-JEH | BARREL |
| C | MOASI | CAT |
| C | TLA-GIN | COAL |
| C | BA-GOSHI | COW |
| D | BE | DEER |
| D | CHINDI | DEVIL |
| D | LHA-CHA-EH | DOG |
| E | AH-JAH | EAR |
| E | DZEH | ELK |
| E | AH-NAH | EYE |
| F | CHUO | FIR |
| F | TSA-E-DONIN-EE | FLY |
| F | MA-E | FOX |
| G | AH-TAD | GIRL |
| G | KLIZZIE | GOAT |
| G | JEHA | GUM |
| H | TSE-GAH | HAIR |
| H | CHA | HAT |
| H | LIN | HORSE |
| I | TKIN | ICE |
| I | YEH-HES | ITCH |
| I | A-CHI | INTESTINE |
| J | TKELE-CHO-G | JACKASS |
| J | AH-YA-TSINNE | JAW |
| J | YIL-DOI | JERK |
| K | JAD-HO-LONI | KETTLE |
| K | BA-AH-NE-DI-TININ | KEY |
| K | KLIZZIE-YAZZIE | KID |
| L | DIBEH-YAZZIE | LAMB |
| L | AH-JAD | LEG |
| L | NASH-DOIE-TSO | LION |
| M | TSIN-TLITI | MATCH |
| M | BE-TAS-TNI | MIRROR |
| M | NA-AS-TSO-SI | MOUSE |
| N | TSAH | NEEDLE |
| N | A-CHIN | NOSE |
| O | A-KHA | OIL |
| O | TLO-CHIN | ONION |
| O | NE-AHS-JAH | OWL |
| P | CLA-GI-AIH | PANT |
| P | BI-SO-DIH | PIG |
| P | NE-ZHONI | PRETTY |
| Q | CA-YEILTH | QUIVER |
| R | GAH | RABBIT |
| R | DAH-NES-TSA | RAM |
| R | AH-LOSZ | RICE |
| S | DIBEH | SHEEP |
| S | KLESH | SNAKE |
| T | D-AH | TEA |
| T | A-WOH | TOOTH |
| T | THAN-ZIE | TURKEY |
| U | SHI-DA | UNCLE |
| U | NO-DA-IH | UTE |
| V | A-KEH-DI-GLINI | VICTOR |
| W | GLOE-IH | WEASEL |
| X | AL-NA-AS-DZOH | CROSS |
| Y | TSAH-AS-ZIH | YUCCA |
| Z | BESH-DO-TLIZ | ZINC |
Explore More Stories
World War II Pioneer: Lieutenant Colonel Harriet West Waddy, U.S. Army