Home / Veterans Day Ceremony 2021
Veterans Day Ceremony 2021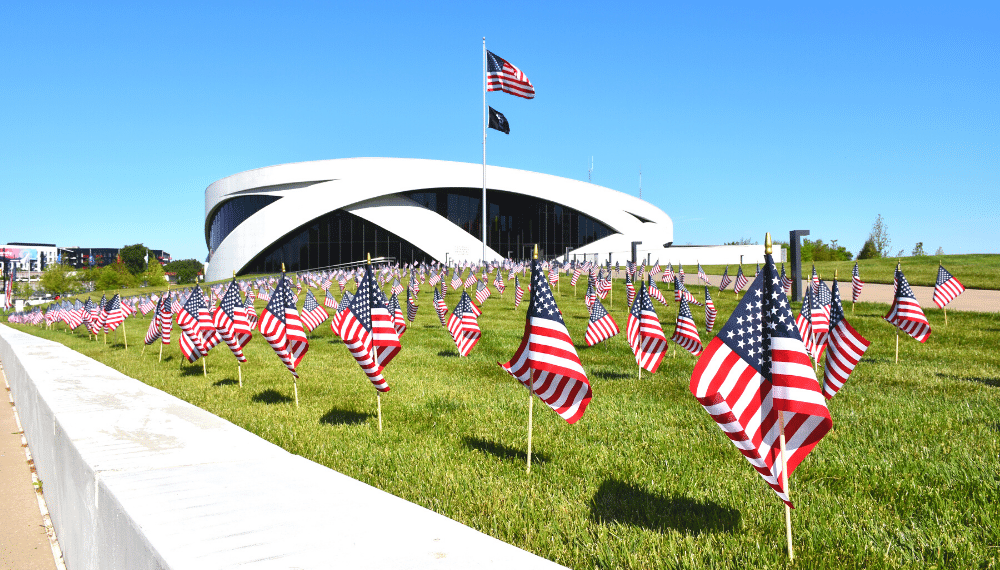 This year's ceremony will celebrate our Veterans with remarks from:
General Les L. Lyles, U.S. Air Force (Retired), Former Vice Chief of Staff, U.S. Air Force
Lt.General Michael Ferriter, U.S. Army (Retired), President and CEO, National Veterans Memorial and Museum
Erica Crawley, U.S. Navy (Retired), Franklin County Commissioner
Wayne Peacock, CEO, Presenting Sponsor USAA
Speakers will share messages promoting support of our Veterans and inspiration from their selfless service in our communities on Veterans Day and every day.
Gen. Lester L. Lyles is Commander, Air Force Materiel Command, Wright-Patterson Air Force Base, Ohio. The command conducts research, development, test and evaluation, and provides acquisition management services and logistics support necessary to keep Air Force weapons systems ready for war.
General Lyles entered the Air Force in 1968 as a distinguished graduate of the Air Force ROTC program. He has served in various assignments, including Program Element Monitor of the Short-Range Attack Missile at Headquarters U.S. Air Force in 1974, and as Special Assistant and Aide-De-Camp to the Commander of Air Force Systems Command in 1978. In 1981 he was assigned to Wright-Patterson AFB as Avionics Division Chief in the F-16 Systems Program Office. He has served as Director of Tactical Aircraft Systems at AFSC headquarters and as Director of the Medium-Launch Vehicles Program and Space-Launch Systems offices.
General Lyles became AFSC headquarters' Assistant Deputy Chief of Staff for Requirements in 1989, and Deputy Chief of Staff for Requirements in 1990. In 1992 he became Vice Commander of Ogden Air Logistics Center, Hill AFB, Utah. He served as Commander of the center from 1993 until 1994, then was assigned to command the Space and Missile Systems Center at Los Angeles AFB, Calif., until 1996. General Lyles became the Director of the Ballistic Missile Defense Organization in 1996. In May 1999, he was assigned as Vice Chief of Staff at Headquarters U.S. Air Force. He assumed his current position in April 2000.
Lieutenant General Ferriter, U.S. Army (Retired), is the founding President and CEO of the National Veterans Memorial and Museum (NVMM). He is an inspiring speaker with extensive experience in leading organizations through crisis, successful transformations, and leading startups. He has spoken on the TEDx stage and to a diverse spectrum of audiences, from C-Suite executives to high school students.
The nationally designated NVMM honors all Veterans from all eras of service. As a new start-up, he was the first employee hired and built his team opening the Museum in October 2018. When the pandemic hit, 85% of American museums closed, but he led his team through the crisis and pivoted to create virtual and online experiences and programs. Through his transformational leadership, millions of Americans were reached and thousands of lives impacted.
Before coming to Columbus, Ohio, he successfully supported Veterans and their families, underserved groups, students, and business leaders with his consulting firm, the Ferriter Group LLC. He has dedicated his civilian career to helping organizations and associations, and remains committed and passionate about serving Veterans, military families, and families of the Fallen.
He served 35 years in the U.S. Army commanding Soldiers, Sailors, Airmen, Marines, and International Forces at the tactical, operational, and strategic levels. He completed three combat deployments in Iraq as a general officer and one in Somalia with Task Force Ranger. He parachuted with Paratroopers and Rangers more than 200 times and served as a lead military advisor to the Iraqi government from 2008-2010.
In his last role with the U.S. Army, Lt. Gen. Ferriter led 75 Army installations around the world, comprised of a 75,000 person workforce, while managing a $12 billion budget. Through his strategic leadership, he successfully cut costs saving nearly $3 billion through business transformation and a focus on customer service.
Mike and his wife, Margie, have four awesome children who are invested in military and public service to our country. Throughout his military career, he received numerous honors and distinctions for his service.
Commissioner Erica C. Crawley is a mother, advocate, and veteran. As the first Black woman Commissioner, her commitment to serving every resident, every day comes from her lived experiences and deep understanding of what working families need to thrive, and not just survive. Commissioner Crawley has always stood with the most vulnerable among us – working to ensure we have access to high quality childcare, affordable housing, supportive addiction and mental health treatment, better maternal health outcomes, and first-rate veteran services for those who have bravely served our nation.
Before her service as a Franklin County Commissioner, Crawley represented Ohio's 26th House District, where she worked on maternal health, infant mortality, birth to five initiatives, housing and food insecurity, and veterans' issues as a member of the House Finance and Armed Services Committees. She was previously appointed to the Governor's Commission on Infant Mortality, the Commission on Minority Health, the State Controlling Board, the Capitol Square Review and Advisory Board, and is a founding member of Ohio's Black Maternal Health Caucus.
Prior to her service in elected office, Commissioner Crawley worked on behalf of children and families as a Court Appointed Special Advocate for Children (CASA), and in positions with the YWCA Head Start/Early Start Program and the Black Child Development Institute. Commissioner Crawley served in the U.S. Navy and is a proud first-generation college graduate. She also holds a J.D. from Capital University Law School and M.P.A. from Walden University.
Details
DATE:
Thursday, November 11
TIME:
11 a.m.
LOCATION:
Join us in-person or online.
In-Person: National Veterans Memorial and Museum, 300 W Broad Street, Columbus, OH 43215