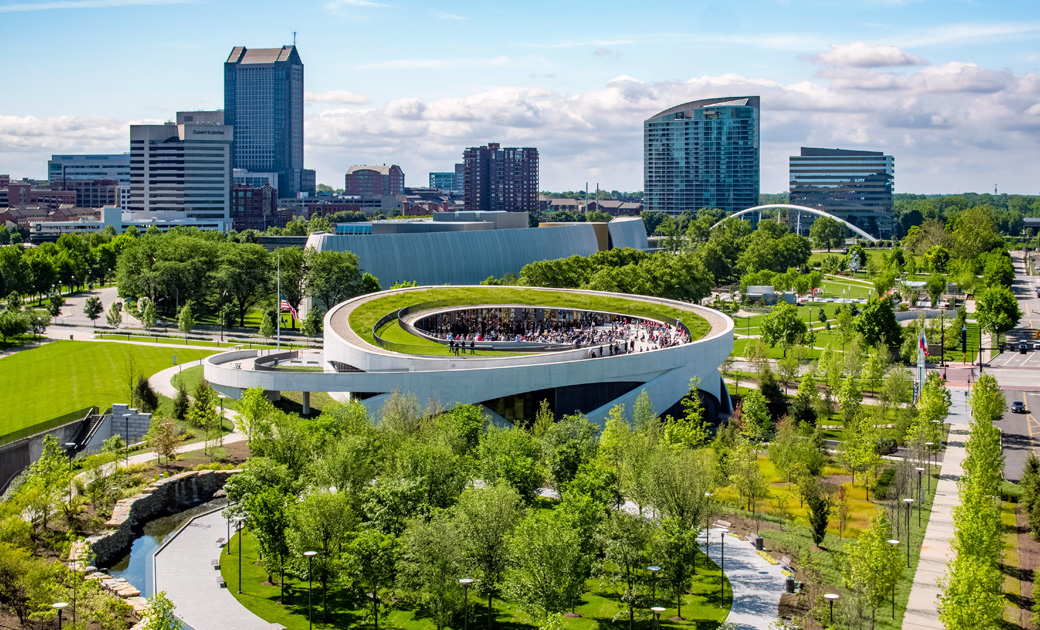 One year ago, the National Veterans Memorial and Museum opened as the nation's first and only museum dedicated to telling the story of the Veteran experience. In that time, we've shared stories of service and sacrifice from Veterans across all branches of the military in periods of both war and peace. And we've shown the world that we are more than a museum – we are the New Home of the Brave…
Since opening our doors, we have welcomed nearly 60,000 visitors – from Veterans and their families, to students on school tours, to non-Veterans of all ages, as well as business and community leaders. Hundreds of guests have marked significant events at the Museum, ranging from a rooftop Memorial Day remembrance ceremony to a Veteran Voices panel featuring firsthand experiences from a D-Day Veteran. And still others have joined us for more intimate experiences, like our monthly Rally Point breakfast gatherings for local Veterans or our members-only events.
…Where Thousands Come to Remember & Reflect.
…Where Meaningful Connections are Made.
For both Veterans and non-Veterans alike, the National Veterans Memorial and Museum provides a platform to begin important conversations about what it means to serve our nation and commit to something larger than yourself.
…Where Our Freedom Unites Us.
The National Veterans Memorial and Museum is a powerful reminder that freedom is never free. At this point in our nation's history, less than one percent of the population is serving in the military. The stories of Veterans told through the museum demonstrate the power of people coming together for the good of our nation. There is so much more that bonds Americans than divides us.
…Where Our Community Shines.
None of this would be possible without the vision of the late Senator John Glenn and the leadership of the Columbus community who stepped up to create this national treasure. It is fitting that the National Veterans Memorial and Museum is located in Columbus, near the center of the country and within a day's drive of more than 50 percent of the population.
…Where We Can Impact Millions.
Through our mission to Honor, Connect, Inspire and Educate, we are on an incredible trajectory to touch and impact the lives of millions. And there's a role for everyone to play as we continue to share our Veterans' stories – whether that means becoming a member, volunteering one's time or making a donation to honor a loved one. How will you give back to those who've given so much for our country?