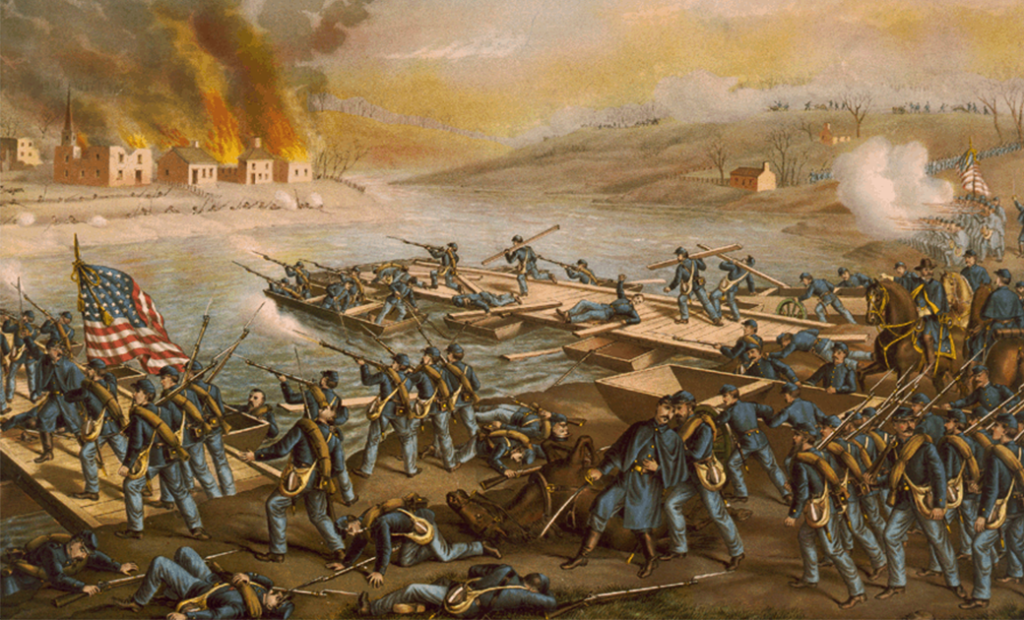 The Battle of Fredericksburg was a major battle that took place during the American Civil War. The battle took place during December 11th, 1862 to December 15th, 1862 although December 13th is when most fighting occurred and ended with a Confederate victory. In the months leading up to the end of 1862, Union military leadership of the Army of the Potomac changed constantly. November 7th, 1862 Major General George B. McClellan was relieved of command of the Army of the Potomac and it was briefly granted to Major General Ambrose E. Burnside.
The battle was of strategic importance to the Union as capturing the Rappahannock River and the city of Fredericksburg would put the Union closer to the Confederate capitol of Richmond, Virginia. Burnside ordered pontoon materials to be delivered in early November so that the Union army could cross the river and take the small Confederate forces by surprise. Instead, the pontoon material arrived in December and the small Confederate forces had been reinforced by Robert E. Lee's Army of Northern Virginia. December 11th saw Union forces crossing the Rappahannock River and seizing the city before losing their foothold on December 13th. In total over 200,000 forces fought in the city and surrounding floodplains, with the Union troops heavily outnumbering the Confederates. On December 15th Burnside withdrew his army and a month later was relieved of command of the Army of the Potomac.
Ambrose Burnside served in the Union Army throughout the rest of the Civil War and has left a lasting impact on history. Most notably, was is distinctive facial hair, where hair from in front of his ears connected to his mustache and left his chin clean shaved. The style was nicknamed burnsides before it flipped to sideburns. Going beyond fashion trends, Burnside also gave back to his community like many veterans do today! After the Civil War he served as governor in Rhode Island from 1866 to 1869, and then served as a Senator up until his death is 1875. He also served as the first president of the National Rifle Association, a position he held until 1872.
Explore More Stories