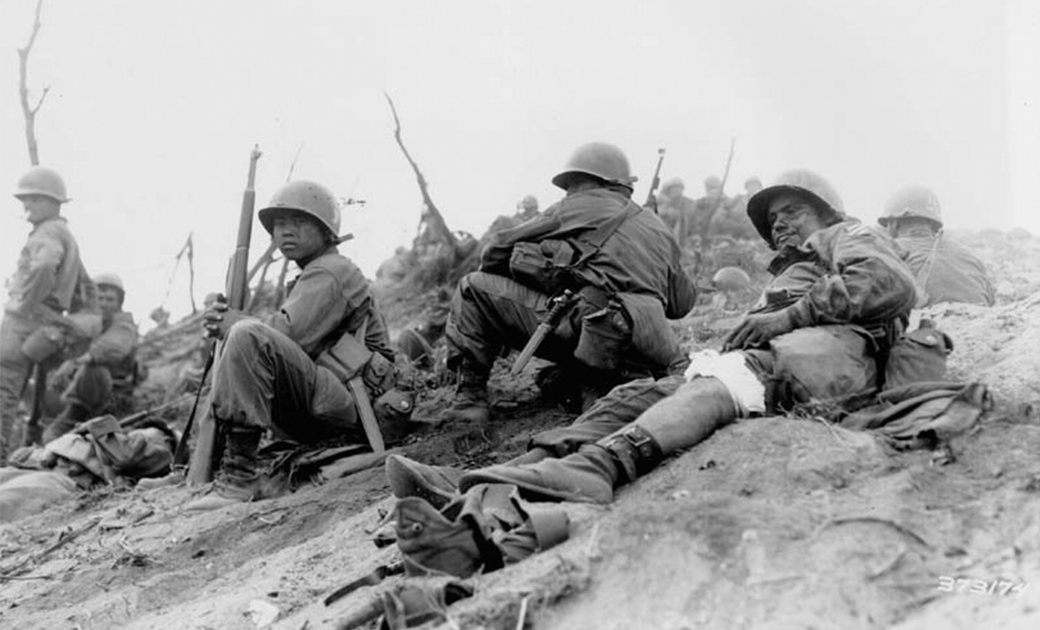 Pork Chop Hill, officially designated "Hill 255" was the site of an extended struggle along the Korean peninsula. This struggle consisted of a pair of related infantry battles that occurred during the spring and summer of 1953. Prior to the Battle of Pork Chop Hill itself, this hill was seized by the U.S. 8th Cavalry Regiment in 1951 and again in May of 1952 by Item Company of the U.S. 180th Infantry Regiment. By December of 1952, this outpost on the 980 foot high hill was part of the 7th Infantry Division's defensive sector. However, this hill was only one of several exposed hills, a line that was subject to attacks from two divisions of the highly-trained Chinese Communist Forces.
This battle officially began on April 16th, 1953, when the Chinese command authorized such an attack in order to convey the political statement that negotiation would not stop them from fighting if they deemed it necessary. That day, a patrol from the U.S. 31st Infantry set up an ambush at the valley bottom. Three hours later, about 50 Chinese soldiers approached and were met with grenades flung by the Fox Company. The Fox company was ordered back, however they became trapped in their position by the firing of mortars from the Easy Company which was defending against the advancing Chinese. Since this encounter failed to alert Pork Chop's defenders, two full Chinese Infantry companies were allowed to reach the ramparts undetected.
Though the Chinese were able to infiltrate the defensive works, the command post that initially detected the attack prevented them from blocking American reinforcements, rendering them unable to secure the rear slope. However, by systematically killing the occupants of the 1st and 3rd Platoons and bringing in additional reinforcements, they were able to secure the majority of the hill. Thus, the three month long struggle for Pork Chop Hill began.
Header image: Cpl. Sam Ayala of Niles, Calif., Co. L, 7th RCT, U.S.3rd Infantry Division, waits for medical evacuation from Hill 717, Cpl. Ayala was wounded while engaged in a bitter grenade battle with deeply entrenched Chinese Communism. 3 July 1951. Korea. Signal Corps Photo #8A/FEC-51-23541
Explore More Stories