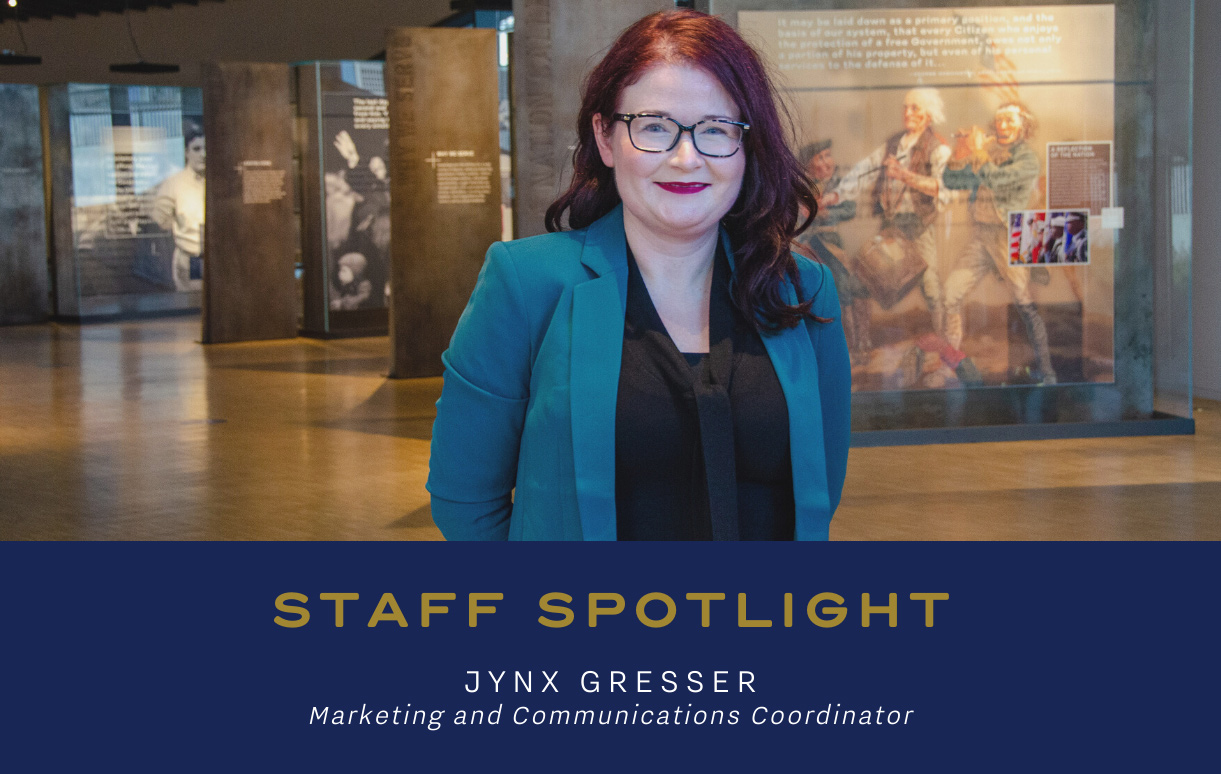 Each month, the Museum invites you to get to know the staff supporting our pillars to Honor, Connect, Inspire and Educate. Meet Jynx Gresser, our Marketing and Communications Coordinator. She works with our marketing team to create compelling content for our website and social media to expand the reach of the Museum worldwide.
Q: How have you connected to the Museum?
A: I love to learn about people and history! NVMM has provided an opportunity for me to connect with people through writing and storytelling. My grandfather, uncles and father served in the military. In a way, this experience has allowed me to get to know them better.
Q: What do you like to do when you aren't working?
A: I love to relax with my pups: Paddington and Winston, find a creative outlet either through art, music or fashion, finding calm within the storm through yoga and meditation, or binge watch The Great British Baking Show on Netflix. No surprise that Italian Week is my favorite.
Q: What are three words that best describe you?
A: Driven, Thoughtful, Passionate. Also, Stubborn at times.
Q: We feature a "What We're Reading" section each month on our website as part of NVMM Reads. What are you reading right now?
A: Atlas of the Heart: Mapping Meaningful Connection and the Language of Human Experience by Brené Brown
Q: What is your favorite place within the Museum?
A: I find myself drawn to the Memorial Grove. It is a peaceful and serene space to reflect.
Q: Where is your favorite place in the world?
A: I can't just pick one. My favorite places are: New York City; Nice, France; and Florence, Italy. NYC is a great combination of art, culture, fashion and food. My happy places are The Metropolitan Museum of Art and Central Park, which happen to be right next to one another. In Nice, the beauty of the Côte d'Azur and in Florence, the art and culture are what make these places so special for me. They all speak to my heart in their own unique way.
Q: What is your personal motto, or your favorite quote?
A: "My mission in life is not merely to survive, but to thrive; and to do so with some passion, some compassion, some humor, and some style."
-Maya Angelou