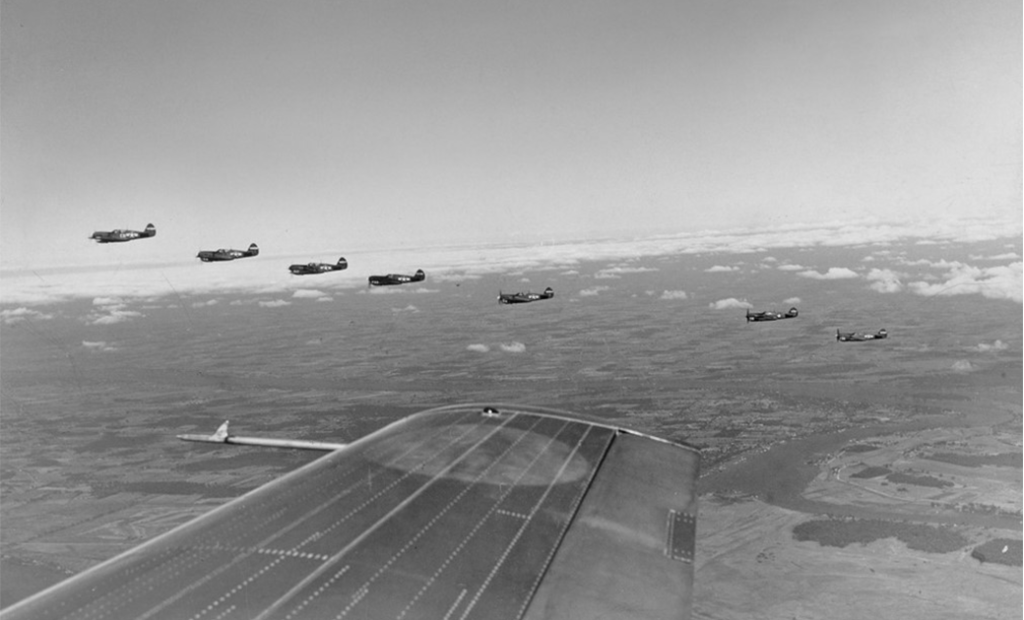 In our ongoing celebration of Black History Month, we pay tribute to those men and women who were early driving forces in the fight for racial equality – both in the military and throughout our nation. One such man, an artist and social activist named Gordon Parks, used his photography, filmmaking, and writing to shed light on the injustices experienced by African Americans and minorities in our country. Park's career in photojournalism began in the early 1940s and led him to work as the first black correspondent for the Office of War Information (active 1942-45). The OWI documented the U.S. War efforts during WWII by using photography, film, radio programing and a variety of other formats to connect American civilians to the battles overseas.
As one of his initial agency assignments, Parks photographed the first unit of primarily black military aviators who served in the U.S. Army Air Corps as part of the 332nd Fighter Group — the famed Tuskegee Airmen. At the time, the fighter group was commanded by Colonel Benjamin O. Davis Jr., the first 20th century black officer to graduate from West Point who later became the first black Air Force general in U.S. history as well as the first African American to become a general in any branch of the U.S. Military. While we know this legendary group of military aviators originally trained at the Tuskegee Army Airfield in Alabama, on March 29th, 1943, the 332nd Fighter Group was relocated to Selfridge Field, Michigan where Parks met and photographed these courageous and honorable servicemen.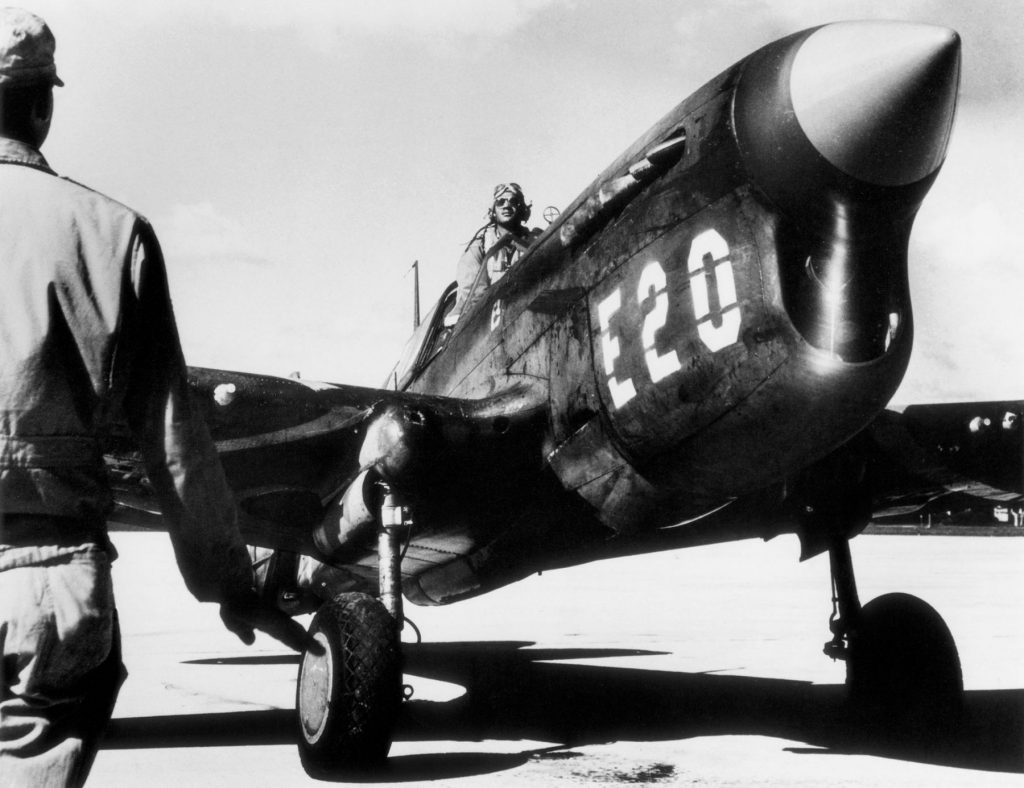 Conditions at Selfridge Field were difficult and varied greatly from Tuskegee, Alabama; not only in terms of climate and geography, but also training conditions and the harsh treatment these aviators faced at the training facility. Selfridge Airfield was not built for the aircraft the Tuskegee Airmen used for training, adding to the arduousness of an already challenging job. Additionally, during this time Selfridge Field was particularly known for its discriminatory practices and for having a tense and deeply segregated atmosphere. On May 5, 1943, tensions reached a breaking point when Colonel William Colman, who possessed a corrupt and prejudiced reputation amongst his fellow soldiers, was charged with shooting a black chauffeur assigned to drive him, Private William MacRae, after an argument wherein it emerged that Colonel Colman had ordered that he only be driven by white soldiers. When Colman was court-martialed for the incident, Selfridge Field's poor reputation among black soldiers was made public and the case prompted the U.S. Army to act swiftly, transferring the Tuskegee Airmen to Godman Field, Fort Knox, Kentucky.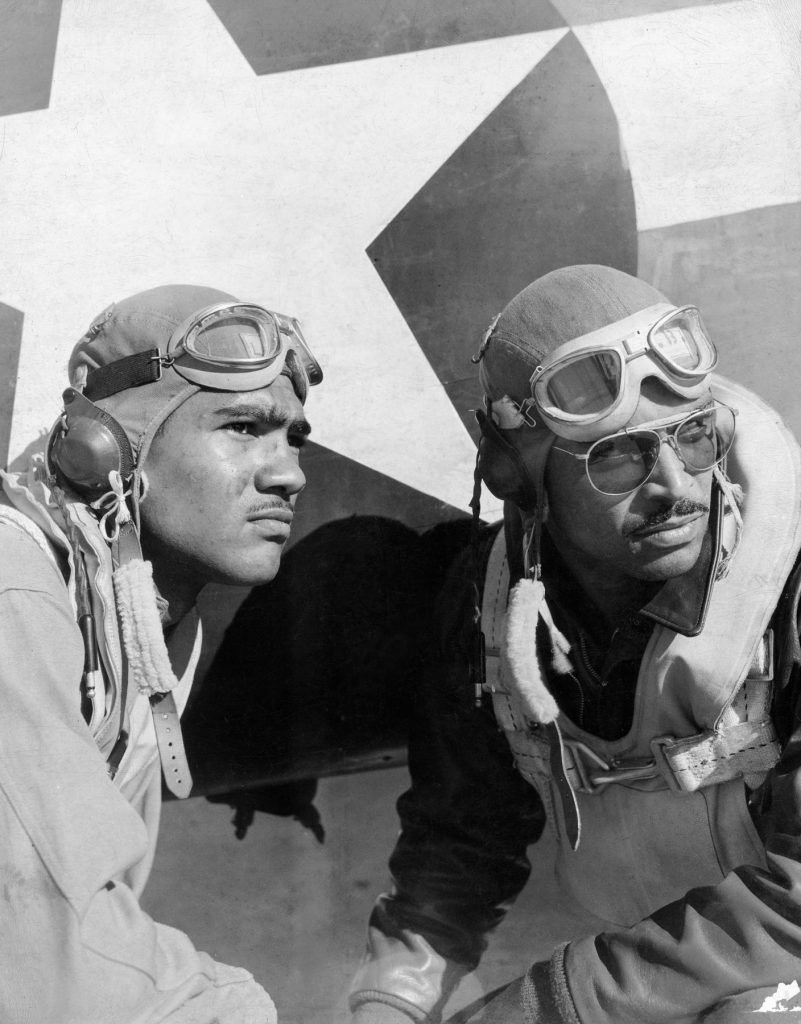 While on assignment with the 332nd Fighter Group, Gordon Parks produced photographic essays which encapsulated the struggles, resiliency, and the immense pride of these servicemen during a period in American history when black servicemen fought not only for their country, but also for the equal rights and freedoms our country represented to the world. Parks' imagery expressed the humanity of the Tuskegee Airmen; that they were black soldiers yes, but also U.S. soldiers who were deserving of the same respect and honor given to their white counterparts.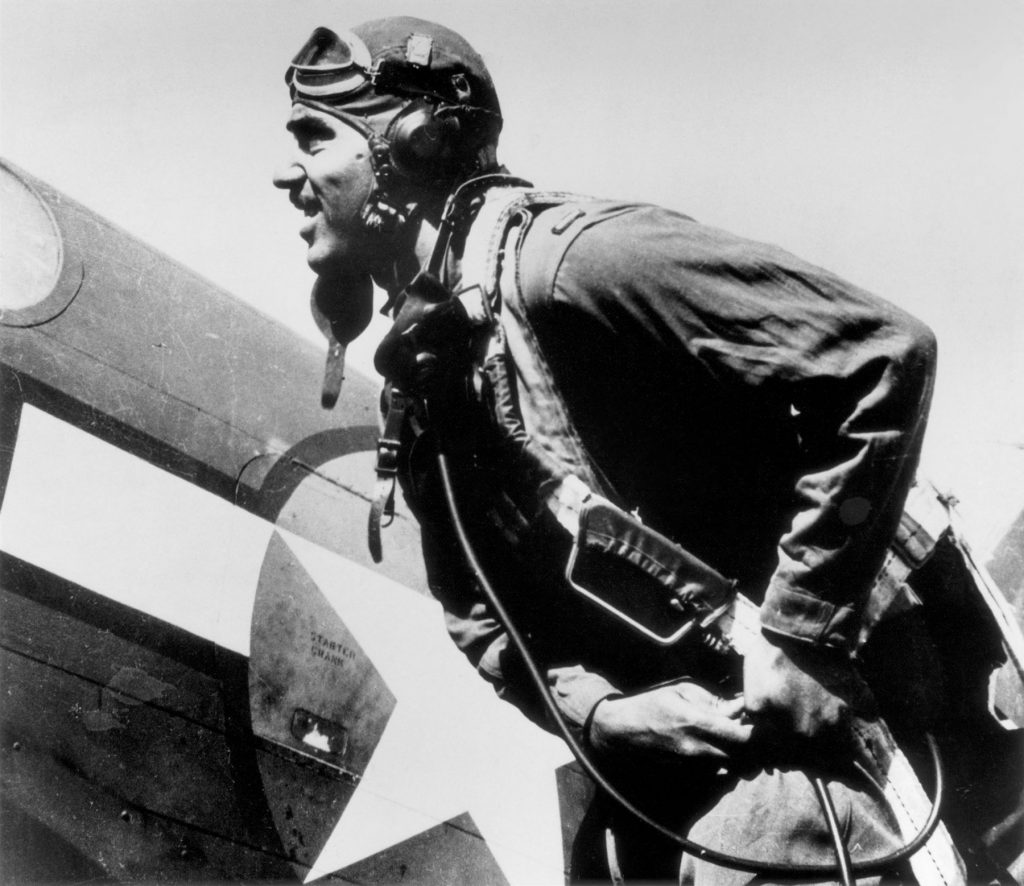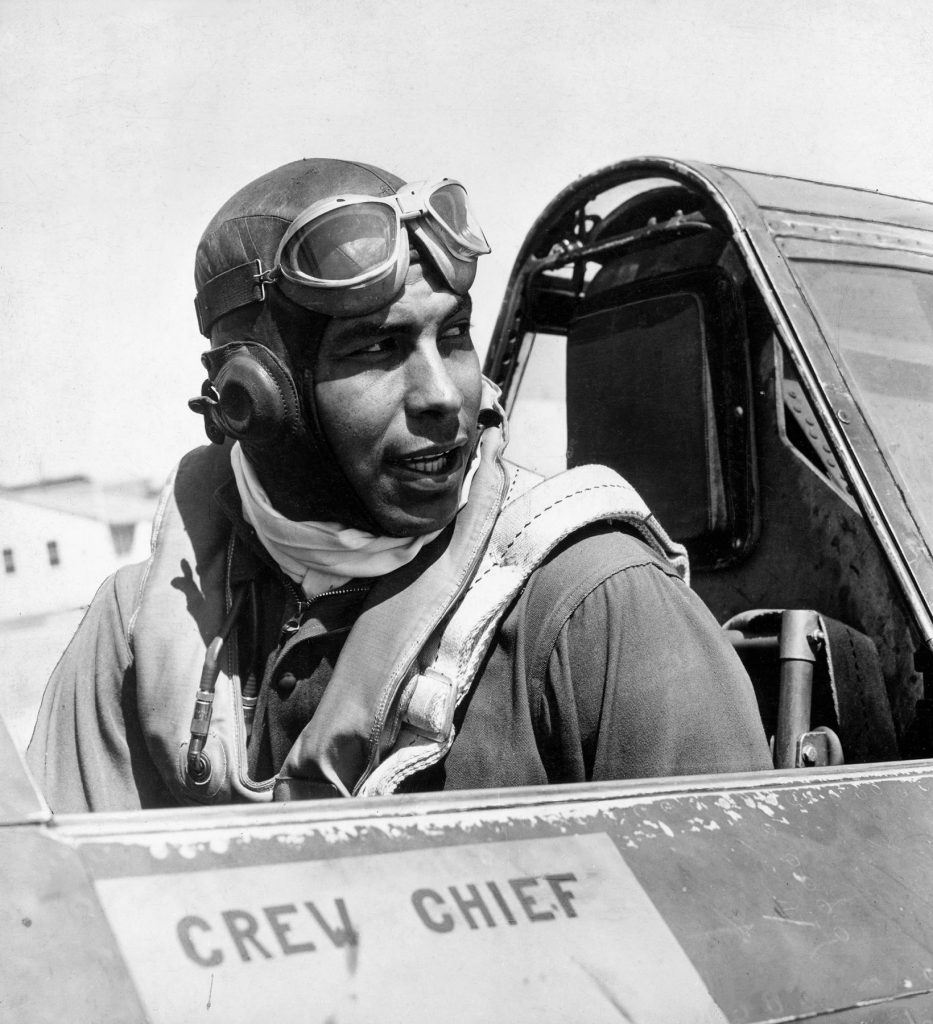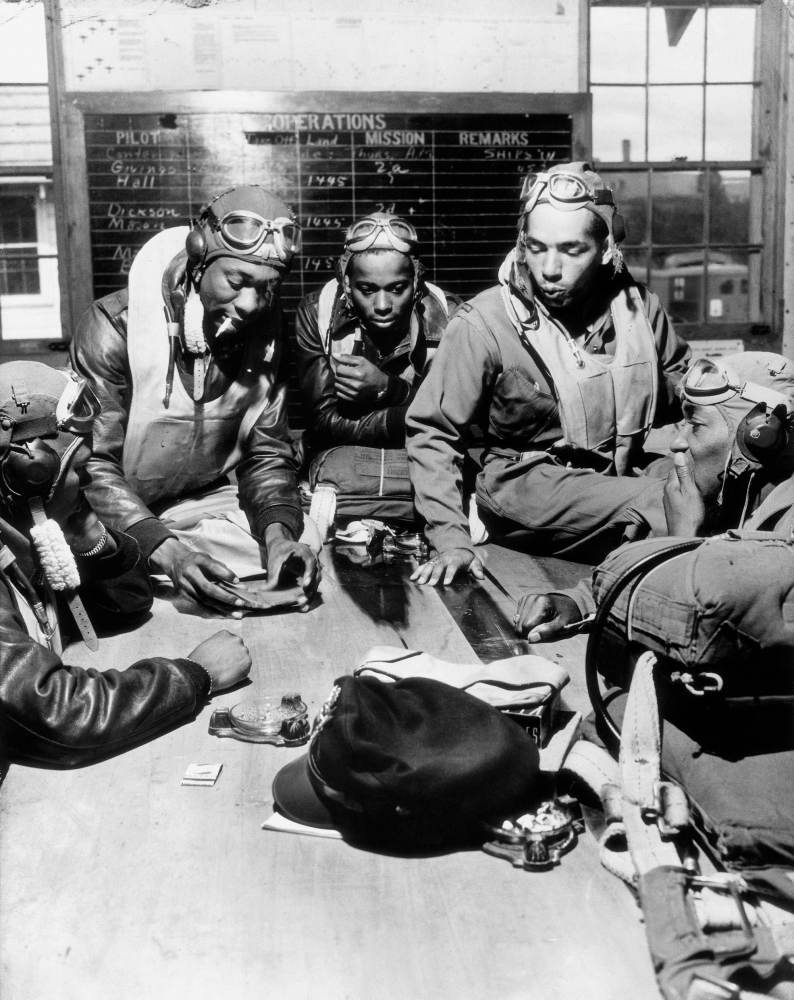 In between producing his photographic essays, Parks would find himself in the company of the airmen – his new companions, playing cards and partaking in social activities on base. During his time with the 332nd Fighter Group, Parks shared that the racism these servicemen faced was ultimately worse than what they would have received by our country's enemies. He used his camera as his weapon against racism and intolerance and photographed the Tuskegee Airmen with a profound admiration of their mission and achievements.
The incredible feats and accomplishments of the Tuskegee Airmen were not fully recognized until years after WWII. As a fighter group, the 332nd flew more than 15,000 individual sorties in North Africa and Europe during the war, earning them more than 150 Distinguished Flying Crosses, our nation's second highest valor award. Their perseverance and determinationpaved the way for the integration of the U.S. Armed Forces as signed by President Harry S. Truman on July 26, 1948. This executive order formally initiated the desegregating process of all United States military branches. This crucial milestone in our country's military history was achieved in large part thanks to the incredible efforts displayed by the Tuskegee Airmen. Through Gordon Park's images and writings, the legacy of the Tuskegee Airmen live on and will always serve as powerful reminders to the generations that followed of a time when our nation at war was also facing an internal battle – one for social change, representation, and equality.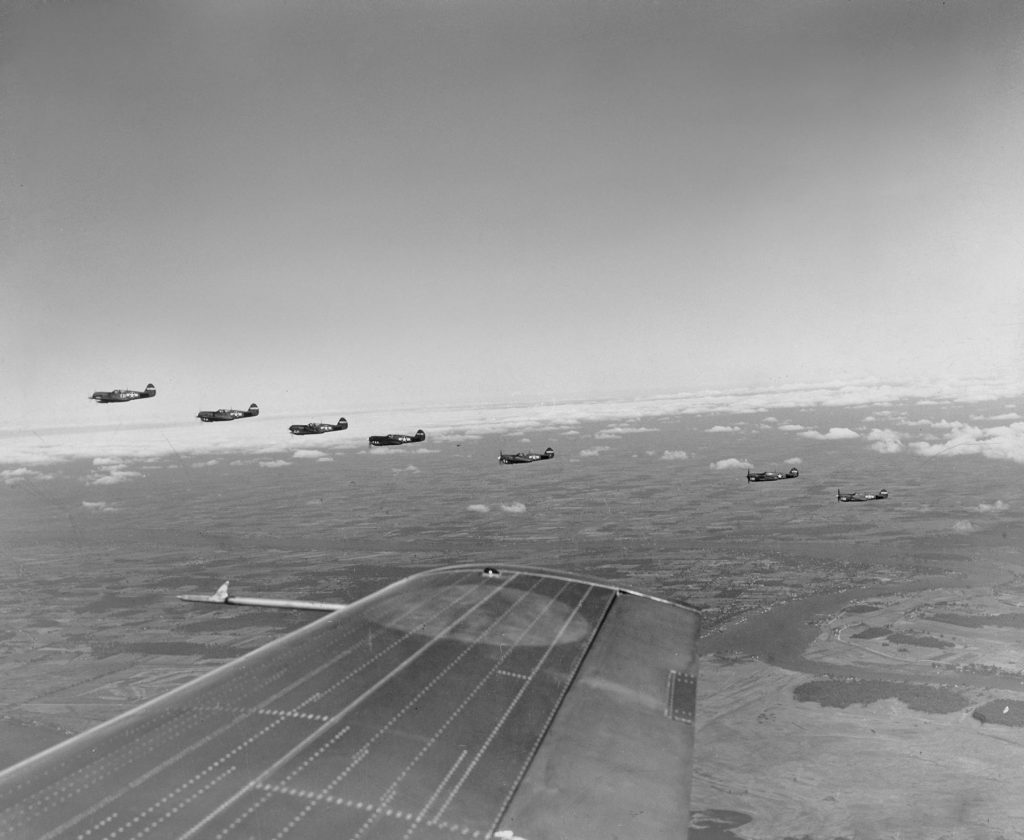 All images by Gordon Parks, courtesy of and copyright The Gordon Parks Foundation
Explore More Stories
World War I Medal of Honor Recipient: Corporal Freddie Stowers
Saluting General Lloyd Austin III, U.S. Army (Retired)