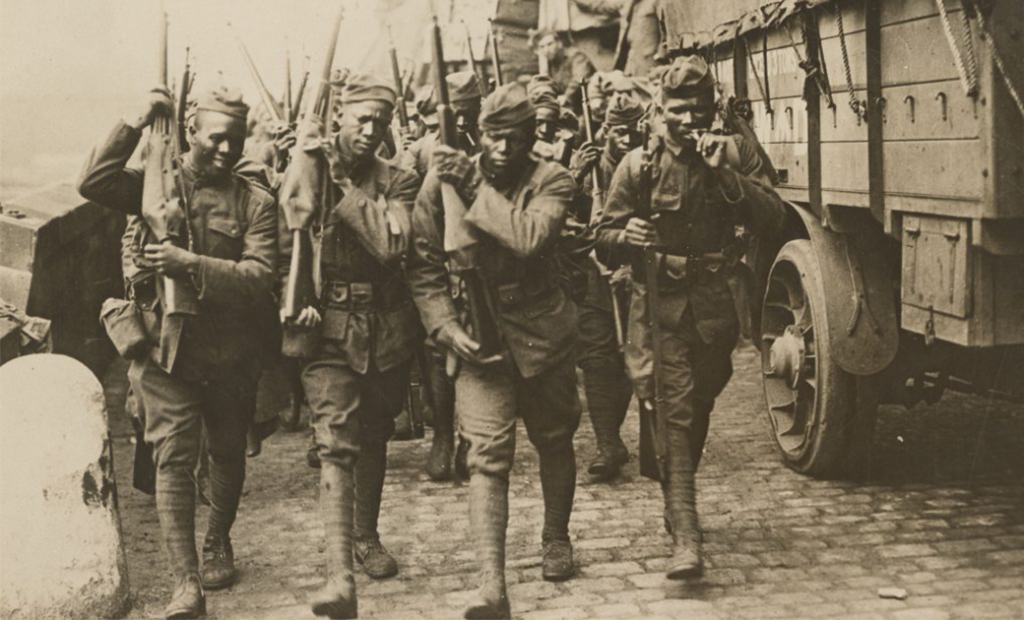 During World War I, thousands of African Americans joined the fight to defend their country. These heroes risked their lives for a country that refused to admit that they deserved the same equal opportunities and rights as their fellow white soldiers. Today we honor one of these heroes, Corporal Freddie Stowers.
Freddie Stowers was born on January 12, 1896 in Sandy Springs, South Carolina. Not much is recorded about his early personal life, but on October 4th, 1917, Stowers decided to join the First Provisional Infantry Regiment (Colored) as part of the 371st Infantry Regiment. This regiment first organized on August 31, 1917 at Camp Jackson, South Carolina. The first recruits were deployed in October 1917. Upon their arrival, they were placed under the command of white French officers and had to turn in all their American equipment for French equipment. At this time, France needed soldiers and the United States was only willing to give them their African American regiments which they saw as unequal to their white regiments. However, many African American regiments, such as the 371st Infantry Regiment, flourished under French control and proved they were just as skilled and determined as their fellow white soldiers.
Freddie Stowers and his company were just one such story of the bravery of African American soldiers on the battlefield. While serving as squad leader of Company C of the 93rd Division, Stowers led an attack at Hill 188 in France. During the attack, the enemy ceased firing and raised their hands in surrender. This caused Company C to cease firing and approach the enemy trenches. However, as soon as Company C was within 100 meters, the enemy jumped back into their trenches and opened fire, raining down machine gun bullets and mortar fire upon the surprised Company C. However, Stowers did not let this deter him. He crawled toward the enemy trenches, bravely leading his men forward and together they took down the first enemy trench and destroyed the machine gun position. Despite heavy casualties, Stowers and his company pressed on towards the second trench. During the push, Stowers was mortally wounded, but he continued to push forward, encouraging his men to go forward without him until his final breath. His perseverance and motivation encouraged his troops to take the second enemy trench and capture Hill 188. Stowers died on September 28, 1918 and was laid to rest at the Meuse-Argonne American Cemetery & Memorial near the village of Romagne-sous-Montfaucon in France.
After his death, Stowers' commanding officer recommended him for the Medal of Honor. However, the paperwork was misplaced, and Freddie Stowers' sacrifice was left unrecognized. However, on April 24, 1991, Corporal Freddie Stowers finally was posthumously awarded the Medal of Honor by President George H.W. Bush.
To learn more about African Americans who served our nation, head to our Black History Month page!
Explore More Stories
The Tuskegee Airmen at Selfridge Field, Michigan
Saluting General Lloyd Austin III, U.S. Army (Retired)