"Were it not for the Navajos, the Marines would never have taken Iwo Jima."

-Major Howard Connor, 5th Marine Division signal officer
Every August 14, Navajo Code Talkers Day is commemorated to honor the contributions of Native American code talkers who served in the U.S. military during World Wars I and II. Code talking was first pioneered by the Choctaw and Cherokee peoples during World War I. The 20 terms created by the Choctaw were utilized in the development of the Navajo codes during World War II. The enemy was unable to decipher a single code talker message in either World War.
Where did the idea come from to use Navajo Code Talkers?
The idea to use Navajo for secure communications came from Philip Johnston, the son of a missionary to the Navajos, World War I Veteran and one of the few non-Navajos who spoke their language fluently. He believed the language answered the military requirement for an undecipherable code because it is an unwritten language of extreme complexity. Its syntax, tonal qualities and dialects make it unintelligible to anyone without extensive exposure and training.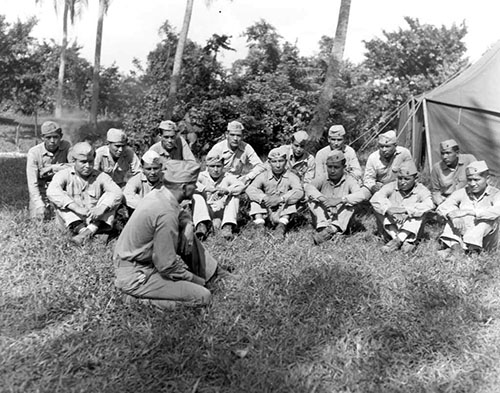 In 1942, 29 Navajo men, including Carl Gorman, were recruited and trained by the U.S. Marine Corps. They worked to develop an undecipherable code that would be used across the Pacific. The Code Talkers, as they were called, became Platoon 382 – the first entirely Native American, all-Navajo platoon in U.S. Marine Corps history. Together, they generated more than 200 new Navajo words for U.S. military terms and committed them to memory in a timespan of several weeks.
Thomas Begay, Iwo Jima Hero
U.S. Marine Corps Veteran Thomas Begay was playing football in a gravel pit near his school in New Mexico when someone announced the Pearl Harbor attack. At the age of 17, he had his mother put her thumb print on a paper so he could join. Begay was a member of the 27th Marines of the 5th Marine Division, which was the first to see action in the Battle of Iwo Jima. Hear his story of service below.
From Code Talkers to Scouts and Messengers
The Navajos also did their share of fighting and made good scouts and messengers. The Alamo Scouts, an elite, top-secret reconnaissance/raider unit was assembled in 1943. When assembling the unit, a niche variety of soldiers were hand-picked by Army commanders to carry out covert intelligence missions in the South Pacific. Approximately six percent of the original Alamo Scouts were known to be of American Indian heritage. Many of these men were known as "Code Talkers," with the ability to send encoded messages in a language undecipherable by the enemy, effectively securing the cover of operations.