Did you know women have served in every war and conflict in which the United States has been involved going back to the Revolutionary War? Maj. Jas Boothe is an outstanding example of how women often have had to overcome enormous obstacles, simply because of their gender, to work alongside men. Beyond her fight for gender recognition and equality, Boothe faced personal challenges that did not prevent her from gaining victory. Living in New Orleans, Louisiana, and raising her son as a single parent while in the Army Reserves, she learned that she would soon be deployed for Operation Iraq Freedom/Operation Enduring Freedom. Her self-will, focus, and determination prepared her not only for her military service but for the most difficult of circumstances. In August 2005, New Orleans was devastated by Hurricane Katrina. More than 1,800 people perished as a result of the storm, and thousands more were affected, including Maj. Boothe and her son. One month later, she received a diagnosis of cancer and would be unable to deploy. Facing two devastating situations did not deter her from the fight for her life.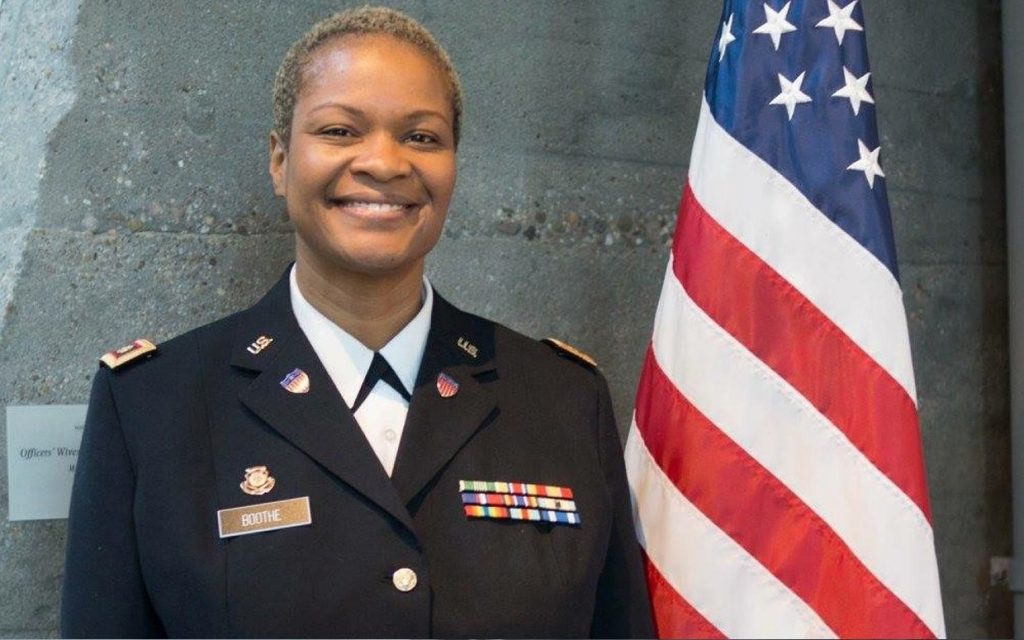 Like any other brave servicemember, Boothe tightened up her boot laces and prepared for battle. Because of her health diagnosis she was discharged from the military and sought medical care. During this time, she was not only battling cancer, but she also had to fight for proper medical treatment, search for employment and housing for her son and herself. None of this was easy, but Maj. Boothe never wavered. Her story of service, her battle with cancer and her spirit of determination is one that inspires many who face difficulties in life. She never gave in, and she never quit.
One year later in 2006, Maj. Boothe returned to full-time duty and became an advocate for programs that assist women Veterans and children. While she thought she would fight for our country in Iraq, she soon realized that her fight would be at home for women who take the oath to serve in our armed forces.
Today, Maj. Jas Boothe is an author, entrepreneur, disabled, 16-year Army Veteran, a cancer survivor, innovator, philanthropist and speaker. Her story of triumph and overcoming the most difficult challenges can inspire us all. Her selfless sacrifice is what makes many women Veterans true American heroes.
During the entire month of March, the National Veterans Memorial and Museum honors those women who looked beyond their roles as mother, daughter, wife, partner, and sister and took up the call to serve our nation — Women who took on challenges with fortitude and resilience and never gave up.
Explore More Stories