Memorial Day Virtual Run, Walk, Ruck and Roll
Join supporters across the nation for the 3rd annual National Veterans Memorial and Museum Virtual Run, Walk, Ruck and Roll to honor and remember those men and women who made the ultimate sacrifice.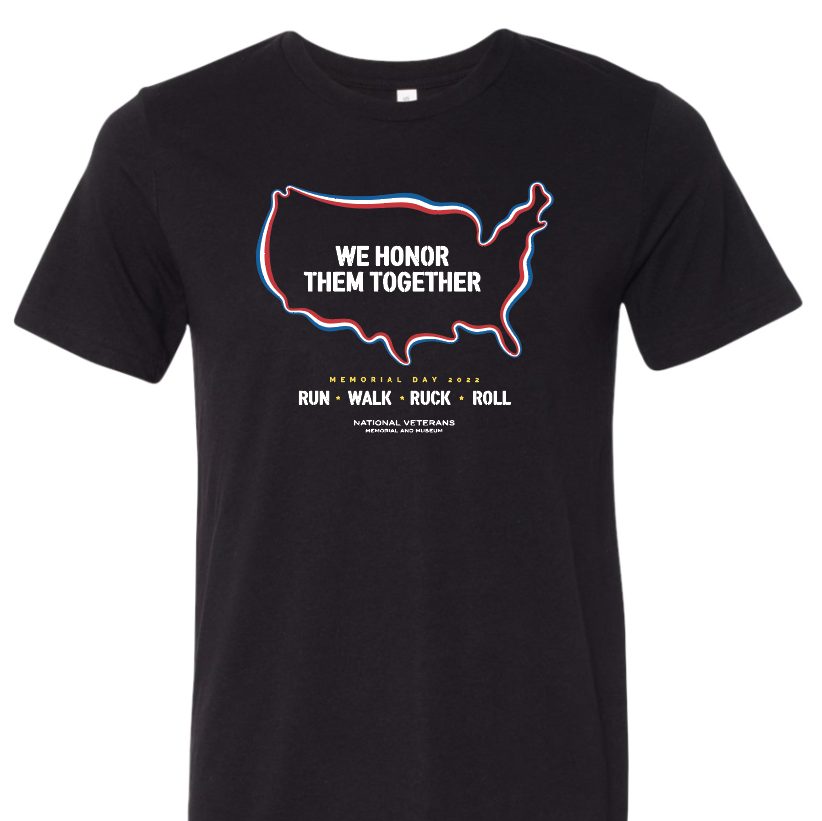 Honor Them Together. The National Veterans Memorial and Museum's Virtual 1 Mile, 5K and 10K Run, Walk, Ruck and Roll is a family event to honor America's lost heroes, all service men, and service women, who died defending our country's safety and freedom. The event features options to run, walk, ruck, or roll 1 mile or 5k in honor of a lost loved one in your own life or 10K (6.2 miles) to honor those lost from all 6 branches of service, from Friday, May 13th through Memorial Day, Monday, May 30th.
Your entry fee includes:
Race packages will ship after Memorial Day
As a non-federally funded, 501 (c3) non-profit organization, your participation in this year's race will directly propel the work of the NVMM as we Honor, Connect, Inspire, and Educate on behalf of American heroes.
Share on Social – #WeHonorThemTogether:
We invite everyone nationwide to take part in this 2022 Memorial Day commemoration by sharing who you will never forget. Whether you're honoring a lost loved one or honoring all the brave service members who died serving our country, we encourage you to use #WeHonorThemTogether and @nationalvmm to share photos, your location, and stories of your participation as well as those being remembered. The National Veterans Memorial and Museum team will be highlighting your participation across the nation and will amplify the names, ranks, and branches of service of those being honored by their friends and family during this time.
Updated Virtual Experience
Enhanced virtual racing experiences are here! Race your course, stay connected with other racers and receive leaderboard updates that will happen in real time with the RTRT GPS mobile app. Download the RTRT app (on iOS or Android), and on the week of the race you will receive a link via email to connect your registration to the race with just a single click. When the race begins, open the RTRT app, find the race, and click 'go.' No matter the course you choose, RTRT will use GPS speed and distance to place you on a universal "Event Course" with all other participants; you will not only be able to see and track your position, but that of other racers. The event course will incorporate downtown Columbus and the NVMM as a finishing location, no matter where you run.
About the Museum
There is only one Museum in America that honors ALL Veterans – from all branches of service, and from all eras of our nation's proud history of military service, both in peacetime and war. The National Veterans Memorial and Museum is a powerful and personal experience designed to give a voice to every man and woman who answered the call for our country.
The mission of the Museum is to honor and positively impact the lives of Veterans, their families and our communities through sharing the Veteran experience. ​
Other ways to give back:

A portion of each entry fee and event proceeds benefit the National Veterans Memorial and Museum.