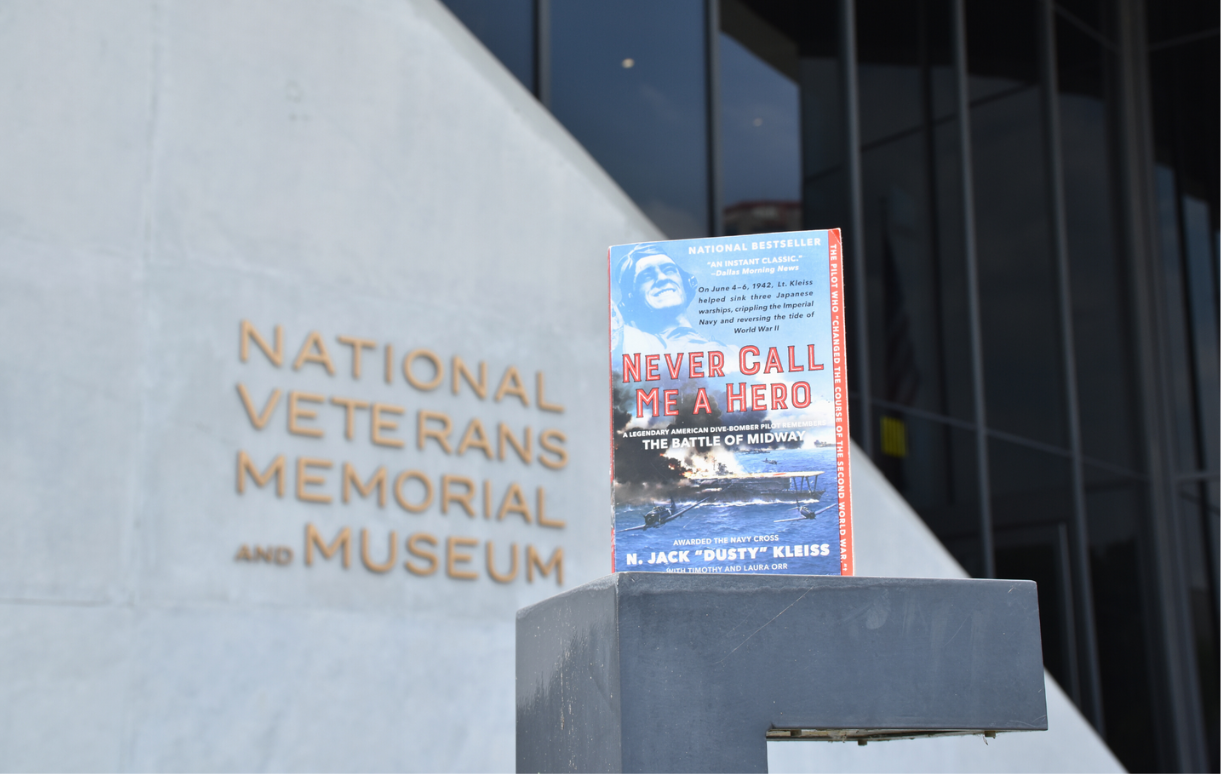 To honor the World War II Battle of Midway 80th anniversary, we are reading "Never Call Me a Hero" by Captain Jack "Dusty" Kleiss. The last surviving dive-bomber from the Battle of Midway, Kleiss was compelled to tell his story in honor of his comrades. A majority of Kleiss' memoir is focused his experience aboard the USS Enterprise, the Battle of Midway and his fellow dive-bombers of the Scouting Squadron.
Dusty was born in 1916 and grew up in Coffeyville, Kansas during the Great Depression. His life of service began at the age of 15, when he lied about his age in order to join the Kansas National Guard. He later was accepted into the U.S. Naval Academy, graduating in 1938. Kleiss became a highly accomplished pilot flying the Douglas SBD Dauntless Dive Bomber in Scouting Squadron Six attatched to the USS Enterprise.
Six months after Pearl Harbor was destroyed by Japan's Imperial Navy, the United States was preparing to counter Japan's attack through their occupation of the Midway Islands, an area between the then-U.S. territory in Hawaii and Japan. U.S. battle success at Midway fell heavily on a team of dive-bombers to sink Japan's warships. They succeeded. All in all, Japan sank one U.S. ship while the United State's team of dive-bombers were able to sink all four of Japan's ships. Kliess was one of the most successful dive-bombers of the battle, striking three of four enemy warships with precision.
Throughout "Never Call Me a Hero," Kliess reveals battle events from a first-person perspective. From the book jacket, "Plummeting through the air at 240 knots amid blistering anti-aircraft fire, the twenty-six-year-old pilot from USS Enterprise's elite Scouting Squadron Six fixed on an invaluable target—the aircraft carrier Kaga, one of Japan's most important capital ships. He released three bombs at the last possible instant, then desperately pulled out of his gut-wrenching 9-g dive. As his plane leveled out just above the roiling Pacific Ocean, Dusty's perfectly placed bombs struck the carrier's deck, and Kaga erupted into an inferno from which it would never recover."
After arriving back on the Enterprise, Keliss would learn heartbreaking news about his best friend and 24 fellow naval aviators. He would continue, undaunted, to strike two more Japanese ships, earning him a place in history. Similar to many WWII Veterans, Dusty returned home, married, had children, and remained silent about his role in the war for decades.
Captain Kleiss was awarded the Navy Cross and Distinguished Flying Cross in 1942. He was married to his wife, Jean, until her passing in 2006 – more than 60 years. Kleiss planned to release his book for the 75th anniversary of the Battle of Midway in June 2017, but he passed away at the age of 100 in 2016.
At the National Veterans Memorial and Museum, we connect visitors with the Veteran experiences. "Never Call me a Hero" serves to educate and connect readers to the experiences of an accomplished naval pilot in the early era of aviation. Even after persevering through high stakes, hard work, loss and sacrifice, Kleiss humbly asks that we "never call him a hero." So instead, we will call him a man who strove for excellence in all he did. We highly recommend reading "Never Call me a Hero" this month to gain a firsthand glimpse into events that shaped our world from an incredible Veteran who was there and chose to share his story in remembrance of those with whom he served.