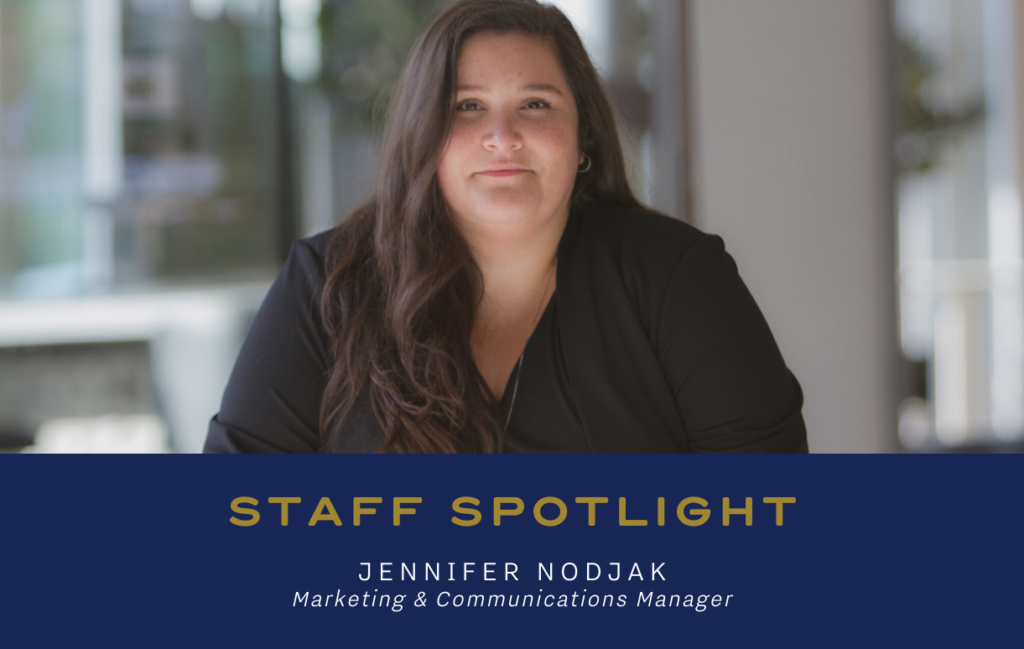 Each month, the Museum invites you to get to know the staff supporting our pillars to Honor, Connect, Inspire and Educate. Meet Jennifer Nodjak, our new Marketing & Communications Manager! Jennifer works with the marketing department to share Veterans' stories and the NVMM mission with local, regional and national audiences.
Q: How have you connected to the Museum?
A: My grandfather served in the Vietnam War, and my brother-in-law and cousins-in-law are currently in the Navy. Having the opportunity to share the stories and impact of servicemen and women like my own family members is a gift. I also immediately connected with the Depicting the Invisible portrait series exhibition currently on view; mental health is an incredibly important topic in our communities, and something often underrepresented in our military and Veteran communities. Seeing an artist bring stories of Veterans with PTSD to life on canvas is breathtaking.
Q: What do you like to do when you aren't working?
A: My wife and I spend a lot of time with our yellow lab rescue, Frida. I'm also a plant person, so I'm regularly on the hunt for new houseplants, or taking care of my collection at home.
Q: What are three words that best describe you?
A: Reliable. Determined. Sassy.
Q: We feature a "What We're Reading" section each month on our website as part of NVMM Reads. What are you reading right now?
A: I just finished "Leadership Strategy and Tactics: Field Manual" by Jocko Willink, a well-known Navy SEAL Veteran. It's a great book if you're looking for actionable steps to take toward growing your leadership capabilities.
Q: What is your favorite place within the Museum?
A: The "Veterans Among Us" area on the first level, specifically where you can see hand-written letters from Veterans. Being able to see real and tangible handwriting from 50+ years ago that Veterans wrote home to their loved ones added a huge personal and emotional connection for me. These are real words from real people, written while deployed and serving our country.
Q: Where is your favorite place in the world?
A: Greece! I traveled there once on vacation and once on a study abroad trip to Corfu, and absolutely fell in love with it. The food, the culture, the beaches – everything was amazing. The most picturesque place in my opinion was the beach in Parga, Greece. I hope to return there someday soon!
Q: What is your personal motto, or your favorite quote?
A: I have quote from U.S. Air Force Veteran Steve Maraboli tattooed on my arm, and I try to follow this concept every day. "When you are just existing, life happens to you…and you manage; when you are truly living, you happen to life…and you lead."