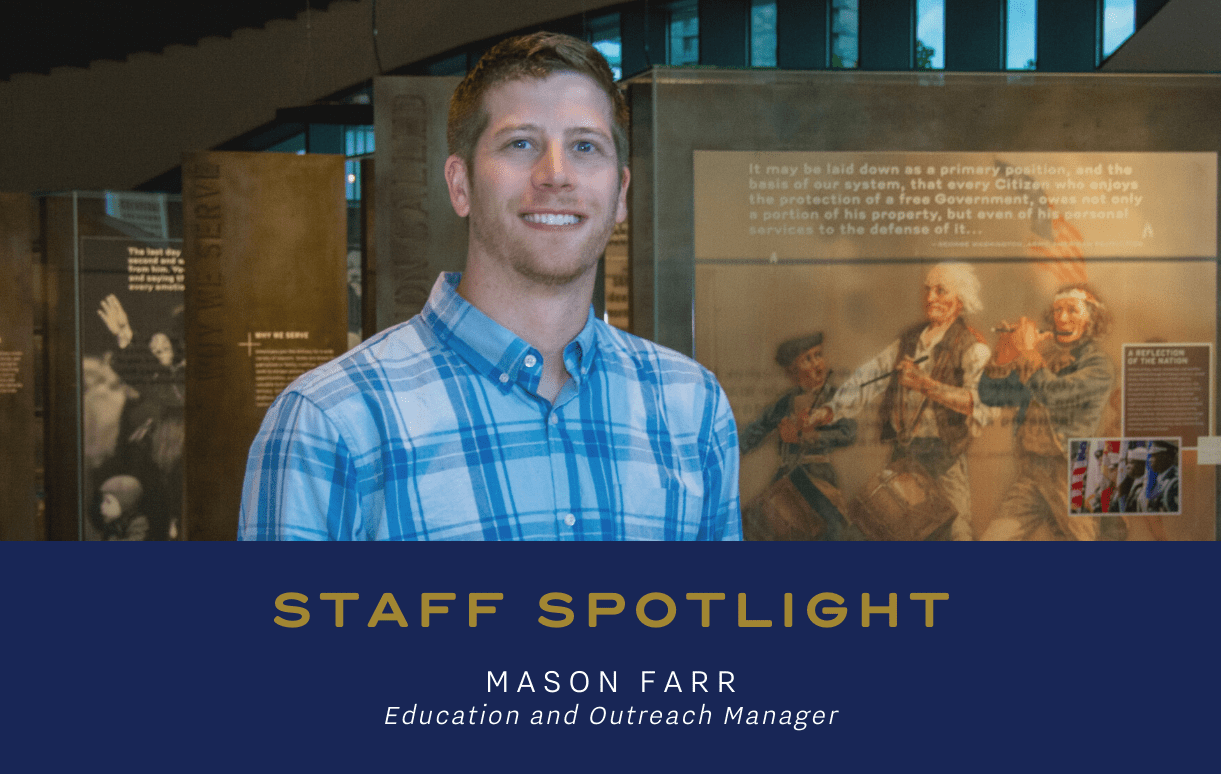 Each month, the Museum invites you to get to know the staff supporting our pillars to Honor, Connect, Inspire and Educate. Meet Mason, our Education and Outreach Manager.
Q: How have you connected to the Museum?
A: I've been tracking the Museum's progress since 2017 when I still lived in Washington, DC and worked for the U.S. Army Center of Military History. I knew I would be moving back to Columbus, and while I was working in the Pentagon someone mentioned that a new national museum for Veterans was being built there. I thought that would be the perfect place for me.
It was extremely rewarding to work as a civilian alongside both active duty servicemembers and Veterans to help tell their stories, and I knew I wanted to find opportunities to continue that mission.
Q: What inspired you to go into education?
A: I have always enjoyed sharing my passion for history with others. While I briefly considered becoming a high school teacher in college, I preferred the idea of interacting with students and adults in a less formal learning environment.
I've been fortunate to have positions sharing stories and engaging with people of all ages and backgrounds in museums, historic houses, and even government institutions.
Q: What are three words that best describe you?
A: Enthusiastic. Curious. Dad.
Q: Do you think that you could survive a zombie apocalypse? Why or why not?
A: Probably not. I don't have much experience with the survival skills that I think would be necessary if a zombie apocalypse occurred.
Q: If you could recommend one book that should be on everyone's reading list, what would it be?
A: "Team of Rivals: The Political Genius of Abraham Lincoln" by Doris Kearns Goodwin.
Q: If you could swap places with anyone for a day, who would you choose and why?
A: Anyone on the 2016 Chicago Cubs on the day they won the World Series! As a lifelong Cubs fan, it would be amazing to be part of that celebration.
Q: What is your favorite place within the Museum?
A: The Great Hall. Stacy Pearsall's portraits of men and women as they were when they served and again as civilians is a powerful experience that sets the stage for what the Museum is all about. It's also tough to beat the view of the Scioto Mile that can be seen through the windows.