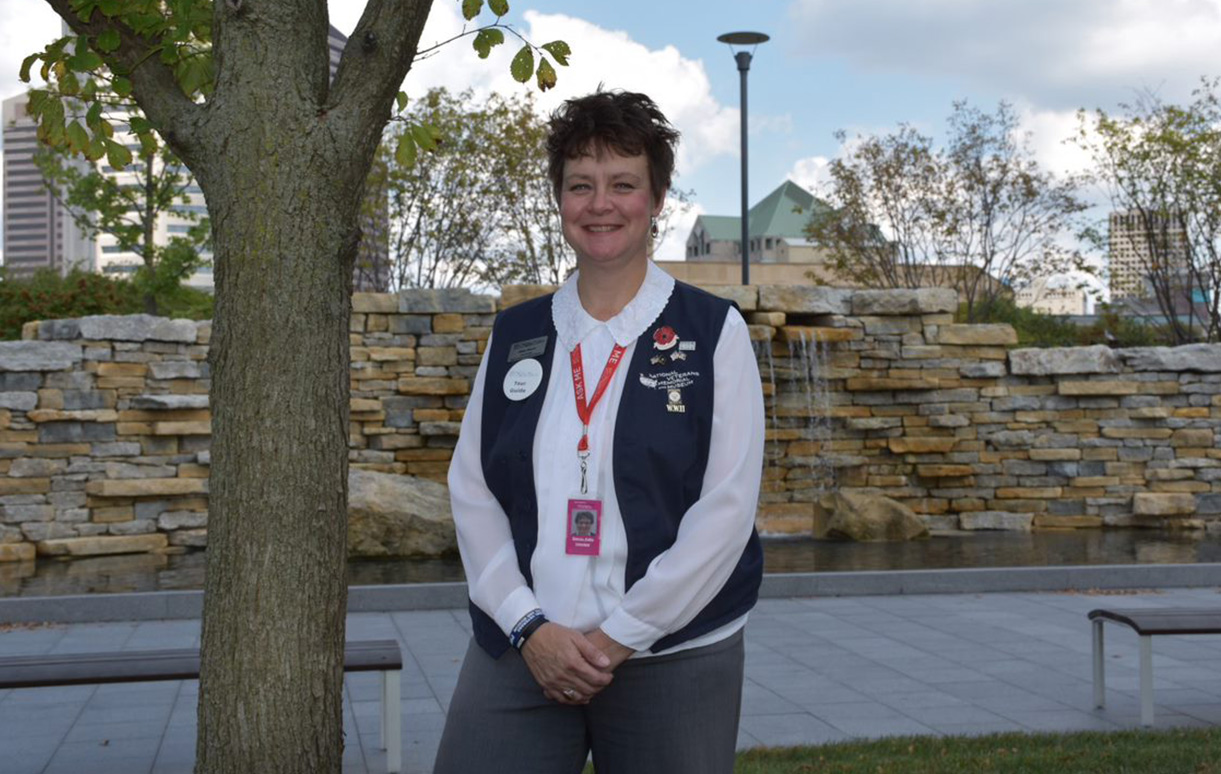 Our NVMM volunteers are integral to the success of our Museum. Thanks to the support of these amazing individuals, we are able to achieve our mission to Honor, Connect, Inspire, and Educate our community, state and nation about the Veteran experience!
Meet Kathy, an NVMM volunteer who has been with us since day one.
Q: How long have you been volunteering with the NVMM?
A: I was part of the very first new volunteer orientation class. We met literally 1 week before we opened on Oct. 27, 2018, so going on four years now.
Q: How have you connected to the Museum?
A: Simply put, I am committed to our mission. I believe with my whole heart that our Veterans, young and not so young, deserve to be honored and thanked for their service. They need to know that their service matters, whether they were in combat or not. To thank a Veteran for his/her service and to see his/her face light up with gratitude, and sometimes surprise, is deeply satisfying for me. It could even make their entire day. Plus, I had six men in my family that were in the military, including one in WW1 and one in WW2. This is my way of honoring them.
Q: What's your favorite story about your time as an NVMM volunteer?
A: In 2019 I had the honor of meeting WW2 Veteran Rupert "Twink" Starr and giving him and his friends a personal tour. He was so proud of his military service, as well as his involvement in getting the 'Don't Ask Don't Tell" legislature overturned. If you get a chance, look him up on Google and read about his remarkable life – I believe he will be 99 this year. And, he's an OU Bobcat like me!!
Q: What inspires you to volunteer?
A: It's about serving something bigger than me, contributing to the greater good and making the world a better place.
Q: What's a fun fact about yourself?
A: I know how to play the Bodhran, the Irish drum.
Q: We feature a "What We're Reading" section each month on our website as part of NVMM Reads. What are you reading right now?
A: I just finished reading "A Woman of No Importance" by Sonia Purnell. It's about Virginia Hall, an American woman working in the French Resistance during WW2.
Q: What do you like to do when you aren't working or volunteering?
A: I love kayaking, hiking, exploring, and 'treasure hunting.' Those who work with me on Saturdays will know what that means.
Q: What is your personal motto, or your favorite quote?
A: "I lift up my eyes to the hills – where does my help come from? My help comes from the Lord, the Maker of heaven and earth." Psalm 121.