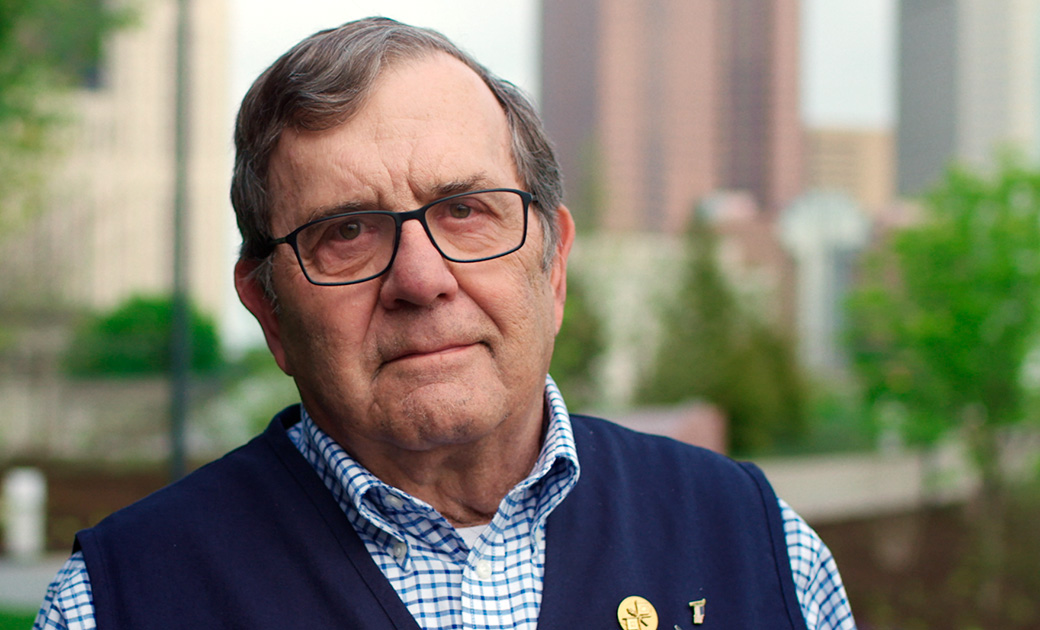 Ask Ernie Hartong why he volunteers at the National Veterans Memorial and Museum and he'll tell you about the rewarding opportunities he's had meeting Veterans and hearing their stories firsthand. Powerful stories like the one Don Srail, a 93-year-old Navy Veteran, recorded at the museum about his time in WWII.
Here's Ernie reflecting on his encounter with Don:
Don was visiting the museum with his family. After giving them a "mini-tour" and answering some questions, I asked Don if he would like to go downstairs and record his story. He replied, "I think I would like to do that very much – and tell you about the bravest man I ever knew."
Don was stationed at Subic Bay, in the Philippines in 1945, following the re-taking of the islands. As he tells it, "I was an 18-year-old kid who knew everything." His job was on the ferry that took Filipino workers and U.S. sailors from the base to the USS Langley. There was an older Filipino gentleman who always sat on the prow of the ferry and no one ever spoke to him. Don, being a pretty talkative guy, couldn't understand this situation so he asked one of the other workers why no one spoke to this gentleman.
Don recalls, "They told me it was out of respect. This man's son, a Filipino Scout, and a U.S. Army Sergeant had spent years in the mountains of Luzon after the fall of the Philippines to Japanese forces in 1942. The pair would radio Japanese troop movements and positions to U.S. forces. They would occasionally sneak into the village to the father's house for supplies. The Japanese knew of their existence but could not apprehend them. Someone in the village informed the Japanese that the man was the guerrilla's father. The Japanese took the man prisoner and conducted a long and torturous interrogation. At one point, cutting off the man's nose. However, he refused to give them any information. So, here is this man, with a hole in his face where his nose should be."
At this point in the story, Don, understandably, became pretty emotional.
"Here was a man, who had endured so much, who was now helping the U.S. Navy to finish the job and bring freedom back to his country. I knew then, this was the bravest man I would ever know, and I saluted him each day on that ferry."
Ernie says he feels very fortunate to have been present that day and hear Don's story. We are extremely grateful to both men for helping preserve the memories of America's Greatest Generation. Don's story was recorded in our onsite story booth – a unique museum feature that makes moments like this possible every day at the museum.
Want to Help Share Our Veterans Stories?
The National Veterans Memorial and Museum relies on dedicated volunteers, like Ernie, to fulfill our mission every day. Not only do volunteers get the privilege of meeting Veterans and their families firsthand, but they also enjoy rewarding museum benefits. Check out our many volunteer opportunities to see how you can help. We're always looking for individuals with a heart for giving back.
Explore More Stories
Son's Service Inspires Volunteer