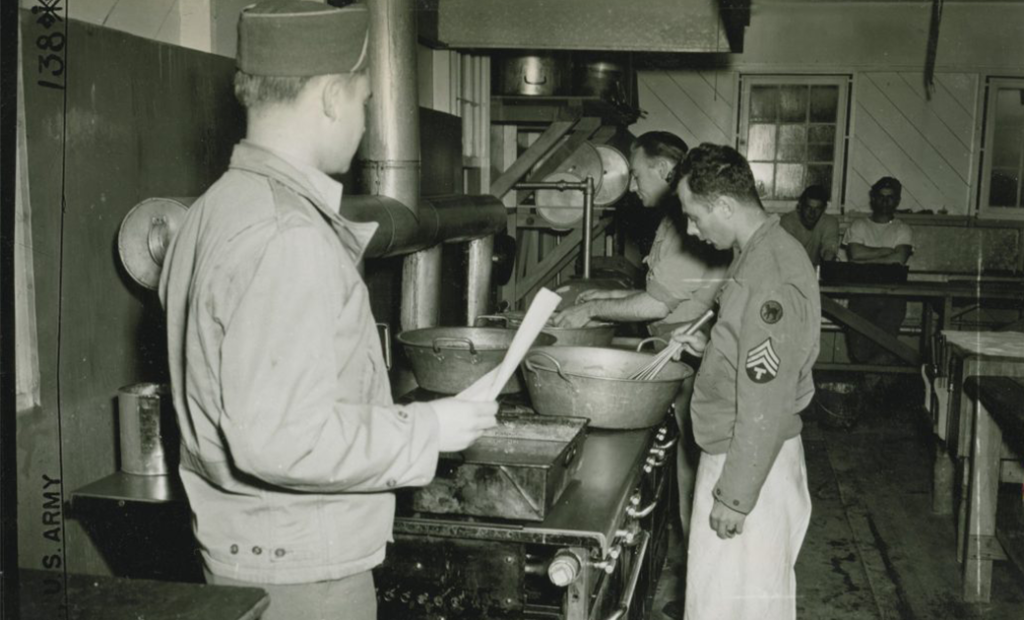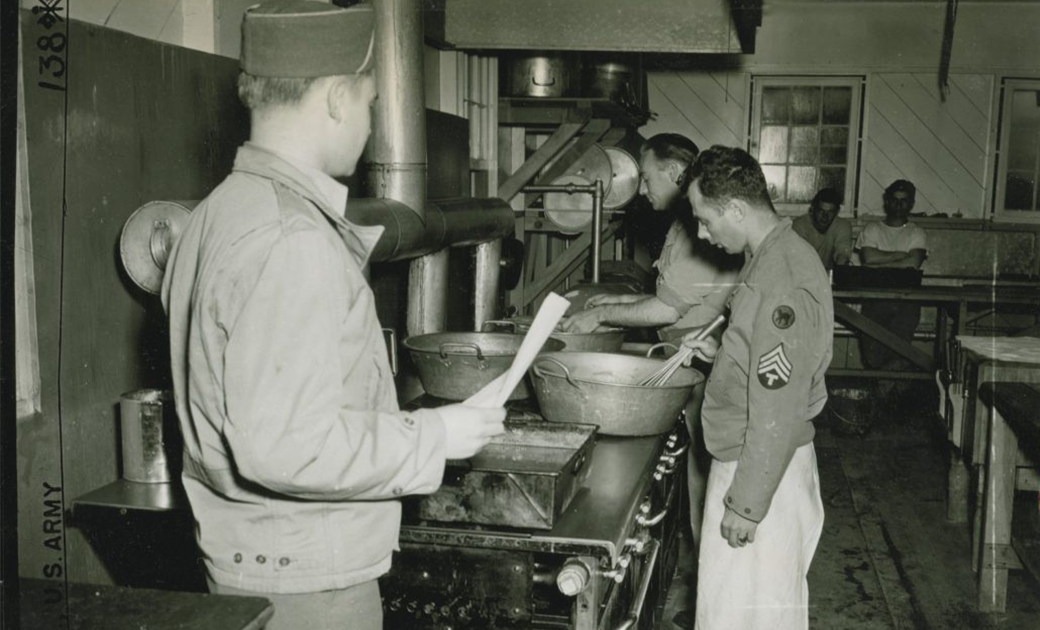 Connect with a Veteran in your life via video chat, head to the kitchen and then show us your creations using #NVMMHolidays. We can't wait to see what you make! It is important to note, that during both World Wars the American public was asked to ration food. For some this rationing meant using less sugar, consuming less meat, switching out wheat for rye or barley, or the growth of victory gardens.
Apricot and Prune Marmalade: World War I
Ingredients:
2 pounds prunes
1-pound dried apricots
Juice and rind of 1 orange
¾ cup of sugar
1 cup corn syrup
Directions:
In a medium saucepan, combine juice & zest of orange, sugar and corn syrup, begin to heat but do not allow to boil.
Cut fruit into small pieces and add to the saucepan.
Cook on medium low heat until apricots and prunes are soft.
Use a potato masher or fork to break up fruit.
If the mixture is too thick and sticky, thin with either more orange juice or water until it is a spreadable consistency.
Bean and Potato Stew: World War I
Ingredients:
2 1/4 cup stewed white beans (1 cup uncooked)
2 cups tomato juice
1/2 sliced onion
2 tablespoons drippings (bacon fat, meat drippings or butter)
1 teaspoon salt
1/2 teaspoon paprika
Directions:
If using uncooked beans: soak them overnight. In the morning, rinse beans, fill a medium pot with beans and water and bring to a boil; skim off and discard any foam on the surface. Reduce heat, cover and simmer, gently stirring occasionally, until beans are tender, 1 to 1 1/2 hours. Drain beans.
Stew onion in tomato juice in a skillet over low heat until tender.
Add beans, seasoning and fat.
Cook until thick enough to serve n a plate
Garnish with grated parmesan and parsley (optional)
Gingerbread: World War I
Ingredients:
2-ounces sugar
2-ounces margarine
8-ounces plain whole-wheat/whole meal flour
2 teaspoons of ground ginger
1/2 teaspoon of all spice or cinnamon
few drops of lemon essence
1 teaspoon of bicarbonate of soda
1 tablespoon of water
Directions:
Melt the sugar and margarine in a pan.
Pour into a bowl, add flour, the spices and lemon essence.
Dissolve the bicarbonate of soda in the water and add to the mixture
Stir in then keep adding the flour
Roll out the dough until about 1/8-inch-thick and cut out the gingerbread men
Cook in the center of an oven at 350 F for 15 minutes
Cool and remove to a wire tray
Potato Bread: World War I
Ingredients:
1-pound potatoes, boiled & mashed
1-quart milk or water
1-ounce sugar
1-ounce salt
1-ounce bacon fat or butter
1/2-ounce dry active yeast
3 pounds flour
Directions:
Heat liquid to warm. Add yeast to 1/4 cup of warm water.
Dissolve sugar, salt and bacon fat/butter in the remainder of the liquid.
Add yeast mixture and mashed potatoes to the other liquid mixture. Beat well.
Add flour and knead thoroughly. Let rise until it has doubled in size.
Shape into loaves. Cover with a cloth or plastic wrap and let rise again.
Put loaves on a parchment paper lined sheet, or into a bread loaf pan dusted with flour.
Bake in a 350° oven about 45 minutes or until golden on top and hollow sounding when tapped.
Potato Latkes: World War I
Ingredients:
2 cups peeled and shredded potatoes
1 tablespoon grated onion
3 eggs (beaten)
2 tablespoons flour
1 ½ teaspoon salt
½ oil for frying
Directions:
Place potatoes in cheese cloth and wring to extract moisture
In medium bowl stir potatoes, eggs, flour, and salt together.
Heat oil until hot in skillet over medium to high heat.
Place large spoonful of the potato mixture into the oil and press down to form ¼ to ½ inch thick patties
Allow to brown on both sides before drying
Trench Stew: World War I and World War II
Ingredients:
1 Turnip or potato
1 parsnip
2 carrots
½ tin of corned beef
½ stock cube
1-2 biscuits or stale bread
1 pint of water
Directions:
Boil water adding in stock cube
Chop vegetables into small pieces and add to boiling water
When the vegetables are tender add in ½ tin of corned beef and crumble in biscuits or bread and let simmer
Chestnut Soup: World War II
Ingredients:
½ pound of chestnuts
1-ounce margarine
4 cups vegetable stock
1 Teaspoon sugar
1 Chopped onion
1 Teaspoon lemon juice
Directions:
Shell, blanch, and peel chestnuts
Melt margarine in pan and add in onion with lid, stirring occasionally for 30 minutes, or until soft enough to mash
Add vegetable stock and sugar, simmering for 5 minutes
Stir in lemon juice and serve
Apple Pudding: World War II
Ingredients:
1 pound of apples
3-ounces sugar
6-ounces of flour with 1.5 teaspoons of baking powder added
pinch salt
1 level teaspoon of mixed spice (cinnamon and nutmeg)
1/2-ounce margarine
1 1/2 teacups of milk and water
1/2-ounce sugar
1/2 teaspoon of lemon essence
Directions:
Sift the flour, salt and spice, rub in the 1/2 ounce of margarine and then mix in the 1/2 ounce of sugar.
Beat in half the liquid gradually
Beat thoroughly then add the rest of the liquid and lemon essence and beat again
Peel the apples and cut into small pieces and mix with 2.5 ounces of sugar
Put in a greased pan and pour the batter
Bake in a moderate oven for 45 minutes
Sprinkle with remaining sugar and serve hot with custard or jam sauce
Vegetable and Oatmeal Stew: World War II
Ingredients:
1-ounce cooking fat (or butter)
1 small cup each of diced carrots, peas, leeks, beans
2-ounces rolled oats
2 cups strong vegetable stock
Directions:
Melt fat (butter) in saucepan and add in oats and fry until golden brown
Add in stock and boil gently
Add vegetables, cover, cook in oven for 1 ½-2 hours adding more stock as needed
Add seasoning to taste
Sausage Stovies: World War II
Ingredients:
1 large onion
4 large potatoes
6 sausages
1 teaspoon of sage
1 teaspoon thyme
1 to 2 beef stock cubes
Salt and pepper to taste
Directions:
Peel and slice the potatoes and peel and chop the onions.
Dice the sausages.
In a baking dish put a layer of potatoes, a layer of onions and a layer of sausage.
Season to taste and sprinkle over half the herbs.
Continue the layers until you have used up all the ingredients, ending with a layer of potatoes.
Sprinkle on the rest of the herbs.
Dissolve the stock cubes in 1/2 pint (300ml) of hot water and pour into the baking dish (thicken with flour if wanted)
Bake in a medium oven 350F for 40 Minutes.
Chocolate Layer Cake and Spread: World War II
Ingredients:
3-ounces margarine
1 tablespoon maple syrup
8-ounces flour
1 teaspoon salt
1-ounce cocoa powder
1 teaspoon baking powder
½ teaspoon baking soda
2-ounces sugar
½ pint water
Directions:
Allow margarine and syrup to dissolve in pan
Mix dry ingredients together and then stir in the warm water to smooth consistency
Pour the mixtures into baking trays cooking for 30 minutes at 350 F
Allow to cool after cooking
Ingredients
1-ounce cocoa powder
1 ½ tablespoon of sugar
1 spoonful of flour
½ cup of milk
Directions:
Mix dry ingredients
Add milk and bring the mixture to a boil
Beat until smooth
Allow to cool and use
Pumpkin Soup
Ingredients:
2lbs pumpkin
1 onion
1 oz margarine
salt and pepper
milk
1 litre of vegetable stock
Recipe:
Cut open pumpkin and scoop out seeds and stringy insides
Slice and chop into medium/large chunks
Place on baking tray and dot butter or marg over the top (if you had garlic in your cupboard you can add 1 or 2 whole cloves to roast on tray too)
Roast for 45 minutes or so, turning over once or twice (oven moderate/hot about 22o c )
Meanwhile chop onion, place 1 oz margarine into large saucepan and cook onions gently until soft
When pumpkin has roasted remove skin and place pumpkin pieces into saucepan (and cloves of garlic if available)
Add vegetable stock
Bring to a simmer and continue cooking for about 20 minutes stirring occasionally
Place all the contents of the saucepan into a liquidizer (or rub through a sieve like they did in the old days!) and pulse until a thick puree is achieved
Put puree back into the saucepan, add lots of salt and pepper to taste and reheat adding milk to achieve desired consistency (if you are wanting to store soup then put it into containers straight from the liquidizer. Just add seasoning and milk when you come to use it)
Makes about 8 bowls
Carrot Cake
Ingredients:
8 oz flour
3 oz sugar
3 oz margarine
4 oz grated carrot
2 oz sultanas
1 tsp of dried eggs
A little milk
Recipe:
Sift the flour into a mixing bowl
Rub in the margarine or cooking fat
Add sugar, carrots, sultanas, and egg
Mix well and then add sufficient milk or water to make sticky
Pour into a lined baking tray and cook until golden in color
Eggless Fruitcake
Ingredients:
10 oz self raising flour (or plain flour with 3 teaspoons of baking powder added)
1 teaspoon of mixed/all spice
1 level teaspoon of bicarbonate of soda
pinch salt
1/2 pint of well strained tea
3 oz margarine
3 oz sugar
3 oz dried fruit
Recipe:
Grease and flour a 7 inch cake tin or a large loaf tin
Sift the flour, salt, bicarbonate of soda, baking powder and spice together into a bowl
Pour the tea into a saucepan and add the sugar, margarine and dried fruit
Heat until the fat and sugar melt and simmer for 2-3 minutes, stirring
Set aside to cool a little
Pour over flour mixture and beat well and spoon into cake tin
Bake in the centre of oven at 180 C for about an hour
Remove and leave to cool for a while before removing from tin
The texture of mine was rather like a tea bread… totally lovely by itself or served sliced and buttered if you wish
Eggless Christmas Cake
Ingredients:
1 large carrot finely grated
2-3 tablespoons of golden syrup
3 oz sugar
4 oz margarine or butter
1 teaspoon bicarbonate of soda
½ teaspoon vanilla essence
½ teaspoon of almond essence (or 1 teaspoon of rum extract)
6 oz dried fruit (I used mixed)
12 oz self raising flour
1 teaspoon ground cinnamon
1 small teacup of slightly warm tea or coffee (with milk in)
Recipe:
Cook the grated carrot and syrup over a low heat for a few minutes
Cream the sugar and margarine until light and fluffy
Stir the bicarbonate of soda into the syrup mixture and then beat it into the sugar and margarine as if adding an egg, bit by bit
Add the vanilla and almond essence (or vanilla and rum extract)
Add the dried mixed fruit
Fold in the sieved flour and cinnamon
Add some of the tea or coffee if needs be as the batter needs to be thick but moist
Put the mixture into a greased meatloaf tin
Smooth the top leaving a slight depression in the centre to stop the cake from rising too much during cooking
Place into the pre-heated oven at 200C for 15 minutes
Reduce temperature to 160C and cook for 45 minutes (cover with foil if cake is getting too dark)
Cool and decorate with your choice of edible toppings
Christmas Pudding
Ingredients:
2 oz plain flour
4 oz breadcrumbs (about 6 slices)
4 oz melted fat or suet (I used margarine suitable for vegans)
1 oz marmalade
1 lb of mixed dried fruit
3 oz sugar (I used brown)
1/4 pint of brandy, rum, ale, stout or milk (I used hemp milk and will feed it with alcohol afterwards)
0.5 teaspoon of baking powder
0.25 teaspoon salt
0.5 teaspoon of grated nutmeg
0.5 teaspoon of cinnamon
1 teaspoon of mixed or all spice
Recipe:
Sift the flour, baking powder, spices and salt together
Add the sugar, dried fruit and breadcrumbs and mix
Melt that fat if using margarine and drizzle over and mix
Add the marmalade and 1/4 pint of liquid and mix very thoroughly
Put in a greased 2 pint basin (I used a large deep dessert bowl)
Cover with greased paper and foil and steam for 4 hours- click here
Remove basin and let pudding stand for 15 minutes to cool a little before removing from basin
Leave to cool, wrap in clean paper or cloth and store in a cool pantry or fridge. Will keep for a month.
Steam for an hour before serving or microwave in original container for 2-3 minutes
Explore More Stories
Home for the Holidays: Create an Ornament